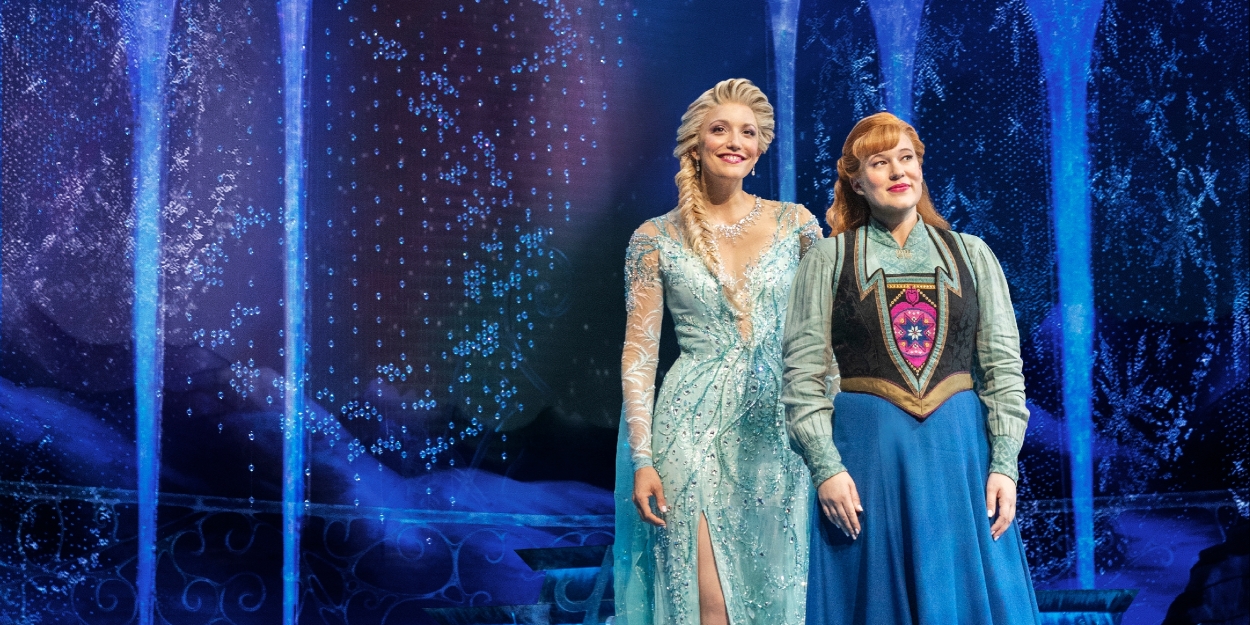 Review: FROZEN Warms Hearts at Broadway Sacramento
The production is now on stage through January 15
The beauty and mystique of Arendelle have come to Sacramento in the North American tour of Frozen. Based on the award-winning 2013 film of the same name, Frozen opened on Broadway in 2018 with additional songs and a formidable creative team. Led by original screenwriter Jennifer Lee as the book writer and duo Kristen Anderson-Lopez and Robert Lopez on music and lyrics, Frozen garnered three Tony Award nominations in 2018, including Best Musical, Best Book of a Musical, and Best Original Score.
Disney brings its signature touch of wonder to Frozen, which tells the story of two princesses who are anything but typical. Anna is silly and playful with a jubilance that cannot be tamped down, even with the difficult circumstances surrounding her upbringing. Elsa is her sister, a misfit in a world that rewards normalcy and convention, who must learn to come out of her shell to become who she is meant to be.
Disney magic is sprinkled liberally throughout, starting at the beginning with ethereal, pulsating Northern Lights and continuing with Elsa's ice on command. Scenic and costume designer Christopher Oram doesn't stop, as every scene is a feast for the senses. From the glowing-eyed "hidden people," to Elsa's ice palace, to opulent costumes, to an enchanted pocket of hanging wisteria, it all captures a sense of miraculous wonder and radiance.
Of course, a show is not complete without the talent and Frozen boasts that in abundance. Lauren Nicole Chapman's Anna is cute, quirky, man-hungry, and surprisingly independent. She and Will Savarese's Hans charm in their duet, "Love is an Open Door." She also showcases Anna's love of fun in the delightful, "Hygge," with Jack Brewer as the perpetually smiling Oaken. Oaken tells us, "Hygge means comfortable," but I would argue it also means hilarious. Not to be outdone, Disney's signature sidekicks provide some of the best entertainment in the show. Jeremy Davis putters about the stage as Olaf, a pieced-together snowman who is part simple, part sage, but entirely heartwarmingly silly. With athleticism that can only be believed once seen, Collin Baja prances, kicks, and judges Kristoff (Dominic Dorset), bringing a charming anthropomorphism to Sven and proving that "Reindeer(s) Are Better Than People." Who every little princess came to see, however, is Elsa. Caroline Bowman is the ultimate ice queen, with a voice that would warm the coldest of us all. Perhaps the most well-known number of the show, "Let it Go," is her personal anthem of freedom and resiliency, empowering a new generation of princesses to seek their own truth.
Frozen exceeded all of my expectations, from being a show for both children and adults to its unparalleled artistry and performances. If you see anything this year, see this dazzling and captivating jaw-dropping wonder. The themes are heartfelt and relevant, and we all need reminders sometimes to be true to ourselves and selfless to others. As a wise snowman once said, "True love will thaw a frozen heart."
Frozen plays at Broadway Sacramento through January 15. Tickets may be found online at BroadwaySacramento.com, by phone at (916) 557-1999, or in person at the Broadway Sacramento Box Office at 1419 H Street in Sacramento.
Photo Credit: Matthew Murphy