Interview: Kyle Holmes And David Taylor Gomes Talk About Their Album Debut and Where RANKED, A NEW MUSICAL is Going Next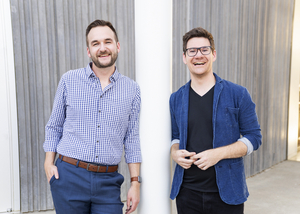 You might recall that, in early 2019, a little news story broke about a certain college admissions scandal. It was something that people suspected must happen in back rooms, but confirmation was finally being brought out into the light. What you might not know was that, a year before that, a local creative duo started working on an original musical after speaking to their high school students about what problems were foremost on their minds. The students kept coming up with the same answer: the relentless pressure placed on them by peers, parents, society, and themselves to be the best-with their grades, sports, everything. Thus, Ranked, A New Musical was born. Debuting to rave reviews just weeks after the scandal was revealed, it paralleled that story and highlighted the concerns that the students confided in those two teachers, Kyle Holmes and David Taylor Gomes. Since that time, Ranked has seen extraordinary things happen and there are no signs of slowing down. As Ranked's first birthday approaches, it seems a perfect time for Holmes and Gomes to release their concept album. On February 28, Ranked will be available for everyone to hear on Spotify and Apple Music. Broadway World Sacramento recently spoke with Holmes and Gomes to hear all about their journey to a New York reading, the making of the album, and their upcoming HBO special.
You two. Wow. It's only been less than a year since Ranked premiered at Granite Bay High School. When you wrote Ranked, did you have any inkling that it was so special and that it would resonate with so many people across the country?
DAVID: Honestly, I was so deep in sheet music and rewrites that I didn't even consider any outcome other than what we were producing at Granite Bay. I knew that I liked the show, and that's usually as far as my imagination takes me.
KYLE: I think any theatre teacher's dream is for their students to realize that their voices matter, and that art can play an important role in change. My students found that through the process of creating Ranked, so for me as a theatre teacher it was special long before it found its way across the country. The fact that other students are finding the same things through our writing is incredibly special.
Since it debuted, have you heard from students that there has been any kind of shift in the way the adults in their lives are treating them? I am wondering if a collective consciousness is emerging from your efforts in really listening to your students.
KYLE: Ranked, The College Admission Scandal, the UC system questioning the merits of the SAT, the reality of college acceptance rates - all of these things have coincided in a way that seems to have given people permission to start questioning what it means to be "successful" and what achieving that success should cost us. Change takes a long time, especially in a system that has remained relatively stagnant for decades and is becoming increasingly political. In our community we are seeing a willingness to talk about the stress and pressure that didn't necessarily exist before, and we're hearing the same things from students and parents in other communities. It means a lot to us that Ranked has been able to contribute to the conversation in a unique and meaningful way.
Ranked has now been produced in three states and several schools in California. Do you hear the same sentiment from everyone? Does this pressure extend across all socioeconomic backgrounds across the nation?
DAVID: Obviously Rhode Island, West Virginia, and California are very different places, but what we've heard more than anything is that the students feel very "seen" by the show. They have been able to connect to the characters and themes in a way that makes theatre more relatable and real. That was a goal we've always kept in mind as we wrote the show, so it's been heartening to hear that from the students who have performed the piece.
Where can Ranked be seen next?
KYLE: Ranked will be at Vista Del Lago High School in Moreno Valley the weekend of March 12, Cupertino High School from March 18 through 27, and Ripley High School in West Virginia the weekend of April 10. With hopefully a few more productions to follow. Be sure to follow @RankedMusical for updates and more information on where to see Ranked.
The single, "Work Harder," featuring Chloe Boyan from the original Granite Bay High School cast has been streaming for a couple of months now. What has the response been?
DAVID: It's been fun to see the posts on Instagram and Facebook of all the Ranked fans enjoying the music. People seem to have really fallen in love with Chloe. It's been wonderful to see that happen.
The entire concept album drops on Friday! What was it like making that album? Are there any highlights that you're particularly proud of?
DAVID: YES! Making that album was a dream! It's been hectic and crazy, but it's magical to know that we were able to raise enough money to make a really high-quality product for all our donors and fans.
One of my favorite parts of making the concept album has been including long-time friends and collaborators on the record. I've been playing with the same band since Boxed Up, but now I got to add violin, viola, and cello. Everyone working on the show will tell you that I won't shut up about how much I adore my musicians. They've brought some emotional performances that really make the record pop.
Since it's a concept album, I was also able to bring back some brilliant singers who I haven't worked with in years. Bringing Shelby Wulfert back for the album was an absolute dream come true. We've known each other forever and this is the first time we've been able to work together in over a decade. The vocal performances are out of this world. "Heart Stop" got a new ending with the incredible vocal acrobatics that Chris Meissner brought to the music. "Eye on the Prize" was especially fun, as we feature both actresses who played Sydney. Emma Harlow (who played Sydney at GBHS) and Sophie Brubaker (who played Sydney at UC Davis) sing the song alongside Miranda Lawson and Jonnie Reinhart-two vocalists who I have adored for years and only just now got to collaborate with as a composer.
I think my favorite song on the album is "Everything's Changing." It's a beast of a number that features absolutely every character in the show as they cope with the unexpected changes that have left their school in social chaos. The song really features everything I enjoy about songwriting: sweeping orchestrations from the strings, crunchy/driving electric guitar and bass, piles of vocal harmonies and counter melodies all interwoven with snippets and snapshots of scenes. It's a real blend of story and music, which is my favorite aspect of composing for musical theatre. I also have to give a shout out to the wizard who mixed and mastered our album. Andrew Heringer is an incredible collaborator, and mixing music for musical theatre is no joke. He made my songs sound just as alive and magical as they felt in the theatre, and I can't wait for everyone to hear his handiwork.
KYLE: My favorite part of the album journey was the collaboration - the people in the room. We are so blessed to have so many talented people in our lives who believe in the work we are doing and continue to commit themselves to helping us make it happen at a high level. It's humbling, it's rewarding, and ultimately it makes the work better.
This show hasn't stopped since its opening! Have you had to adjust your teaching schedules to make room for all of the new duties that come with developing a show of this magnitude?
KYLE: It has definitely been a full-time job, on top of our full-time jobs. The emails add up quickly if you don't stay on top of them, and it has made for many late nights!
DAVID: I've always juggled performing, music directing, and songwriting with teaching, but this is a whole new level. Writing a musical is an enormous undertaking. I think most of the score was written in the middle of the night after long days of teaching voice lessons and rehearsing. I have worked on 4 different shows while Ranked has continued to be developed (gotta eat!). One of the trickiest aspects of working on Ranked has been collaborating with the team in New York. The time difference has meant many conference calls and interviews done at the crack of dawn in California, or late at night for the folks on the east coast. It's been a steep learning curve as we keep expanding the team we're working with.
A casting call just went out for auditions to be in the New York City reading of Ranked. Can you tell us what a reading is all about and what you're looking for in a Ranked actor?
DAVID: Sure! A reading is essentially a performance of the show with no costumes, sets, or staging. Performed at music stands, with scripts in hand, and just the material and the performances with no flashy presentation. The purpose of our reading is to get producers and theatre-makers in New York excited about Ranked. The limited style of the presentation is a perfect way to allow producers' and creatives' imaginations run wild, while still giving them the heart and soul of the show. I'll let Kyle say what he's looking for in a Ranked actor, but you can guarantee that they'll need vocal chops. My songs don't mess around.
KYLE: We are definitely looking for actors that understand the stakes in the world of Ranked. It's so easy to be dismissive of "high school problems" or "teenage angst," but Ranked has found its niche in validating those experiences and encouraging audiences to do the same. We're looking for actors that have a sincerity and vulnerability to them that helps us walk the tightrope of presenting an exaggerated, dystopian teenage experience without patronizing it.
I am still dazzled by the snowball effect of this show. You also have an HBO special in the works! How did that come about and what can we expect from that?
KYLE: BreakThru Films heard the original NPR broadcast on Morning Edition and reached out to us. We have been loosely in touch with them ever since.
DAVID: All I can say is that I'm thrilled that HBO and BreakThru Films see the value of the story we're telling. You'll just have to wait and see for yourself what they're creating.
What are the next steps for Ranked? Do you have any new musical concepts in the works?
DAVID: The goal is to have a producer pick up the show and get a good professional production at a regional theatre, with a hopeful transfer to a New York production and then who knows? Right now most of my creative energy is devoted to Ranked, but I'm always writing new music and dreaming up new shows. Ranked has been a wonderful way to introduce my songs to a national audience, and I hope to continue writing material that challenges societal norms and pushes the expectations of what musical theatre is and can be.
KYLE: We've kicked around a few ideas, but at this point we're devoting all of our energy to taking Ranked as far as it can go.
What is happening for Granite Bay High School this spring? How can you possibly top Ranked?
DAVID: I'll let Kyle take this one.
KYLE: Ranked 2: Spring Break. Kidding - that's what my students jokingly pitch on a weekly basis.
We have an amazing production of Pippin coming to Granite Bay High School in April. I learned a long time ago that the best way to follow anything up is to do something completely different. While Ranked was grounded in real experiences, Pippin is fantastical and filled with magic. We brought in guest choreographer Jacob Gutierrez Montoya to give the cast a world class dance experience, and it has resulted in some really amazing numbers.
Jack Dugoni masterfully plays the title role (Ranked fans will recognize him as John from the original GBHS production), while Valerie Garcia is a captivating Leading Player that commands the stage from start to finish. The cast of 32 is filled with incredibly talented singers and dancers that will mesmerize audiences!
Performances are April 16-18 & 23-25 at The Prichard Performing Arts Center at GBHS.
Follow @TheatreAtGB for updates and ticket information!
For more information on Ranked, A New Musical, visit the website at www.rankedmusical.com or the Instagram page @rankedmusical. For information about the new album, visit www.rankedmusical.com/album.