BWW Feature: MOLLY DEVINE'S New Single 'Call Me Up' Premieres on BroadwayWorld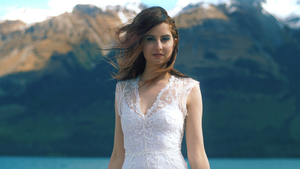 Southern New Zealand is known for its alternative rock roots, but songstress Molly Devine is here to shake things up a bit. Her first single since 2019's Rain in the River EP is being released on February 27. "Call Me Up" blends Devine's ethereal sound of pop and electronic with beautiful scenery to convey the exhilarating and hopeful frenzy of new love.
Devine says that her love of lyrics comes from learning to sing blues in woolsheds in her native countryside and working with Dunedin Sound musicians. In addition to earning a Masters of Music from Otago University, she has racked up an impressive resume which includes performing with the Dunedin Symphony Orchestra and singing alongside several New Zealand musical legends.
"Call Me Up" has been likened to Justin Bieber's "Purpose" due to its nostalgic and uplifting sound. I also think of Sara Bareilles' songwriting prowess when I listen to Molly Devine. This up-and-coming talent is one to watch and Broadway World is proud to premiere the release of "Call Me Up."
For more information, visit mollydevine.com or follow her on Instagram at @mollydevinemusic.
Photo courtesy of artist