THE LITTLE SWEEP Comes to Bolshoi This Weekend
Performances run December 17-19, 2021.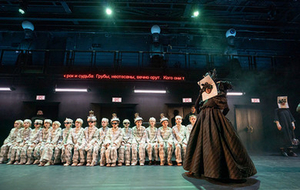 Benjamin Britten's unconditional masterpiece addressed to young spectators is returning to the Chamber Stage Boris Pokrovsky Theatre on Nikolskaya Street - the children's play "The Little Sweep".
The name of British composer
Benjamin Britten
(1913-1976) has long been a fixture on the playbills of music theatres and concert halls. He is considered to be the second most important British composer after
Henry Purcell
, and he is linked with the revival of English opera. Britten composed sixteen operas, among them Peter Grimes, The Rape of Lucretia, Billy Budd, Death in Venice, The Turn of the Screw and A Midsummer Night's Dream. In one of them the singers initially agree about who will sing what and they rehearse The Little Sweep before performing it in full. The first performance of this project, which Britten called Let's Make an Opera! , took place in June 1949 at the second Aldeburgh Festival, held in a small town in eastern England where Britten lived for many years. Later came several more performances at festivals, and in February 1950 the opera was screened on television.
Performances run December 17-19, 2021.
Learn more at https://www.bolshoirussia.com/performance/The_Little_Sweep/17-December-2021/18:00/6654/.