BWW Review: WE ARE LEAVING at Nowy Teatr - We're staying!
13 years after the incredible success of "Krum", Krzystof Warlikowski returns to Levin's work at the Nowy Teatr. This time, he chose one of Levin's most popular dramas - "Suitcase Packers". In "Krum", the title character returns from a long journey to his homeland, still having hope for fulfillment. This time, in a small Jewish community, everyone wants to leave and dreams about a change for the better. It was a tough task for actors and actresses to perform this play because there wasn't a main character, but something like a collective hero - 20 small parts. It means that every actor had to express a lot with little text. Another difficulty is embodied in the subtitle of the play "A Comedy for Eight Funerals". It's basically talking about death in a comedic way and therefore, it's very easy to overbalance. The subtitle also suggests that most of journeys in the play lead to the other side. Nonetheless, no one seems to be discouraged.
There are small families but most of them are closely kit. The young want to leave, searching for better career/life prospects, while the elderly for several reasons cannot. There is a man named Avi (Zygmunt Malanowicz) who packs up his suitcases every morning and goes to the bus stop. However, every single time he realizes that he forgot something and then returns home only to decide to leave the next day. Every time he desperately seeks an excuse. Some of the characters are the extensions of their originals from "Krum" - more or less 13 years older. For example, Motke Czkori (Marek Kalita) and Cypora Czkori (Maja Ostaszewska) are in a way "the old" Truda and Taktyk (performed by the same actors) in a marriage, where the husband is being humiliated by his wife all the time. Another even more important extension is the relationship between Krum and his mother in the previous play, which was very complicated and emotional. Here, Dani Gelernter (Jacek Poniedzialek) is addicted to women, they are his only area of interest - he doesn't much care about his mother (Ewa Dalkowska), with whom he lives. His mother is tired of her life - she can't stand being ignored by him and her biggest problem is that she can't vomit. She also has some kind of visions where her husband (Bartosz Gelner), who died in a car accident when he was young, visits her. He proposes a walk for "ice-creams made of snow" to her, which I understand as a charming metaphor of passing away.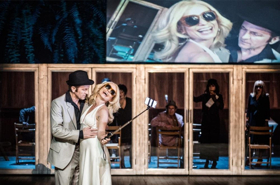 And of course, there is Angela Hopkins (Magdalena Cielecka), the most hilarious and brilliant character in my opinion, who is an American woman who visits Israel for tourist and matrimonial purposes (a young man she's proposed to suddenly dies just before her arrival). With her selfie-stick, she reports her travel to her followers on social media all the time. What really surprises and impresses me is that Cielecka performs in American English. She remarks that she was expecting something different than she sees - "camps, ghettos and camels". In a way, she represents the far and desired western world for these people. She seems like she doesn't comprehend their situation and life. I felt like even though she stands next to them with her selfie-stick camera, she is mentally far away. In the end, she turns out to be a Jew and in fact, she is searching for her family roots. Settling up with herself and with this community are the true reasons for her journey. As she said, "I didn't come for your heads". Finally, the only one who really has a symbolic journey to great western civilization is the Prostitute (Agata Buzek). However, it doesn't give her fulfillment and in the end while laughing she confides "...So in order to see Egypt I have to travel to London?"
Malgorzata Szczesniak's set is really enchanting. In the first act, the set changes from time to time - sometimes there were a few pieces of furniture, but more often there were a few bar tables and chairs with mesmerizing neon's on the walls. It looks like an old-fashioned, classic pub. It also brings some melancholia to the play. In the later act where funerals happen, there is a thin wall with eight glass doors and behind each one is a chair for each character. Therefore, during each funeral, they sit with their backs to the audience.
In the final scene, after Dani Gelernter's mother's death, both of his parents appear next to him as ghosts or illusions with ice-creams. He then says these very essential words: "Everyone who stood between me and death, is dead. Now nothing separates us from each other." Then the whole cast stands together in a row and sways to the rhythm of genius Pawel Mykietyn's music (everyone has ice-cream!). The conclusion is obvious - they all stay. But if we cannot leave, because leaving would be against ourselves, where can we find hope? Warlikowski and his actors clearly respond with the answer: in being together, and most importantly, in enjoying life and laughing at it.
(photo credit: Magda Hueckel)