BWW Review: THE BAT at TR Warszawa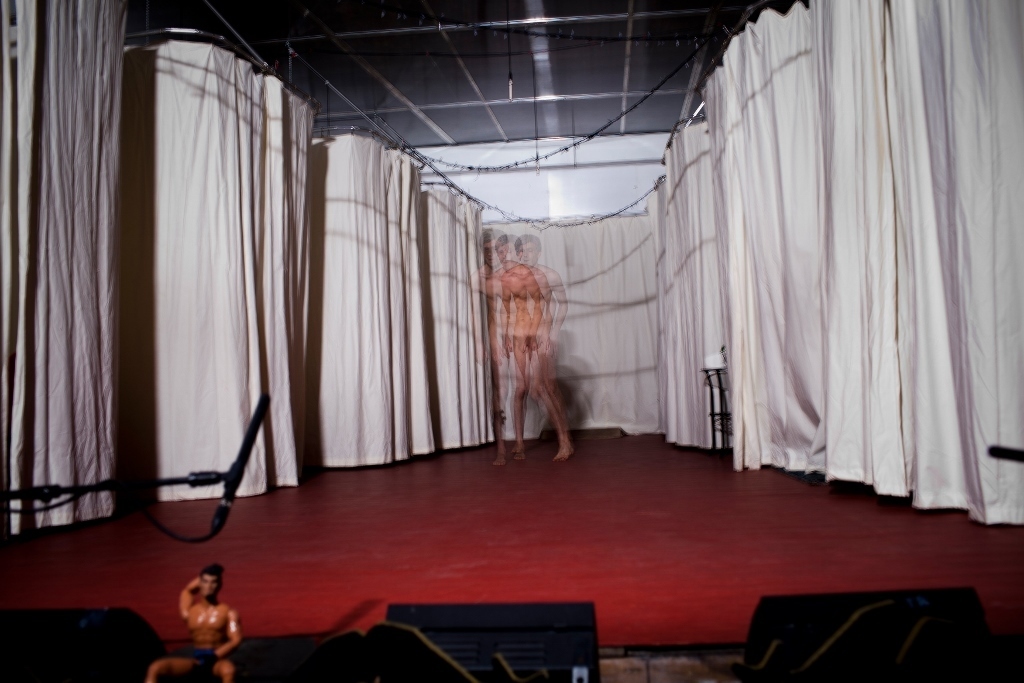 The starting point of Kornél Mundruczó's "The Bat" based on "Die Fledermaus" by Johan Strauss II, is the director's memories from the past about his grandmother. During the last ten years of her life, she began to lose her grasp on reality. On New Year's Eve, the whole family used to meet at her house to celebrate. Each year, from after midnight till morning, the grandmother's sons (who were more than 70 years old) tried to entertain everyone. A pair of slightly drunk old men singing some silly operettas probably seems rather miserable. Nonetheless, they somehow made their mother smile (although she wasn't aware of anything). After that experience, Mundruczó decided to create a performance about one of the most controversial topics: euthanasia.
The axis of the performance is when the last euthanasia surgery is carried out in a private clinic in Warsaw. The clinic will close immediately afterwards and it all happens during New Year's Eve. The first patient who wants to end his life is Gustaw, an old, seriously ill conductor (the extremely convincing Sebastian Pawlak). There is no hope for him getting better and here we have the first reason for euthanasia -unstoppable suffering. It seems a bit selfish of him because he doesn't think of his family, who will live on. And there is his wife (Irys) who always looked after him. His career was the most important thing for her. She never had her life, so now she wants to die with her husband, but there is a problem - she is in good health and a person who desires to undergo euthanasia must be incurably ill. Fortunately for her, her doctors start to make up diseases by exaggerating her smallest complaints. In one scene where she gets a keyboard, she is told to speak up whenever she feels pain (Dr. Ryszard Orlowski, played by Adam Woronowicz, examines her stomach) and she immediately starts playing it up. Based on that, the doctor writes a document which provides conditions required for euthanasia. Thus, another question arises - where is the boundary? Which state of health allows an end to one's life upon request? Their daughter (Jasmina) accompanies her parents all the time. I am calling her one of the most stunning characters in this play (the brilliant Roma Gasiorowska). Her relationship with her parents is very complicated. She was never as important to them as her father's career as a conductor. She makes fun of them all the time in the most cruel ways and additionally shows no respect for them. For instance, when they are being taught how to properly drink a liquid which eventually will cause their death, she says: "I'm crossing my fingers for you, Dad". She also has a firm need of love (which she wasn't given in her childhood), so she is desperately looking for it everywhere (even if that means seducing and having sex with a random guy, who happens to be one of the doctors in the clinic). She also has a drinking problem. Later on, I was terrified when she asked the doctor if her parents' ashes would fit into a plastic bag (although she may have been talking about cleaning up after her dog) when they were talking about cremation and urns.
There are three people on the staff. Doctor Orlowski, who founded this clinic, is very essential to this play. He's the one who maintains contact with the audience continually. In the beginning, he welcomes the audience and guides us around the clinic. By making sarcastic jokes, he tries to relieve the tension which is present because the topic of the play. There were some moments that I couldn't stop laughing, but I think that after seeing very emotional and touching scenes, it's a bit automatic. Broadly speaking, the morality of these doctors and the nurse is quite questionable, especially when doctors go to a patient in order to get their signature on some documents. Additionally, they also film every moment. When a patient signs an agreement, Doctor Piotr Krasinski (Rafal Mackowiak) smiles to the camera. Another scene which left me flabbergasted was when the nurse explains to Jasmina's parents how to drink the euthanasia medicine properly and how it works.
After a great New Year's Eve, the time to pass the patients their medicine had come. The whole set is one of the clinic's rooms with many hospital beds (each bed has its own curtain in case some of the doctors' measures or actions are drastic). In the beginning, all the curtains are drawn closed, so there is very little space on the stage
and actors stand at the front of the stage. The curtains are opened when Doctor Orlowski presents the clinic. Then they are closed again. On the front of the stage, there is one hospital bed on which Jasmina's parents are lying. The other characters sit on chairs next to the bed and in front of the audience. Jasmina is doesn't smile or joke anymore. She howls intensively. We can now see the pain that she didn't want to show us before because now she realizes that eventually she will be completely alone.
Before taking the medicine, the old man gives a speech. It's mostly about saying "Thank you" to the doctors, but he also mentions his views on euthanasia. He presents the Catholic view that euthanasia is playing God - that it is not decision for humans to make. He suggests that saving the lives of newborn babies or the seriously ill is also a "playing God", but no one says anything about it. In the last words of his statement, he says that when he found out about his incurable disease, he knew that in the end he would like to have a choice about how to end his suffering. His wife very coldly thanks the corporation that funds the clinic and the doctors for listening to their request and for helping them. Jasmina manages to say goodbye to her parents. Her mother, as always, coldly says: "May God be with you, daughter". After taking the medicine, they eat chocolate just like a snack after an alcoholic drink. The nurse says that it will take 4 minutes until the medicine starts to work. This is the one of the most powerful scenes in the play. I was numb with fear because we all had to wait these 4 minutes and every moment, every last word about maintaining their dignity was so moving.
After the last operation, the clinic closes. Doctor Orlowski manages what they will take to Zurych and what they will leave behind. The whole set is dismantled. The staff takes every decoration, table, chair and bed. Then there is only emptiness. The doctor then turns to the audience and starts an auction in order to clear out the audience. For instance, when he auctions a hospital bed, he says "Think it over! The Ministry of Health has only two beds for all of you here, so wouldn't it be nice to have one on your own?".
Another interesting character is Marta, the nurse. When the staff packs everything and are about to leave, Marta rebels against them. She is in shock because this woman (Irys) was in good health and shouldn't have died. She disagrees with her life partner Ryszard, who perceives the job they're doing as only helping people. He doesn't have any pricks of conscience. She points at the audience: "No one disagreed". That was too much for her. They have a fight and afterwards Dr Orlowski leaves her.
A few days later, Lukasz (Dawid Ogrodnik) and his sister Magda (Justyna Wasilewska) arrive at the clinic. Lukasz has cerebral palsy and can hardly walk even with a special walker. Mr. Ogrodnik is experienced in that sort of character having played the main role in "I'm Yours". He is so realistic, with his body and hands bent in all directions. He doesn't want to live anymore on account of the extreme pain as well as the fact that he did not experience love from any women other than his mum or sister. Magda is devoted to him and doesn't have her own life. So they come to the nurse begging for help. Marta immediately refuses. Although she helps in looking after Lukasz, she doesn't want to tell them where the medicine is. And here again, the actors turn to the audience. In the beginning, they gave us some candy - they said it is a medicine and we should take it only when it's necessary. Now it turns out that we all have the medicine and almost everyone ate it. So neither did we say anything before the last operation nor we did do for the man who wanted to end his life. In the end, Lukasz discovers that he wants to live. Just before an ovation, the whole cast beautifully sings in Italian (!) "Ti amo".
On the one hand, the actors in this play show a great sense of rhythm and created an amazing chorus. On the other hand, they often sing out of tune, which actually makes it all even funnier. The play was not funny at all. I mean all the powerful dramatic scenes predominated all the comedy moments. "The Bat" is definitely one of the best plays I have ever seen. The cast was marvelous (as usual at TR Warszawa). Mundruczó didn't reveal his views on euthanasia, instead he presented this problem from many perspectives, which was brilliant as it allows a viewer not only to see his views on the scene but also to confront them with the opposite side. A miraculous play whose power lies in ambiguity.
Photo credit: TR Warszawa