The Pittsburgh Cultural Trust Announces Camps for Creatives Returning for 2023
Budding artists can learn something new or explore their favorite art forms!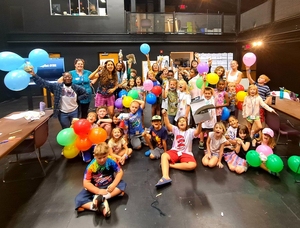 The Pittsburgh Cultural Trust has announced the return of Camps for Creatives for summer 2023. The Trust Arts Education Department has organized five different camps all taking place at the Trust Arts Education Center (805 Liberty Ave) and catering to budding artists who are interested in learning something new, or exploring their favorite art forms.
Over the past year, Trust Arts Education has made a massive impact on the community with their in-person classes, workshops, and professional development for educators, and are super excited for another summer of camps.
"The Trust Arts Education department is super excited to be back this year with another great round of summer camp programming for students." shares Tracy Edmunds, Vice President, Arts Education for the Pittsburgh Cultural Trust. "This year we have five incredible camp offerings including a brand-new camp titled Spectacular Storytelling. This camp was created for ages 3 to 5 and will introduce them into the world of storytelling through visual art, creative, play, movement, and music."
The Camps for Creatives focus on Visual Arts, Sewing, Science, Math, Storytelling, and Theatre Production. Each camp has a recommended age/grade range and they will take place Monday through Friday between 9:00 a.m. and 4:30 p.m. for half and full day sessions. Students should plan to pack lunch, water, and snacks for their day and prepare to be picked between 4:10 p.m. - 4:30 p.m. for K-12, and 11:30 a.m. - 12:00 p.m. or 3:30 p.m. - 4:00 p.m. for early childhood ages. Select camps culminate with a final showcase for campers and their invited guests at the end of the camp week.
Trust Arts Education and the Arts Education Summer Camps for Creatives are supported by PNC Grow Up Great and FedEx Ground.
For more information about Camps for Creatives visit TrustArts.org/SummerCamps.
Camps for Creatives | Trust Arts Education Center
Find Your Light: Theatre Production Camp
Students Entering Grades 6-8
June 26 - 30 | 9 am - 4:30 pm
In this Theatre Production camp, students will learn what it takes to put on a show from start to finish while learning the importance of collaboration. Not only will they act on the stage, but gain a full understanding of the skills needed to produce a show - including the roles of set, costume, light and sound designers. At the end of the five days, the camp will conclude with short plays performed by the students.
STEAM Team: A STEAM Challenge Camp
Students Entering Grades 1-3
July 10 - 14 | 9:00 a.m. - 4:30 p.m.
Calling all engineers, artists, designers, and CHANGE-MAKERS! In this dynamic learning and making experience, campers will identify some of the BIG questions and issues in our world today and come up with ways to address them. Trust Arts Education will provide campers with the resources - art tools, materials, and techniques - and the campers will provide the ideas on how to tackle real-world challenges as they work in small groups to design the posters, performances, and prototypes of tomorrow.
SmARTy Pants: Science & Art Camp
Students Entering Grades 3-6
July 17 - 21 | 9:00 a.m. - 4:30 p.m.
Create, experiment, and learn with at the SmARTy Pants Camp! Combining methods of art, science, technology, engineering, and math, campers will delight as they explore chemical reactions, the laws of physics, and other STEAM principles to create artwork with mixed media. This camp will be sure to thrill and inspire budding creators with an unforgettable summer experience.
Spectacular Storytelling (NEW!)
Students ages 3-5
July 24 - 28 | 9:00 a.m. - 12:00 p.m; 1:00 - 4:00 p.m.
Created with youngest audiences in mind, learners and make-believers ages 3-5 will be enchanted by the world of storytelling in this spectacular camp. Teaching artists will lead the students in visual art, creative play, movement, and music to demonstrate the many different forms of storytelling. Each half-day session offers a different focus theme for the week. The morning session, Once Upon A Time, will focus on everything fairytale, and the afternoon session, Creative Critters, will explore stories about different animals. Students are welcome to sign up for both sessions for a full day experience and will have a chaperoned lunch time.
Seams Legit: Sewing and Design Camp
Students Entering Grades 9-12
July 24 - 28 | 9:00 a.m. - 4:30 p.m.
Design, create, and explore! This camp is designed for the future Broadway costume designer, everyday fashionista, and any student looking for a new creative hobby. Students will dive into concepts of fashion and design for both practical and artistic endeavors, learn the basics of hand and machine sewing, and how to read sewing patterns. This camp will culminate in a presentation for family and friends. No prior experience in sewing is required.
The Pittsburgh Cultural Trust's Arts Education department offers a wide array of arts programs and activities for youth and adults throughout the year at the Trust Arts Education Center. The Center includes the Peirce Studio, a multipurpose room located on the lower level, as well as the PNC Grow Up Great Classroom and other classrooms and workshop spaces to utilize for visual and theater arts, written and spoken word, dance and other art forms.
The Pittsburgh Cultural Trust has overseen one of Pittsburgh's most historic transformations: turning a seedy red-light district into a magnet destination for arts lovers, residents, visitors, and business owners. Founded in 1984, the Pittsburgh Cultural Trust is a non-profit arts organization whose mission is the cultural and economic revitalization of a 14-block arts and entertainment/residential neighborhood called the Cultural District. The District is one of the country's largest land masses "curated" by a single nonprofit arts organization. A major catalytic force in the city, the Pittsburgh Cultural Trust is a unique model of how public-private partnerships can reinvent a city with authenticity, innovation and creativity. Using the arts as an economic catalyst, the Pittsburgh Cultural Trust has holistically created a world-renowned Cultural District that is revitalizing the city, improving the regional economy and enhancing Pittsburgh's quality of life. Thanks to the support of foundations, corporations, government agencies and thousands of private citizens, the Trust stands as a national model of urban redevelopment through the arts.