BWW Review: Front Porch Theatrical's BIG FISH Makes a Major Splash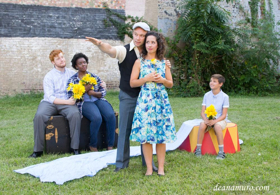 The Allegheny River is not well known for its bountiful aquatic yielding, but travel just a little bit further north to the New Hazlett Theatre in Pittsburgh's North Side for a once-in-a-lifetime catch. Front Porch Theatrical's imagining of Big Fish synthesizes the best of Pittsburgh theatre into a musical that abounds with whimsical fantasies and heart-wrenching moments.
Edward Bloom (Billy Hartung) is a traveling salesman who isn't always around when his son Will is growing up. When Edward is home, he tells the most vivid, and at times outlandish, stories to his son. These stories come to life on stage and range from meeting a witch and a giant to falling in love with his wife, but it isn't until Will (Matt Calvert) is a newly-married adult that he begins questioning his father and the validity of his stories. Will takes it upon himself to discover who his father truly is before it's too late. Fishing into the past stirs up many secrets, but the dozens of anecdotal memories that follow are certainly welcomed.
Billy Hartung's performance is nothing short of dynamic. From his opening number "Be the Hero," his energy explodes off the stage and never dulls throughout the entire show. I truly believe that he is the one and only Edward Bloom, and if I saw another production, I'd think that actor was an imposter.
The ensemble is cohesive and well imagined as a whole. Sandra (Kristiann Menotiades), Edward's wife, is as loving as any wife should be. Ms. Menotiades will break your heart into a million pieces, and even then, you'd ask her to do it again because her devotion to the role is uncanny and enchanting to watch.
The entire show is stripped down, with the magic created directly in front of the audience. There are no curtains, no true wings. The set consists of wooden framework, but there is no roof or siding. Props litter the edges of the stage, but in no way do they look cluttered or out of place. Everything seems peacefully in place. As both acts end, their mirrored opposition reveals the paternal archetype that is at the center of this show.
This musical is powerful, but the dedication of the actors truly primes the show for greatness. There was nearly a river of tears pouring out of the theatre after the most climactic scene, because by that point in the story, you begin to live in the characters world, without them ever breaking down of the fourth wall. Edward becomes a father figure to you, Sandra a mother, and so forth. This would not have been possible without this ideal cast and without the superb direction of Spencer Whale.
Front Porch Theatrical's Big Fish is artistically beautiful. Whether the stage is covered in yellow flowers or barren of its fisherman, the show captivates the eye, piques the mind, and submerges the heart with what it means to be a very big fish. This impressive production swims away next weekend, so buy your tickets while you can.
To see or not to see score: 8/9; Strongly Recommended Show
Photo Credit: Deana Muro
Related Articles View More Pittsburgh

Stories

Shows