The Nash Creates 'Jazz Beacon Award' To Honor Legendary Musicians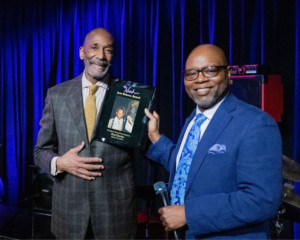 The living legends of jazz, veteran musicians who have achieved greatness in performing jazz are now being honored at The Nash with the creation of The Jazz Beacon Award. Conceived by Lewis Nash as a way to recognize the important role and contributions these musicians have given to the world of jazz, The Nash inducted its first honoree, bassist Ron Carter, during his March 23rd appearance at the downtown Phoenix jazz club.
Carter had arrived in Phoenix to perform as part of "The Trio," for the "Japan-Jazz Connection" concert, joining Takeshi Yamaguchi (guitar) and Lewis Nash (drums) for a concert of selections from their The Trio II Live in Osaka recording. In front of a sold-out crowd, Lewis Nash presented the award to Carter and unveiled a portrait created for him by Phoenix artist Abe Zucca.
Legendary saxophonist and NEA Jazz Master Benny Golson will be the next recipient honored with The Nash Jazz Beacon Award during his concert at The Nash on April 7 at 3 pm.
"The world of jazz is a rich place because of these incredible musicians, who play with such artistry and give so generously to their fellow musicians and jazz lovers around the globe. We wanted to recognize not only their contributions to music, but pay tribute to their status as living legends for the art form. For me personally, it is a true privilege and honor to perform with them, to hear their music, and most of all, to call them friends." - Lewis Nash.
The Nash Jazz Beacon Award recipients will be displayed with honor at The Nash, 110 Roosevelt Rd, with future honorees to be announced at a later date.
For more information on upcoming concerts and jazz education programs at The Nash visit thenash.org.
Ron Carter is among the most original, prolific, and influential bassists in jazz history, with more than 2,200 albums to his credit, an accomplishment honored in the 2015 Guinness Book of World Records.
He has recorded with greats including: Tommy Flanagan, Gil Evans, Lena Horne, Bill Evans, B.B. King, the Kronos Quartet, Dexter Gordon, Wes Montgomery, and Bobby Timmons, Jaki Byard, Eric Dolphy and Cannonball Adderley.
From 1963 to 1968, Ron was a member of the classic and acclaimed Miles Davis Quintet. He was named Outstanding Bassist of the Decade by the Detroit News, Jazz Bassist of the Year by Downbeat magazine, and MVP by the National Academy of Recording Arts and Sciences. He earned two Grammy awards, one in 1993 for Best Jazz Instrumental Group, and another in 1998 for Call Sheet Blues from the film Round Midnight .
Ron has composed music for the classic films A Gathering of Old Men, The Passion of Beatrice and Blind Faith. In 2014, Ron received the medallion and title of Commander of the Order of Arts and Letters, France's premier cultural award, by the French Minister of Culture.
For nearly 70 years, tenor saxophonist Benny Golson has performed, composed and arranged a treasure trove of music, leaving behind a body of work that includes: Killer Joe , I Remember Clifford , Along Came Betty , Stablemates , Whisper Not , Blues March , Five Spot After Dark , Are You Real? and more, which are amongst the most played and recorded compositions in contemporary Jazz. Born in Philadelphia in 1929, for more than 60 years, Golson has enjoyed an illustrious, musical career in which he has not only made scores of recordings with, but has also composed and arranged music for a host of musical giants.
A member of Dizzy Gillespie Big Band, Art Blakey's Jazz Messengers, and a founding member of the hard bop quintet "The Jazztet" which he formed with Art Farmer, Golson's collaborators are a who's who of jazz. Noted collaborators include Count Basie, John Coltrane, Miles Davis, Sammy Davis Jr., Mama Cass Elliott, Ella Fitzgerald, Dizzy Gillespie, Benny Goodman, Lionel Hampton, Shirley Horn, David Jones and the Monkees, Quincy Jones, Peggy Lee, Carmen McRae, Anita O'Day, Itzhak Perlman, Oscar Peterson, Lou Rawls, Mickey Rooney, Diana Ross, The Animals (Eric Burden), Mel Torme, George Shearing, Dusty Springfield.
Golson has recorded over 30 albums under his own name and innumerable ones with other major artists. A prodigious writer, Golson has written well over 300 compositions and is the only living jazz artist to have written 8 standards for jazz repertoire. He was honored as an NEA Jazz Master in 1996.