Review: The Phoenix Theatre Company Presents JERSEY BOYS ~ Oh, What A Show!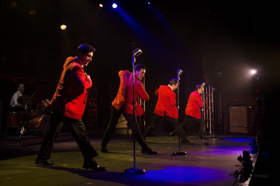 Cues soirées là! Oh, what a night! By whatever language, Opening Night of The Phoenix Theatre Company's production of JERSEY BOYS was quite a night! A vibrant retrospective of the song classics that made The Four Seasons one of the most popular and prolific groups of the '60's-70's. And, a dramatic perspective on their roller-coaster relationship from the lamplit street corners of Newark to induction into the Rock and Roll Hall of Fame.
From Antonio Leroy King's opening rap solo of Yannick's pop hit to the cast's celebratory closing (Who Loves You), the show ripples with energy.
Justin Albinder (Frankie Valli), James D. Gish (Bob Gaudio), Anthony Fortino (Tommy DeVito), and Tommy McDowell (Nick Massi) successfully recreate the power doo-wop style and sweeping movements of the originals. And, oh, how they harmonize! Perfectly! With Albinder achieving Valli's characteristic range and falsetto.
As the show progresses, each takes a turn, in accordance with the four seasons of their group's life, to tell his side of the story ~ spring (DeVito), summer (Gaudio), fall (Massi), and winter (Valli). The songs thematically align with the narrative.
In this regard, Marshall Brickman and Rick Elice's construction of the musical is possessed of a symmetry and poetry that makes for engaging entertainment ~ even though it falters at times in historical and representational accuracy.
For example, for whatever reason, Bob Crewe, a principal lyricist for many of the group's songs and a musical genius in his own right, is presented merely as their producer and characterized with far more flamboyance than was actually the case.
However, the characterization is carried out with superb panache by Terry Gadaire, one of the Phoenix area's most versatile performers.
The show, directed by Larry Raben, enjoys some pivotal moments when it ascends into the zone of excellence.
The first belongs to the appearance of James Gish as Gaudio and his rendition of Cry for Me. Gish is terrific throughout the production.
Then, there is the show-stopping performance of Sherry.
And, one after another, the record-breaking songs (Big Girls Don't Cry, Walk Like A Man, Can't Take My Eyes Off of You) that placed The Four Seasons (along with The Beach Boys) at the top of the charts.
Beyond the chemistry and dynamism of the four principals, the tone and mood of the production is heightened by Daniel Davisson's resplendent lighting. Alan Ruch and his orchestra deliver the distinctive sound and rhythms of Gaudio's music to exhilarating perfection.
Yes, indeed! Oh, what a show!
JERSEY BOYS runs through March 10th at The Phoenix Theatre Company.
Photo credit to Reg Madison Photography
The Phoenix Theatre Company ~ 1825 N Central Ave, Phoenix ~ (602) 254-2151 ~ www.phoenixtheatre.com