BWW Review: Sasha Wilson's BURY THE HATCHET Reopens The Case Of Lizzie Borden ~ An Immensely Clever Swing At The Evidence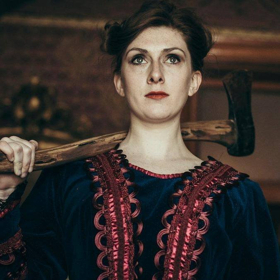 On the morning of August 4, 1892, between the hours of 9 and 11, Abby and Andrew Borden were brutally slain. A year later, their 32-year-old daughter, Lizzie was acquitted of the crime.
However, being found not guilty is not the same as being declared innocent, and therein lies the basis for over a century of additional speculation about whodunnit and whether or not Lizzie deserved not only the generous verdict but the subsequent suspicion-based opprobrium and stigma.
In the absence of modern day forensics, 19th century jurisprudence certainly was vulnerable to accidents of oversight and flawed logic ~ such that there were inherent limitations in the prosecution's ability to demonstrate "preponderance of evidence" and to prove "beyond a reasonable doubt." So it was in the case of Lizzie Borden, and thus the continuing fascination with the legendary tale.
Enter the thespian sleuth! Sasha Wilson, co-founder and artistic director of the London-based Out Of The Forest Theatre, has crafted BURY THE HATCHET, an immensely delightful and imaginative piece of metatheatre that revisits the evidence of the case and does so with such flair and wit that the final judgment seems almost secondary.
Now, in co-production with Southwest Shakespeare Company, Wilson and her merry accompanists (Sam Jenkins-Shaw, Drew Leatham, and Mario Yniguez) roll out the fragments of evidence, decipher their possible meanings, and calculate alternative scenarios ~ all the while engaging the audience as their jury of peers and interjecting their forensic frolics with sometimes robust and sometimes moving interludes of Irish folk music, bluegrass, or Gospel.
There is not a whit of prim and proper in Wilson's demeanor as, clad in black Victorian-style dress, she dominates the stage as her courtroom and bustles to and fro with endless energy. She's simply an absolute delight to watch as she weaves her way to summation.
BURY THE HATCHET is a thoroughly clever, wildly imaginative, and engaging romp through the evidence surrounding the murder of Lizzie Borden's parents. Sasha Wilson tears up the stage as she and her ensemble role out multiple scenarios in an effort to get to the truth about the crime.
BURY THE HATCHET will continue its run at Frank Lloyd Wright's Taliesin West through May 6th and then move on to Rosson House in Phoenix for two performances on May 3rd.
Photo credit to Out Of The Forest Theatre
Related Articles View More Phoenix

Stories

Shows