Repertory Philippines: Preserving, Enhancing Philippine Theater For Years to Come
Manila, Philippines--In this vastly competitive world, the dizzying rate of attrition among countless startups has eroded public interest. Conversely, a rare enterprise that defies all odds and endures the long haul deserves felicitous acclaim. In the Philippines, we have such a stalwart in the theater industry.
After 50 years, 443 productions, and a consummate adherence to professional theater, Repertory Philippines (REP) has set a remarkable new benchmark for prestige and excellence.
REP's success is the appropriate reward for a company with a humble genesis that belied a sassy confidence. Fomenting an eccentric revolt in a culturally challenged metropolis, REP mounted August Strindberg's Miss Julie to an audience of seven. Not your typical introduction to a dubious public, to say the least--but a gallant debut nonetheless, reflecting the spirit of its staunch trailblazers.
It's safe to assume that no one saw it coming half a century ago, but along with Philippine Educational Theater Association (PETA)--another trailblazing force committed to Filipino drama--REP ushered in a dynamic (English-speaking) brand of theater unseen beyond school campuses.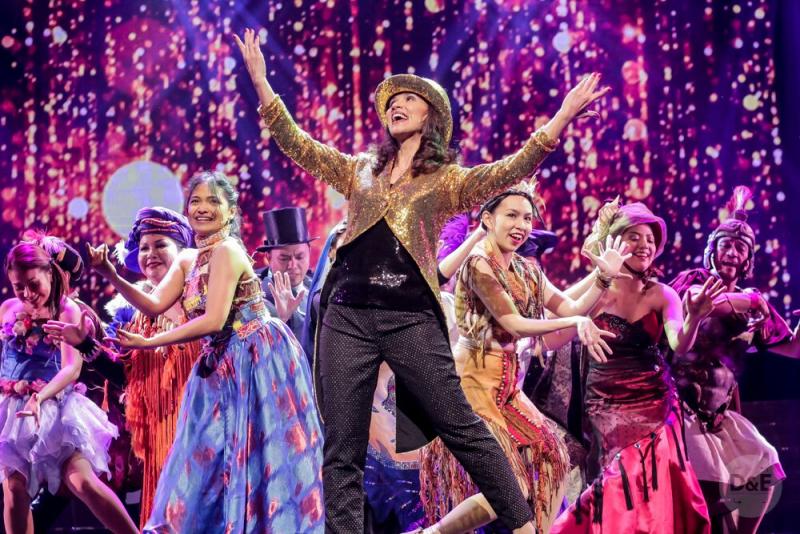 With professional training suddenly available to local talents, Manila's entertainment landscape had commenced a crucial makeover.
Chalk it up to the dogged leadership of REP's co-founders: Zeneida (Bibot) Amador and Carmen (Baby) Barredo. The intrepid duo tagged a handful of friends and envisioned a Broadway-caliber ensemble who provoked and challenged a dormant demographic.
The rest, as we say, is history.
Sunday night's (June 12) musical gala electrified a near-capacity crowd at the Theatre at Solaire. Dubbed "REP: 50 Years of Telling Stories," the celebration was a fitting tribute to everyone who has ever graced the REP stage. Ergo, the company has fashioned an appropriate season slogan, titled "Come Home to REP," signifying the values that have shaped the growing lineage of REP thespians, production staff, and the viewing public.
Directed by a tag team of REP luminaries, the idea was simple enough: assemble a multi-generational cast from the past 50 years and put on one big show. What better way to celebrate the company than for its world-class performers to return the favor to the community that raised them as an extended family?
According to President and CEO Mindy Perez-Rubio, the show would underscore "all aspects of the theater from the narration, music, choreography, producers, performers, comedians, set designers, and directors. It took a team of almost one hundred people to mount this production featuring segments with different directors."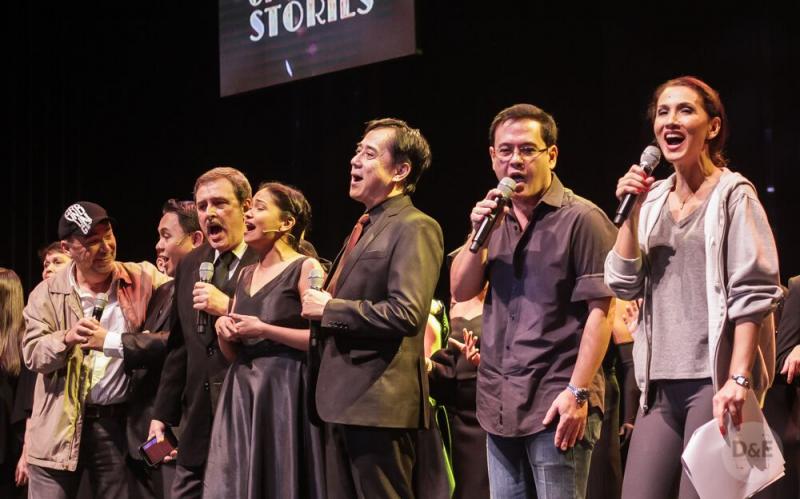 Bart Guingona served as the overall director who collaborated with "segment" directors, whose respective contributions and careers have helped to sustain the company's reputation throughout the years: Jaime del Mundo, Miguel Faustmann, Audie Gemora, Menchu Lauchengco-Yulo, Raymond Lauchengco, Freddie Santos, and Michael Williams. And we'd be remiss not to mention the creative input of writer Luna Inocian, the choreography of Dexter Santos, Rose Borromeo, and Deana Aquino, and the musical direction of Ejay Yatco and his fine orchestra.
Telling stories is what it's about, and REP more than accomplished the task by sharing its proud history with a prologue and seven suites. It sketched the company's developmental stages via a shared narration, seamlessly woven into musical numbers culled from favorite musicals of the last five decades.
It was a colorful affair. They deployed extravagant costumes. Musical numbers were complemented by streaming images of appropriate scenic design and occasional head shots of remarkable men and women of influence.
The storytelling was moving and highly informative, with ensemble singing perhaps being the strongest element of the performance. An area of comparative weakness was the lack of attention to microphone levels and missed technical cues. Given the lack of prep time in a venue away from home: the Onstage Theatre in Makati City, this is understandable.
Though it surprises us to observe this, it must be said that the lighting design, for once, became the notorious irritation of a REP production. Indeed we appreciate that it's not a typical Broadway-musical format, which perhaps allowed a certain diversion to explore the playful possibilities of intelligent lights. But when did it become agreeable to pan the brightest moving heads across the audience during intimate duets and significant dance sequences?
The cast, while excellent, was too large to acknowledge individually. But it's worth noting the core ensemble who anchored the musical numbers, some of whom provided outstanding solo performances: Cara Barredo, Sweet Buchanan, Ayam Eckstein, Naths Everett, Mica Fajardo, Steven Hotchkiss, Red Nuestro, Don Rivera, Kyla Rivera-Soong, Arion Sanchez, Abi Sulit, Onyl Torres, and Chino Veguillas. There were special numbers by former REP standouts Mitch Valdez and Monique Wilson.
Judging from the collaborative quality of the production, one gets the sense that REP isn't about to rest on its positive renown. Clearly, they have an eye on the future generation of practitioners and theater goers. Artistic Director Joy Virata emphasized that point by speaking on the significance of training young people and providing the community with state-of-the-art programming for young audiences.
Here's a winning piece of closure: REP veterans handed the baton to the current ensemble, symbolized by the simple blocking of a song that allowed the younger performers to take center stage. It's a poignant gesture to epitomize the company's legacy of nurturing young talents, thus preserving and enhancing the character, quality, and care of Philippine theater for years to come.
Photos: D & E
Related Articles View More Philippines

Stories

Shows
Born and raised in Cebu, Philippines, Robert Encila is a professional singer, actor, and certified teacher. An alumnus of the University of Arizona, he taught (read more...)