Theatre Philadelphia Celebrates 2013 with Awards Ceremony
Last night, Theatre Philadelphia celebrated the past year in theatre across the region by presenting the Lifetime Achievement Award, cash awards totaling $56,500, and a masquerade after-party that featured performances of some of the highlights of the previous theatre season. Over 400 theatre artists, administrators and supporters attended the sold out ceremony and party held at Arden Theatre Company in Old City. More information about Theatre Philadelphia can be found at www.theatrephiladelphia.org.
Theatre Philadelphia honored celebrated local actress, director and teaching artist Ceal Phelan with the Lifetime Achievement Award. Phelan passed away in February after a decade-long battle with cancer. The award was accepted by husband Peter DeLaurier. Ceal was a four-time Barrymore Award nominee for her work in The Breath of Life (2010) at Lantern Theater Company; and Six Characters in Search of an Author (2008), Have It Your Way (1997), and My Mother Said I Never Should (1996) at People's Light & Theatre, where she was a longtime resident company member. She also co-founded Delaware Theatre Company with Cleveland Morris and DeLaurier in 1978.
Local physical comedienne, actress and director Charlotte Ford received the F. Otto Haas Award for an Emerging Philadelphia Theatre Artist. Ford directed and starred in the 2012 Fringe Arts smash hit BANG. She was named the 2012 Performer of the Year by Philadelphia Magazine. She was also part of 1812 Production's It's My Party: The Women and Comedy Project. Charlotte is an artist who creates avant-garde slapstick performance art that celebrates sublime stupidity with joyful abandon. She can create characters that are aggressively funny and intensely vulnerable. As an artist her work is intimately human, absurd and outrageous. She is often praised for creating work that is both unique and memorable.
Named after the philanthropist, civic leader and chairman of Rohm & Haas and created by Ms. Carole Haas Gravagno in memory of her late husband, the F. Otto Haas Award for an Emerging Philadelphia Theatre Artist is presented annually to a theatre artist who shows outstanding promise in his or her field and is dedicated to working in the Philadelphia theatre community. This $10,000 cash award is intended to enable the recipient to stay in Philadelphia, focus on his or her craft and take the next step in his or her career. The runners-up each receive a $1,000 cash award. The 2013 finalists included: Liz Filios, actress, teacher, writer, composer and member of The Bearded Ladies Cabaret; playwright, dramaturg, teaching artist and The Foundry co-founder Jacqueline Goldfinger; director, producer and Swim Pony Performing Arts founder Adrienne Mackey; and Alex Torra, actor, director, co-founder of Team Sunshine Performance Corporation and associate artist with Pig Iron Theatre Company.
The Brown Martin Philadelphia Award was awarded to Arden Theatre Company's production of Next to Normal. This award seeks to honor the spirit of Philadelphia by acknowledging a production from any period or genre that demonstrates the ability of theatre to illuminate the ways we live and interact with others as we seek to build community. The award carries with it a $25,000 cash prize sponsored by the Virginia Brown Martin Fund. New this year, the runners-up will each receive a $2,500 cash award. Next to Normal painted a starkly accurate picture of the effects of mental illness from those who suffer from it to the people around them. This Pulitzer Prize-winning drama tells the story of Diana Goodman, a woman struggling with bipolar disorder, and the resounding impact her mental illness has on her family. Daring and emotionally rigorous, Next to Normal pushes the boundaries of the musical theatre art form and brings a difficult and rarely discussed subject matter into the theatre. The other finalists include: 1812 Productions for It's My Party: The Women and Comedy Project; Simpatico Theatre Project/The Renegade Company for The Amish Project; and The Wilma Theater for Angels in America, Part Two: Perestroika.
The ceremony also announced the first recipient of the June and Steve Wolfson Award for an Evolving Theatre. This brand new award recognizes, promotes and rewards the creativity, growth and excellence of evolving theatres within the Greater Philadelphia community with annual budgets of less than $400,000. It is intended to foster interaction within the theatre community, increase the community's richness and diversity, and to focus public awareness and accessibility to the most vibrant professional theatre community in the nation. The award carries a $10,000 prize and is sponsored by the June and Steve Wolfson Family Fund.
The inaugural award was presented to 11th Hour Theatre Company. Founded by three artists who grew up in the area, 11th Hour stands out as a company dedicated to producing only musicals. The company has presented many musicals that would have never been produced in the region and they are committed to producing dynamic, high-quality musical theatre that favors intimate, story-driven pieces over flashy, budget-busting spectacles. In just eight seasons, they have been honored with 31 Barrymore nominations and seven Barrymore Awards including two consecutive awards for Best Ensemble. They have built a home for musical theatre performers in the region and have helped keep many talented people in the community. The other finalists for this new award were Azuka Theatre, EgoPo Classic Theatre, Inis Nua Theatre Company and Quintessence Theatre Group.
At the close of the ceremony, audiences moved to the "Theatre Prom Masquerade After-Party" at the Arden's new Hamilton Family Arts Center. While wining and dining, guests were treated to a cabaret of favorite musical moments from the previous season including: 11th Hour Theatre Company's Wild Party, Arden Theatre Company's Next to Normal, Delaware Theatre Company's South Pacific and Theatre Horizon's Spring Awakening.
Azuka Theatre, Bristol Riverside Theatre, Flashpoint Theatre Company, InterAct Theatre Company and New Paradise Laboratories treated audiences to pop-up performances. 11th Hour Theatre Company's Steve Pacek and The Berserker Residents' Justin Jain curated Café Dramatique, where audiences chose their theatrical adventure from a menu du jour. Kim Carson provided a photo booth and MC Elroy served as DJ for the dance party. Audiences were encouraged to bring their own masks to the after-party or they had the opportunity to make one in the arts and crafts studio.
Theatre Philadelphia aims to serve as the public representation and communications platform for those creating and appreciating theatre in Philadelphia and beyond, while bringing together the Greater Philadelphia theatre community to support the needs and values of our artists, professionals and companies. Theatre Philadelphia was founded by a group of local theatre leaders, including Susan Atkinson (Founding Director, Bristol Riverside Theatre), Stacy Dutton (Board President, Lantern Theater Company), Kevin Glaccum (Producing Artistic Director, Azuka Theatre), Grace E. Grillet (Administrative Consultant, People's Light & Theatre), Leonard C. Haas (Actor and Philanthropist), Amy Murphy (Managing Director, Arden Theatre Company), Terrence J. Nolen (Producing Artistic Director, Arden Theatre Company), Erin Reilly (Artistic Director, Theatre Horizon), Anne Shuff (Managing Director, Lantern Theater Company), Steve Pacek (Associate Artistic Director, 11th Hour Theatre Company), and Thom Weaver (Artistic Director, Flashpoint Theatre Company). Please visit www.theatrephiladelphia.org for information.
---
Join Team BroadwayWorld
Are you an avid theatergoer in Philadelphia? We're looking for people like you to share your thoughts and insights with our readers. Team BroadwayWorld members get access to shows to review, conduct interviews with artists, and the opportunity to meet and network with fellow theatre lovers and arts workers.
Interested? Learn more here.
---
More Hot Stories For You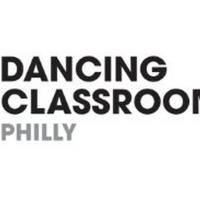 Dance Education Non-Profit, Dancing Classrooms Philly, Gives Back This Giving Tuesday

November 23, 2022

Dancing Classrooms Philly will be giving away a FREE in-school assembly for every $1,000 the non-profit raises on GivingTuesday, Tuesday, November 29th. DCP's assembly programs are interactive workshops that get students up and moving as they learn about a style of social dance, such as Ballroom, Latin, or Hip-Hop.
---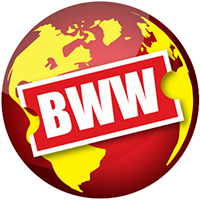 THE NUTCRACKER Opens At Philadelphia Ballet, December 9

November 22, 2022

Philadelphia Ballet has announced the return of Philadelphia's treasured tradition, The Nutcracker.
---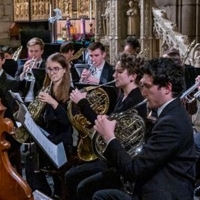 Bravo Brass, An Ensemble Of Philadelphia Youth Orchestra Music Institute, Presents A NEW ERA—SELECTIONS NEW TO BRAVO BRASS

November 21, 2022

Bravo Brass, the all-brass ensemble of the Philadelphia Youth Orchestra Music Institute (PYOMI), enters "A New Era", on Saturday, December 3rd, 2022 at 7:30 p.m. at the historic St. Mark's Church at 1625 Locust Street in Center City Philadelphia.
---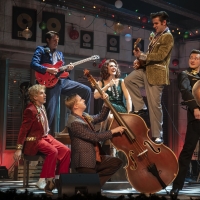 Photos: Bucks County Playhouse Presents MILLION DOLLAR QUARTET CHRISTMAS

November 21, 2022

See photos from Bucks County Playhouse's presentation of "Million Dollar Quartet Christmas," the holiday version of the smash Broadway hit. Running now through January 1, 2023, the book is written by Colin Escott and it is directed by Hunter Foster, who starred in the original production of "Million Dollar Quartet" on Broadway. This new Christmas version is inspired by the imagined story of four music icons who gather for an all-night jam session. 
---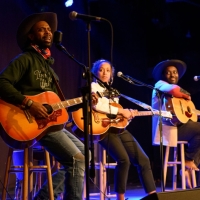 Apply Now for the Black Opry Residency, Expanding Audiences for Black Americana Artists

November 21, 2022

A search for five emerging Black Americana musicians who will have the opportunity to hone their artistic and professional pursuits during a unique artist development residency is launching today through a partnership between Philadelphia public radio music station WXPN and The Black Opry.
---