The Philly POPS Celebrates Philly Contributions To America's Art Form With January Concert Series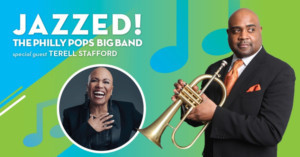 The Philly POPS presents Jazzed! The Philly POPS BIG Band with Terell Stafford, a swinging program honoring Philadelphia's unique contributions to the history of jazz, January 18-20 at The Kimmel Center for the Performing Arts. This performance is a part of The Philly POPS 40th Anniversary Season, which celebrates artists and music with connections to Philadelphia and the POPS.
Internationally-acclaimed and Philly-based trumpeter Terell Stafford joins three-time Grammy-winning vocalist Dee Dee Bridgewater, University of the Arts graduate Alita Moses and The Philly POPS BIG Band, under the direction of Matt Gallagher, for a program exploring jazz music of the '40s and '50s, with a special emphasis on artists who made their mark on jazz in Philadelphia, such as John Coltrane, Stan Getz, Billie Holiday, Grover Washington Jr. and Dizzy Gillespie.
The program includes "Cottontail," "Oh Lady Be Good" and "God Bless The Child"-tunes which would have been familiar at Philadelphia's storied jazz clubs, like Showboat, Bijou and Pep's Musical Bar. During the performance, Dee Dee Bridgewater will perform songs by Billie Holiday and Alita Moses will perform songs by Jill Scott.
Jazzed! bears special significance in the POPS 40th Anniversary Season, because of its connection to The Philly POPS' POPS in Schools program, which gives supplemental music education to students in the School District of Philadelphia.
Through POPS in Schools, the POPS provides performance opportunities for students in the School District of Philadelphia. The pre-concert entertainment for each show will be provided by student jazz ensembles from the School District of Philadelphia-all POPS in Schools participants. The POPS also provides co-op positions with its administration to POPS in Schools students.
Terell Stafford is the director of the All-City Jazz Orchestra (an audition-only honor band) as a part of the School District's All-City Jazz Festival, presented by The Philly POPS through POPS in Schools. Stafford currently serves as Temple University's Director of Jazz Studies and Chair of Instrumental Studies. Matt Gallagher is currently principal trumpet for the POPS, an associate professor at University of the Arts and the director of University of the Art's "Z" Big Band, which is also affiliated with POPS in Schools.
All guests are welcome to arrive 90 minutes prior to each concert for free pre-concert entertainment, including a conversation led by?CBS Radio Philadelphia's?RJ McKay music in the Plaza?in the Kimmel Center lobby.?
Tickets: $35-$160, https://www.phillypops.org/jazzed
About Terell Stafford
Terell Stafford has been hailed as "one of the great players of our time, a fabulous trumpet player" by piano legend McCoy Tyner. Stafford is recognized as an incredibly gifted and versatile player, combining a deep love of melody with his own brand of spirited and adventurous lyricism. Stafford's exceptionally expressive and well-defined musical talent allows him to dance in and around the rich trumpet tradition of his predecessors while making his own inroads.
Since the mid-1990s, Stafford has performed with groups such as Benny Golson's Sextet, McCoy Tyner's Sextet, Kenny Barron Quintet, Frank Wess Quintet, Jimmy Heath Quintet and Big Band, Jon Faddis Jazz Orchestra, Carnegie Hall Jazz Band and Dizzy Gillespie All-Star Alumni Band. Stafford, with the Clayton-Hamilton Jazz Orchestra, performed on Diana Krall's Grammy-nominated From this Moment On (2006). John Clayton invited Stafford to perform with the Clayton Brothers Quintet and Clayton-Hamilton Jazz Orchestra. Stafford is a member of the Vanguard Jazz Orchestra, which was awarded a Grammy in 2009 for Best Large Ensemble, "Live at the Village Vanguard."
Stafford can be heard on over 130 albums. His latest recording This Side of Strayhorn has been hailed as "the first must-have album of 2011" and "genius." Stafford is the Director of Jazz Studies and Chair of Instrumental Studies at Temple University, founder and band leader of the Terell Stafford Quintet, and Managing and Artistic Director of the Jazz Orchestra of Philadelphia (JOP). Stafford is renowned in the jazz world as an educator, performer and leader and has received countless award nominations and accolades.
Stafford was born in Miami and raised in Chicago, Illinois and Silver Spring, Maryland. He received a Bachelor of Science in Music Education from the University of Maryland in 1988 and a Masters of Music from Rutgers University in 1993.
About Dee Dee Bridgewater
Over the course of a multi-faceted career spanning four decades, Grammy and Tony Award-winning jazz giant Dee Dee Bridgewater has ascended to the upper echelon of vocalists, putting her unique spin on standards, as well as taking intrepid leaps of faith in reenvisioning jazz classics. Ever the fearless voyager, explorer, pioneer and keeper of tradition, the three-time Grammy-winner recently won the Grammy for Best Jazz Vocal Album for Eleanora Fagan (1915-1959): To Billie With Love From Dee Dee.
Bridgewater's career has always bridged musical genres. Her first professional experience was as a member of the legendary Thad Jones/Mel Louis Big Band, and throughout the 1970s she performed with such jazz notables as Max Roach, Sonny Rollins, Dexter Gordon, and Dizzy Gillespie. After a foray into the pop world during the 1980s, she relocated to Paris and began to turn her attention back to jazz. Signing with Universal Music Group as a producer (Bridgewater produces all of her CDs), Bridgewater released a series of critically acclaimed titles beginning with Keeping Tradition in 1993. All but one, including her wildly successful double Grammy Award-winning tribute to Ella Fitzgerald, Dear Ella, have received Grammy nominations.
Bridgewater also pursued a parallel career in musical theater, winning a Tony Award for her role as Glinda in The Wiz in 1975. Having recently completed a run as the lead role of Billie Holiday in the off-Broadway production of Lady Day, her other theatrical credits include Sophisticated Ladies, Black Ballad, Carmen, Cabaret, and the Off-Broadway and West End Productions of Lady Day, for which Bridgewater received the Laurence Olivier nomination for Best Actress in a Musical.
About Alita Moses
Alita Moses is the next big thing hitting the international jazz circuit. At 23-years-old, she has won the 2014 Shure Montreux Jazz Vocal Competition at the Montreux Jazz Festival, and performed internationally with the likes of Al Jarreau, Patti Austin, Lee Ritenour, Steve Davis, Joel Frahm, and is back again with The Philly POPS. Alita introduced her talent to Europe for the very first time in May 2016, completing a tour with 29 sold-out concerts in Germany, Austria, Switzerland, Czech Republic and Slovakia.
Originally from West Hartford, CT, Alita recently graduated from the University of the Arts in Philadelphia, earning her BM in Jazz Vocal Performance. She has performed as a soloist with the Hartford Symphony Orchestra and has shared the stage with some of the hottest players of the New York City jazz scene, such as Joel Frahm and Larry MeKenna.
While Alita's career started in jazz, her versatility and inspirations have led her to the neo-soul scene where she has made a mark with her band, Lohai, and has been recruited for performances like singing with rapper Vic Mensa on The Late Show with Stephen Colbert. Whether on the stage or in the studio, she brings a natural warmth to each performance and astounds audiences with grace, soul and a musical maturity beyond her years.
About The Philly POPS BIG Band
The POPS BIG Band is composed of 18 musicians - saxophones, trumpets, trombones, drums, piano, guitar and bass. The BIG Band plays swing and jazz and has expanded its repertoire into all kinds of popular music from Latin to blues and rock. The Philly POPS BIG Band members were chosen for their passion for popular music. Each is also a teaching artist, adept at instructing the next generation of musicians.
The new Philly POPS BIG Band debuted on July 4, 2017 with two performances during the city of Philadelphia's Wawa Welcome America 2017 festival. In the morning, the ensemble played at the Celebration of Freedom ceremony and parade on Independence Mall. In the evening, the BIG Band opened the city's Wawa Welcome America July 4th Concert and Fireworks show on the Benjamin Franklin Parkway. NBC10 and Telemundo62 televised both performances.
The Philly POPS BIG Band is led by Matt Gallagher, principal trumpet for the POPS. He is an associate professor at University of the Arts and is one of the most sought-after trumpet players on the East Coast. He has performed with Broadway show production and such world-class organizations as the Philadelphia Orchestra and the Boston Symphony Orchestra. He's appeared with Aretha Franklin and Diana Krall, among many others and recorded with Céline Dion, Jennifer Lopez, Jennifer Hudson and LL Cool J.
About The Philly POPS
The Philly POPS, the largest standalone pops orchestra in the United States, delights audiences with the inspired performance of American popular music. The POPS celebrates this distinctive musical heritage through an expanding repertoire of innovative concert performances and a robust set of educational and engagement initiatives.
Now celebrating its 40th Anniversary Season, the POPS, the official POPS orchestra of Pennsylvania and the City of Philadelphia's partner in civic celebration, serves a consistently growing audience of over 200,000 annually. Music Director Michael Krajewski and the 65-piece Philly POPS orchestra keep listeners tapping their toes to an impressive repertoire of songs from American traditional music up through to today's chart-toppers. The Philly POPS BIG Band, an 18-20 piece ensemble performing a rock and rhythm and blues repertoire, premiered in 2017 to enthusiastic response at the July 4 Welcome America Concert on the Parkway.
Outside the concert hall, free Salute Series performances - including Memorial Salute, July 3 POPS on Independence, July 4 POPS on the Parkway and the I'll Be Home for Christmas: A Salute to the Military and First Responders concert - celebrate the American tradition of service around important national holidays. POPS in Schools enhances music education for Philadelphia School District students; POPS Outside brings POPS music to local communities. The Philly POPS performs as a founding resident company of The Kimmel Center for the Performing Arts, and at venues throughout the mid-Atlantic region.
Related Articles View More Philadelphia

Stories

Shows
More Hot Stories For You