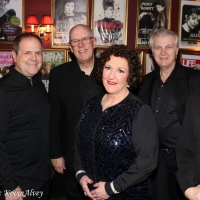 Photo Coverage: Marci Kraft Brings COME PARTY WITH MARCI to Don't Tell Mama
by Kevin Alvey - Jan 21, 2020
Marci Kraft opened her 6th in a series of clever cabaret shows at Don't Tell Mama Cabaret in NYC. Her unique take on the evenings' song lists are directed at tunes of particular decades from 40's to 50's and now in the newest incarnation, songs of the 70s (and specifically a few popular TV theme songs - in this case, from the 80s).
Photo Coverage: Marci Kraft Brings SINGING AGAIN...FOR THE FIRST TIME to Don't Tell Mama
by Stephen Sorokoff - Jan 11, 2013
In a show titled "Singing Again...For the First Time" Marci Kraft, lawyer at the New York Times (and graduate student of Marilyn Maye's master class) performed music of the 20's & 30's last night at DON'T TELL MAMA. Marilyn Maye in addition to her touring schedule conducts Master Classes of Performance across the country and is also an acclaimed vocal coach.