Latest News on Ted Williams
Stage Credits
  [Broadway]
Original Broadway Production, 1978
Redcap [Replacement]
Porter (Understudy) [Replacement]
Stage
Performances
  [Broadway]
Original Broadway Production, 1978
Redcap [Replacement]
Porter (Understudy) [Replacement]
Ted Williams News
BWW Review: A LITTLE WOMEN CHRISTMAS at Little Theatre Of Mechanicsburg
by Andrea Stephenson - Nov 28, 2021
Little Women is a beloved novel that has captured the hearts and minds of many over the years. Highlighting various portions of the story, Stephen Joseph Burke's play A Little Women Christmas is a tale of hope, faith, family, and love. A story for all ages, this play takes center stage at Little Theatre of Mechanicsburg November 27-December 12.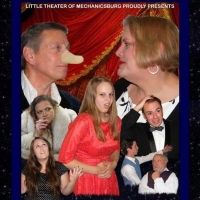 BWW Review: MOON OVER BUFFALO at Little Theatre Of Mechanicsburg
by Andrea Stephenson - Sep 14, 2019
BWW Interview: Kaitlyn Booth And Nova Lorraine of THE UNEXPECTED GUEST at Little Theatre Of Mechanicsburg
by Andrea Stephenson - Apr 26, 2019
Add together a foggy night, dead body, clues that point in different directions, twists and turns, and what do you get? Agatha Christie's The Unexpected Guest. The Unexpected Guest opened in 1958 in the West End and was turned into a novel by Charles Osborne in 1999. Test out your detective skills at Little Theatre Mechanicsburg where The Unexpected Guest will take the stage April 26-May 12. I had the opportunity to take a sneak peak of the first act and to speak with two of the actors-Kaitlyn Booth, portraying Laura Warwick, and Nova Lorraine, playing Inspector Thomas.
BWW Review: Reimagined MISS SAIGON Gets Standing "O" At The Connor Palace, But...
by Roy Berko - Jan 31, 2019
Before you ask, 'Yes, a helicopter lands on stage in the touring production of 'Miss Saigon,' now on stage at the KeyBank State Theatre, but, as with the production itself there is a 'but . . .'.

BWW Review: THE MOUSETRAP at Oyster Mill Playhouse
by Andrea Stephenson - Jan 27, 2019

BWW Review: New Life: PILOBOLUS: BRANCHES at Veterans Auditorium
by Larry O'Brien - Oct 30, 2018
In the interest of full disclosure, what I know about modern dance could fit in a thimble. In addition, I am a Boston Red Sox fan of the first magnitude, back to the days of Ted Williams and Carl Yastrzemski. So what was I doing out at Veterans Auditorium on a Friday night when game three of the World Series was about to begin? Well, I, along with about 2000 other similarly misdirected souls, was out to cover a modern dance performance by a group called Pilobolus put on by FirstWorks. I am really happy I went. It was a mind-blowing show, which combined the strength of David Ortiz, the grace and speed of Mookie Betts and the trickery of a Tim Wakefield knuckleball; and when I got home, the ballgame still had four-and-a-half hours to go!

NY Composer Hits A Home Run With Williams Documentary
by Tori Hartshorn - Sep 20, 2018
The National Pastime has been a fan favorite for movie buffs since the infancy of the two American institutions.  The annual celebration of that connection returns this week in Cooperstown at the National Baseball Hall of Fame and Museum's 13th Annual Film Festival.  Ted Williams: "The Greatest Hitter Who Ever Lived" headlines the Film Festival, which begins on Friday, Sept. 21.   The film was produced by Al Tapper, composer and lyricist of the Off Broadway hits 'Sessions', 'An Evening at the Carlyle', 'All Aboard!' and 'National Pastime,' the baseball musical which has played all over the world.  Tapper's latest musical 'The Paparazzi', opens in Guadalajara October 19th.  Tapper has also produced the hit documentaries 'Broadway: The Golden Age' and 'Broadway Musicals: A Jewish Legacy'.  'Broadway Musicals: A Jewish Legacy' won the 2013 Peabody Award.
Dickson Country Craig Morgan Foundation Updates Mission To Serve Area Foster Children & Families
by Tori Hartshorn - Aug 20, 2018
The Dickson County Craig Morgan Foundation (DCCMF) announced today an update to its mission to serve the foster care system in Dickson County.
THE PAPARAZZI Premieres in Mexico
by Julie Musbach - Jul 24, 2018
The book and songs for the new musical 'The Paparazzi' are being written in Manhattan but the director, actors and designers who are going to bring it to life are three thousand miles away. Mau Cedeno is currently in Guadalajara, Mexico, directing rehearsals for the brand new show with songs by Al Tapper and book by Tony Sportiello, who reside in New York, Utilizing email and Facebook the collaborators work on the show daily despite being in two separate countries. 'The Paparazzi' is scheduled to open at the Vivien Blumenthal Theatre in Guadalajara this October,

TED WILLIAMS: THE GREATEST HITTER WHO EVER LIVED, Narrated by Jon Hamm, to Debut on PBS July 23
by Macon Prickett - Jun 7, 2018
During his remarkable career with the Boston Red Sox, Ted Williams earned many nicknames - The Kid, The Splendid Splinter and Teddy Ballgame, but the only nickname that he wanted was "the greatest hitter who ever lived." In that pursuit, he combined his preternatural gifts with a fierce work ethic to become widely regarded as one of the greatest ever to play the game of baseball and in the process elevated the science of hitting in ways still emulated today.
Ted Williams Frequently Asked Questions
How many Broadway shows has Ted Williams been in?
Ted Williams has appeared on Broadway in 1 shows.
How many West End shows has Ted Williams been in?
Ted Williams has not appeared in the West End