Review: THE MOUSETRAP at Oyster Mill Playhouse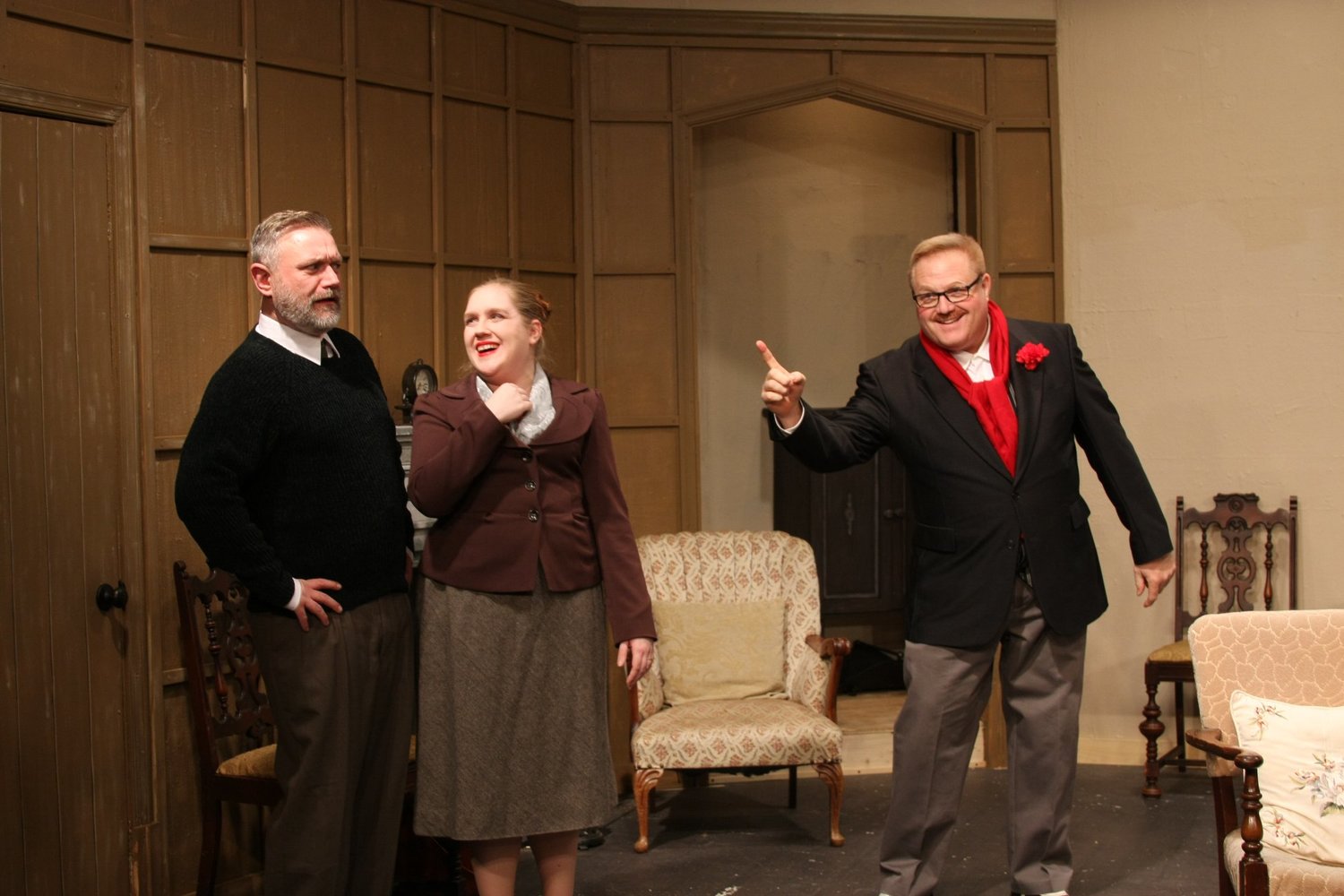 Agatha Christie's The Mousetrap first opened in London in 1952. The play is based on a short story, which, in turn, was based on a short radio play called Three Blind Mice in 1947. The longest running play in the West End, The Mousetrap, with its twists and turns, continues to captivate audiences today. You can catch The Mousetrap at Oyster Mill Playhouse through February 10th.
Everyone who worked on the set for The Mousetrap-Michael Hosler, Susan Oscilowski, Aliza Bardfield, Jack Eilber, Jon Morgan, and Dave Lutz-deserves a round of applause for the beautiful set. From the moment the audience enters the theatre they are welcomed into the Monkswell Manor Guest House. Of particular note are the many doors and the beautiful window through which the audience can see lovely snow-covered trees.
Caitlyn Davis is wonderful as Mollie Ralston. With her first entrance, the audience can feel Mollie's nervous excitement at opening her guest house for the first time. Davis handles the range of emotions and expressions necessary for the character beautifully, and her interactions with the other characters come across as genuine. The relationship between Mollie and her husband Giles comes to life in Davis's hands, and Craig Copas's Giles is the perfect complement to her Mollie.
Copas's performance is brilliant, easily making Giles one of my favorite characters in the show. His comedic timing is spot on, and when he imitates some of their guests it is absolutely hysterical. Copas has a wonderful range of facial expressions, demonstrating every emotion from joy and love to fear and anger.
The part of Christopher Wren is perhaps one of the most difficult. Jake Tingstrom takes on the challenge and makes it look easy. It is impossible not to like this character even though he is definitely a bit eccentric. Tingstrom plays this part so that he is not only funny but also sympathetic, and the way in which he relates to Davis's Mollie is adorable.
As in many Agatha Christie plays The Mousetrap includes an older woman who disapproves of everything. Susan Oscilowski performs this character, Mrs. Boyle, perfectly. Her expression never wavers from its look of complete disapproval, and her tone of voice matches it. Though small in stature, Oscilowski has no trouble making Mrs. Boyle a formidable woman.
Next to most of the other characters, Major Metcalf is surprisingly normal. Ted Williams plays the Major in an unassuming way, instilling in the character a mild-mannered, calm personality. While the other characters display an array of emotions, the Major remains steady-just what one would expect from a military man.
Bryden McCurdy portrays Miss Casewell with just the right amount of straightforward practicality mixed with a dark humor. Her character is an interesting contrast to the bubbly Mollie and the straight-laced Mrs. Boyle. In McCurdy's hands Casewell is a relatable and down-to-earth.
Paravicini, the one guest that shows up unexpectedly, is consistently funny throughout the show. Even when things seem tense, Paravicini is good for a laugh. Jonathan Morgan is very convincing in the role, keeping the audience chuckling while wondering who he really is.
Rounding out this wonderful ensemble cast is Jack Eilber as Sergeant Trotter. His entrance is fantastic, and the audience can certainly sense his frustration when his first round of questioning does not go as he hoped.
To say much more would give away the plot of the show, and it's definitely a show everyone should see for themselves. Kudos to the cast and crew as well as to director Aliza Bardfield and assistant director Michael Hosler on bringing Agatha Christie's The Mousetrap to life in an entertaining and captivating way.
Tickets are going fast, so visit www.oystermill.com to get yours before it's too late.