Random Access Theatre Takes A VERY Drunk Text Run At Harry Potter with, HARRY THE FIRST, THE BOY WHO HATH LIV'D at Don't Tell Mama
Holy Drinking Games And Voldemort's Names!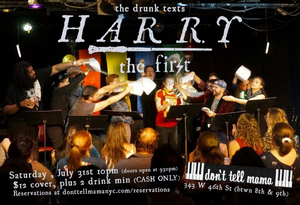 OHHHHH Never Have I Ever Seen Hary Potter Shakes-Speared Quite Like This...
Heigh-Ho, My Merry Rainbow Tribe! Bobby Patrick, your RAINBOW Reviewer here. Putting the silent T in cabareT to bring you all the T!
So, last Saturday my lambkins, we took ourselves down to Don't Tell Mama to see a very intriguing sounding show in their main room. A creation of the Random Access Theatre, THE DRUNK TEXTS was originally conceived, pre-pandemic, as a month-to-month offering where the creatives behind RAT (not me... that's their initials) "dust off a classical text, or a text made classical, in a performance that combines drinking games, improvisation, and audience participation." Or so says their website. Then, these texts both classical and not-so-classical are placed in a bar setting and performed as a frolicsome, interactive booze fest for modern-day groundlings. In the case of last Saturday, the company chose to celebrate their return to the live stage AND Harry Potter's actual birthday (Look it up in the first book.) with HARRY THE FIRST, THE BOY WHO HATH LIV'D; an adaptation of the screenplay to HP1 done in their own brand of Shakespeare speak with a lot of thee's and thou's, and truly I dost's, and yay verily's, doused in booze and set on fire with hopes the copyright police were not in the house. Sounds like fun right? Well, yeah, it is for the most part a lot of fun. Cramming as many as a dozen actors onto DTM's tiny stage, playing drinking games with the audience and fast and loose with their "classical speak" and their script, the energetic group of millennial actors played host to their well-worn millennial audience who got everything they paid for and then some. If there were newbies in the audience Saturday night, it was not apparent to Little Bobby as everyone seemed way ahead of us on all the practices of this theatre company and its clever, inebriated creation.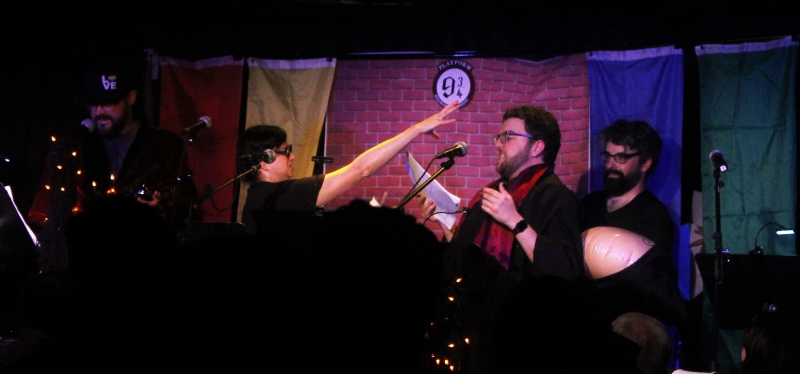 Adapted by brother RATs Levi Penley and Mike Gregorek, the script to HARRY I walked through the familiar scenes from SORCERER's STONE the movie which was adapted from JK Rowling's book that she, in turn, adapted from every other hero's journey magical epic that came before her, Wizard Of OZ, Lord Of The Rings and, Star Wars included. Gregorek then took up the position as the evening's narrator, explaining the rules and ringing the bell each time the audience was to take a drink because a company member mentioned magic, Shakespeare, cast a spell, or if he who must not be named got named. The cast was not immune from the tippling either as each act started with the crowd selecting a player to take a shot of gas station whiskey before each of the 5 acts. There was also plenty of chugging from their sports bottles as the general rambunctious foolery ramped up to a fevered pitch all in good fun. To bring a few raindrops with the rainbows and add a bit of critic to this critique, the drawback to reading a screenplay on the live stage, however humorously "Shakespeare-ified" it might be, the heavy lifting lands squarely on the narrator's wobbly shoulders and leaves actors just popping up to say a line or two here and there and then it's back to storybook corner. Penley & Gregorek didn't stop to pen some classical speak into the scene transitions and setups and, truthfully their iambic was chasing their pentameter in the actor dialogue scenes most of the time. Did any of this matter? Oh Hell No! This show was a party in the end-of-year banquet tradition of your college theatre department where the big, satyric sketch followed the dolling out of all those popularity awards.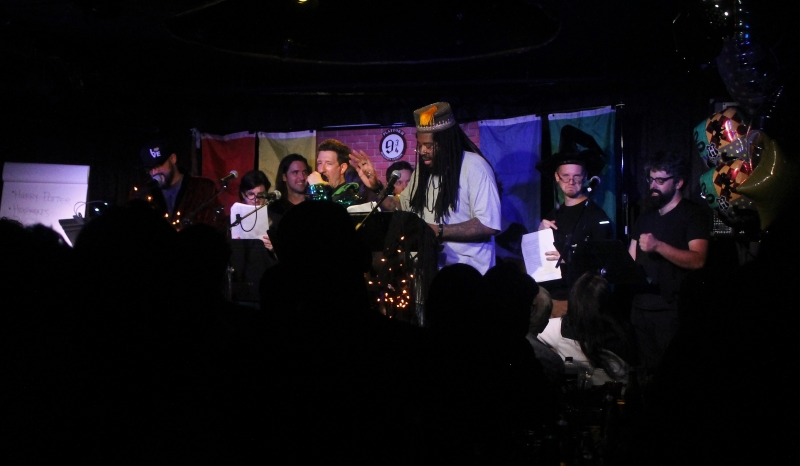 Saturday night's company...
Host: Mike Gregorek
Dumbledore: Eric Austin
Harry: Erin Leigh Schmoyer
Ron: Gabe Templin
Hermione: Lindsey Kelly
Snape/Malfoy: Christopher McIntyre
Hagrid: Paul Mitchell Wilder
Quirrell/Voldemort: Kevin McCarthy
Creatures & More: A.J. Cote
Teachers & More: Andrew Orsie
Neville & More: Addi Herndon
Blasted through their texts while getting blasted and made the entire evening a raucous revelry for their appreciative onlookers. Did the adapted script make one gasp at its cleverness? Oh, Hell no, but there was plenty of the old social lubricant poured over it to make it all go down... so who needs that spoonful of sugar. A shout-out should be given to Erin Leigh Schmoyer whose vocal and acting choices clearly lampooned the young and inexperienced Daniel Radcliff. In the end HARRY THE FIRST, THE BOY WHO HATH LIV'D, produced by RAT's Mike Gregorek, Jennifer Sandella, and Victoria Teague gave all in attendance a night out to party and blow off post-pandemic steam, and for that Bobby gives Random Access Theatre, DRUNK TEXTS a solid...
3 Out Of 5 Rainbows
Follow Random Access Theatre On Their Socials And Website To Get All The Info About Their Upcoming Drunk Text Performances
Random Access Keeps Their Webby: HERE
See Their Insta-Pictograms: HERE
And Followe On Ye Olde FaceBooke: HERE
Their Drunk Text Webby Is: HERE
Their Insta-Pictograms Are: HERE
Followe On Ye Olde Facebooke: HERE