Photo Flash: Casting Announced for Taylor Mac's HIR at Jobsite Theater
The title, HIR, (again, pronounced "here") refers to a genderqueer pronoun. "It's not simply a reference to the character of Max," says David M. Jenkins, "but a commentary on what it is all four of these characters (and Mac as a playwright) are trying to do with masculinity. Mac sets up a very traditional, very familiar-feeling kitchen-sink play - one that is positively hilarious -- and then spins it on its axis, or maybe better stated tries to burn it all down. The style is described as "absurd realism," but the emphasis here is on the real. Mac requires that any absurdity in the show be driven by the reality of the situation, only moving to an absurd level because of the extreme circumstances." In an interview with the Steppenwolf Theater in Chicago, where the show enjoyed a highly successful run after the New York engagement at Playwrights Horizons (and where Annie Baker's The Flick, produced earlier this year, also premiered), Taylor Mac says that he was highly inspired by Sam Shepard's groundbreaking Buried Child. "In addition to the Buried Child comparisons HIR has, in my estimation, taken its place alongside great American family dramas like Long Day's Journey into Night, The Little Foxes, A Raisin in the Sun, Death of a Salesman, Cat on a Hot Tin Roof, and Fences. It truly represents our day and age in ways audiences will continue to look back to for decades, if not centuries."
Robert Spence
Gabriel is a relative newcomer to the Tampa Bay area, having previously appeared as Crookfinger Jake in Jobsite's The Threepenny Opera. This is Salem Brophy's professional theater debut, having recently graduated from Eckerd College under the tutelage of Gavin Hawk.
Roxanne Fay
and
Ned Averill-Snell
are no stranger to area stages: Fay has most recently recently been seen in Jobsite's The Tempest and Averill-Snell in Gloucester Blue. The show is directed by David M. Jenkins, who also provides sound, and features designs from Ryan Finzelber (set, lights) and
Katrina Stevenson
(costumes). Jobsite is also working with Massachusetts-based dramaturg Finn LeFevre to better tackle the play's many complexities. Taylor Mac (whose preferred gender pronoun is "judy") is a playwright, actor, singer-songwriter, performance artist, director, and producer considered to be one of the world's leading theater artists. Taylor is considered a "critical darling of the New York scene" (NY Magazine), and has performed at Lincoln Center, Chicago's Steppenworlf, the Sydney Opera House, the Spoleto Festival, and MOMA. Mac is a MacArthur Fellow (commonly referred to as the "Genius Grant"), a Pulitzer Prize Finalist for Drama, and is the recipient of multiple awards such as the Kennedy Prize, the NY Drama Critics Circle Award, a Guggenheim, and two Obies. HIR runs Mar. 9 - Apr. 1, 2018. Single tickets start at $29.50. A season pass for the remaining three shows in the season (HIR, 1984, Dancing at Lunaghsa) is available for 20% off the price of single tickets with no added charges. If available, rush tickets for students, persons 65+, military/veterans and their dependents (Jobsite is a proud Blue Star Families theatre), Theater Communications Group, and Theatre Tampa Bay members are $15 off as of 30 minutes to curtain with cash and ID at the Straz Box Office window. Special preview performances are Mar. 7-8 with all seats priced at $15.


Ned Averill-Snell as Arnold.

Roxanne Fay as Paige.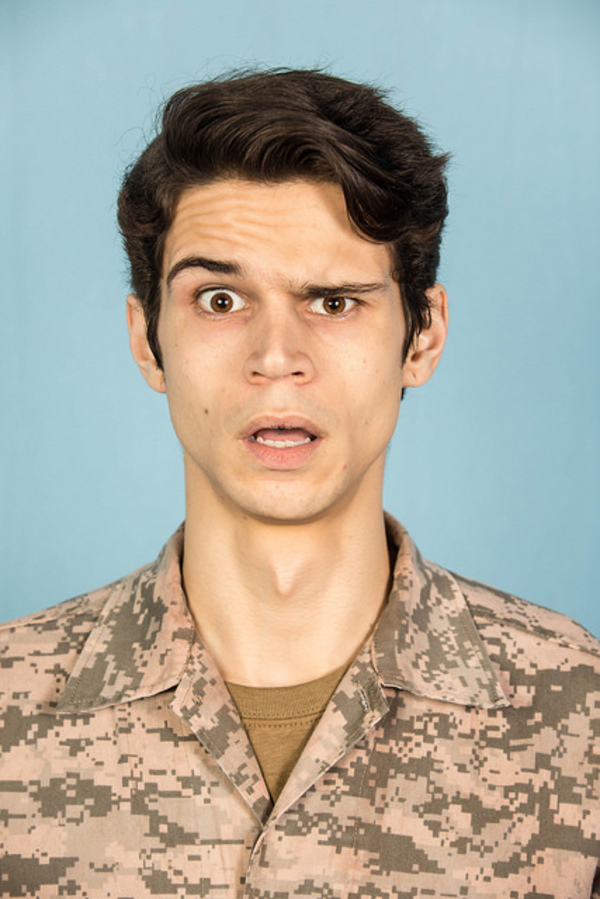 Robert Spence Gabriel as Isaac.

Salem Brophy as Max.