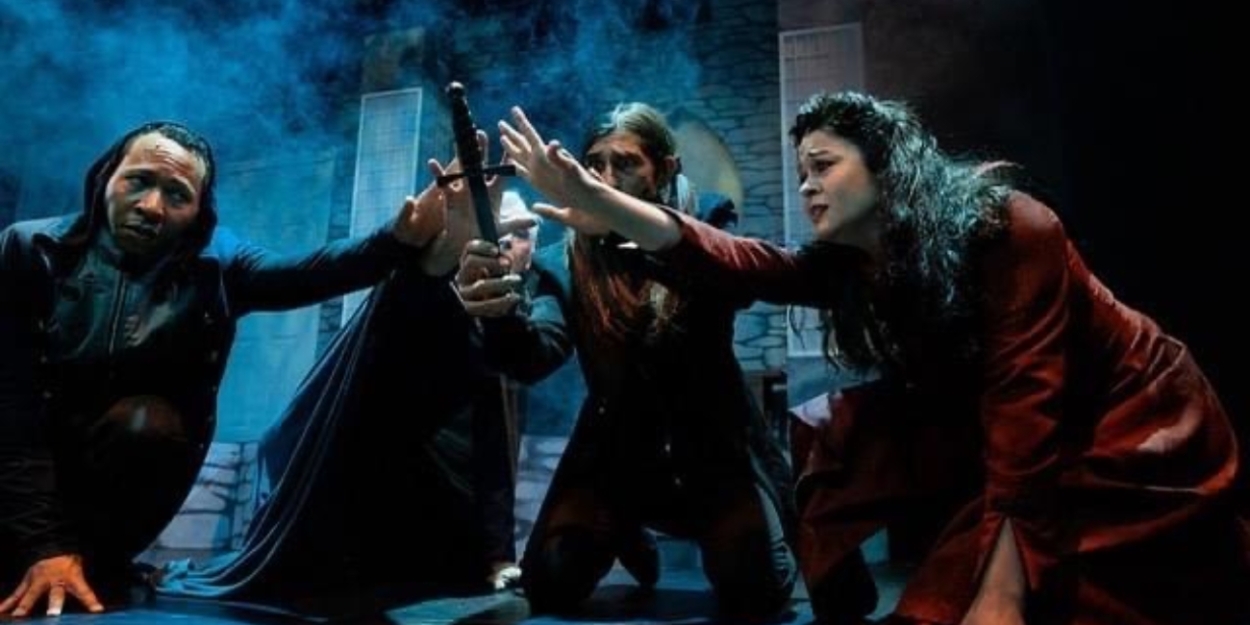 Review: Tackling One of The Bard's Most Famous Tragedies, HAMLET, at Jobsite Theater
Giles Davies leads an all star cast through one of The Bard's most famous and sought after texts.
"The Past is never dead. It's not even past. -William Faulkner
"To be or not to be-- that is the question:
Whether 'tis nobler in the mind to suffer
The slings and arrows of outrageous fortune,
Or take arms against a sea of troubles
And, by opposing, end them. To die, to sleep--
No more- and by a sleep to say we end
The heartache and the thousand natural shocks
That flesh is heir to-- 'tis a consummation
Devoutly to be wished. To die, to sleep--
To sleep, perchance to dream..." (Hamlet, Act 3 Scene 1, Line 64-73).
Hamlet, coming to be revered as his most famous and sought after work, was written by William Shakespeare sometime between 1599 and 1601. Writing later in his career has allowed his growth, his artistry, the exquisite use of Iambic Pentameter to be used in such a way that has proven time and time again to withstand the test of time. I think thats what I find most appealing about Shakespeare's work. You can set it in any time frame, albeit present or past and its still as relevant as the day it was first produced.
Jobsite Theater, Resident Theater Company of Tampa's Straz Center, proves time and time again that, "No one Rocks the Bard, as hard, or as relevant..." No matter which way you spin it, Jobsite Theater has found a niche and a way to bring Shakespeare to not only loyal fans of the Bard's work, but also newer audiences in a younger generation, through use of unique staging concepts, setting, and even the implementation of School Field Trips to see the show performed live. Making live theater accessible, and proving that with Jobsite around, the Bard's work, and at times even him most revered/famous works are in the finest of hands.
Hamlet, is Shakespeare's longest work with 29,551 words in text. Set in Denmark, the play tells the story of Hamlet and his unbridled need for revenge against his uncle Claudius, for murdering Hamlet's father in way to seize the throne and marry his mother.
Three different earlier versions of the play were written and noted as the First Quarto (Q1,1603), the Second Quarto (Q2, 1604), and the First Folio (F1, 1623). All versions include lines and passages excluded from the others.
We note the major and minor characters throughout Shakespeare's text as Hamlet himself delves further into madness.
Hamlet- son of the late king, and nephew of the present, Claudius
Claudius- King of Denmark, Hamlet's uncle, and brother to the former king.
Gertrude- Queen of Denmark, and Hamlet's mother.
Polonius-Chief Counselor to the king
Ophelia- Polonius's daughter
Horatio-friend of Hamlet
Laertes- Polonius's son
Voltimand and Cornelius- Courtiers
Rosencrantz and Guildenstern- Courtiers, friends of Hamlet
Osric- a courtier
Marcellus- an officer
Barnardo- an officer
Francisco- a soldier
Reynaldo- Polonius's servant
Ghost- the Ghost of Hamlet's father
Fortinbras- prince of Norway
Gravediggers- a pair of sextons
Player King, Player Queen, Lucianus, etc....
For all intents and purposes, and the purpose of this production, some parts were doubled, and smaller parts were omitted for clarity.
Artistic Director David Jenkins, and team have assembled the finest group of performers to take the stage by storm and move us through the tale at a rapid pace. If performed in its entirety with an intermission Hamlet would run roughly four and a half hours. David Jenkins and Giles Davies (Hamlet/Text Coach) judiciously cut the original text, making the focus more about ghosts, detective-work, and revenge- to arrive at a length hopefully far more palatable for a modern audience at less than two and a half hours.
Leading this outstanding cast is none other than Jobsite staple Giles Davies as our Prince of Denmark, Hamlet. Giles commands the stage and focuses on the grittiness of the text, while diving head-first into madness. He brings a darker layer to his Hamlet and, one you do not wish to take your eyes off of. The magnificent performance by Davies is coupled with a banter and wit that only a performer of his renown could bring to Hamlet. His almost Joker-esque quality to his Hamlet is so cynical, yet so method in ways of his comedic timing and the way he moves about the space. This is Giles' world and we are just mere spectators to a level of talent that is insurmountable and fresh, and needs to be witnessed for its greatness.
As Claudius, the undeniably exceptional Ned Averill-Snell is sheer perfection. My favorite moments were his moments as the Ghost. The combination of the staging/lighting, with Ned's portrayal still produces and image seared into my brain and ears even days later. His haunting quality and overall presence onstage makes this an unforgettable turn, and one of my favorites of his to date.
Roxanne Fay as Gertrude is wonderful. From the donning of a long-blond wig, to her presence onstage, you feel her grace, her grief, and most importantly her love. I've said this before and I will continue to say it time and time again, I would move mountains to see anything in which Roxanne is involved, and I am in my humblest of gratitudes to be able to experience her turn as Gertrude.
Jim Wicker as Polonius is a great addition to the Company. He gave Polonius slightly more edge than I remember him having, and it made for an exciting turn.
As Horatio, Carla Corvo makes a welcomed debut with Jobsite. She is by Hamlet's side through and through, and experiences his descent into madness.
As Ophelia, and wearing double hats as the Production's Costume Designer, Katrina Stevenson, who is no stranger to Jobsite, has taken her skills to new heights with this portrayal. From being in one scene, and off the next, continuing a clear through-line from start to finish can be exhausting for even the most seasoned performer. Ophelia's descent into madness is handled with the greatest finesse in Katrina Stevenson. Each time I experience her work onstage I am more compelled, more drawn in, and more captivated than the time before. That is not only the work of a masterful Director, but an exceptional artist living deep within the soul of the performer. Katrina's turn as Ophelia is a different level from her than I have ever seen, and this stunning portrayal still lives rent free in my head days later. Stunning and exceptional work by Ms. Stevenson.
Having last experienced Daniel Lennox Jr. in Dracula earlier this season, I was already in tune with the level of performance to be delivered. His portrayal as Laertes is so exacting, so precise, and so spot on you don't dare steal away.
Nicole Jeannine Smith as Guildenstern is a feat of comic proportions. Her back and forth moments with Katherine Yacko's Rosencrantz make for some lighter moments in the show. Nicole was last seen in Animals Out of Paper with Jobsite, and gave one of my favorite performances of last year, here her Guildenstern would make Tom Stoppard blush, and she is a wonderful addition to this exceptional company of players.
Katherine Yacko as Rosencrantz is the perfect addition/sidekick to Guildenstern. The back and forth between the two is such fun to watch. Katherine Yacko makes a joyus debut with Jobsite and we welcome her to the Tampa arena.
As Barnardo, Theron "T.R." Butler is great. Having last seen him on Jobsite's stage in Romeo & Juliet as Capulet, where his searing portrayal still sits in the back of my mind. Here as the officer Barnardo, T.R. is precise and staunch in every form of the word.
Hugh Timoney as Marcellus, another officer, is a welcomed addition to the Company of players rounding out the cast. Having last experienced him in Resistible Rise of Arturo Ui, also with Jobsite, its nice to see him back onstage once again. His back and forth with Barnardo is a great layer to the show.
From a technical standpoint, Jobsite continues to excel in all areas. From the outstanding and stunning score from Jeremy Douglass, to the exceptional Scenic Design by Brian Smallheer, Julia Rifino's exceptional scenic artistry, Tea Banks masterful prop work, and the beautiful/captivating lighting design by Jo Averill-Snell, all blending the world of the show seamlessly together to help propel the story forward. You know with a Production Team such as this, you will be in for a treat. The cherry-on-top is the beautifully rendered costumes by Katrina Stevenson, that help bring each of these characters to life.
David Jenkins' clear vision, and precise Direction proved to be a masterclass in setting the tone for the evening. Expertly paced, and not a minute too long, Hamlet is a dynamic, fast paced and searing image of Sleuth and Revenge. Coupled with the outstanding Fight Direction from Dan Granke, makes this the talk of the town. There currently is another "Ham," in residence, but word on the street is that he's leaving soon.
David Jenkins and team have done it again, proving that the Bard, though classic, is still as relevant as ever. Fans of Jobsite's work and newcomers alike will find something that appeals to everyone in one of Shakespeare's greatest tragedies.
Tickets to Jobsite Theater's stunning Production of Hamlet, can be purchased by visiting the Straz Center's website at www.strazcenter.org, or by calling the box office!
"To be, or not to be..." in the audience when Jobsite is onstage, is never the question. You MUST SEE the exquisite work each of these artists are bringing forward every night, for you will not be disappointed. With Live Theater more accessible now, perhaps more than ever before, you have not a second to waste. You can also find out about ways to subscribe to the exceptional programming Jobsite has to offer by visiting www.jobsite.org.
"Madness, in great ones, must not unwatched go..."
PHOTO CREDIT: JAMES ZAMBON PHOTOGRAPHY