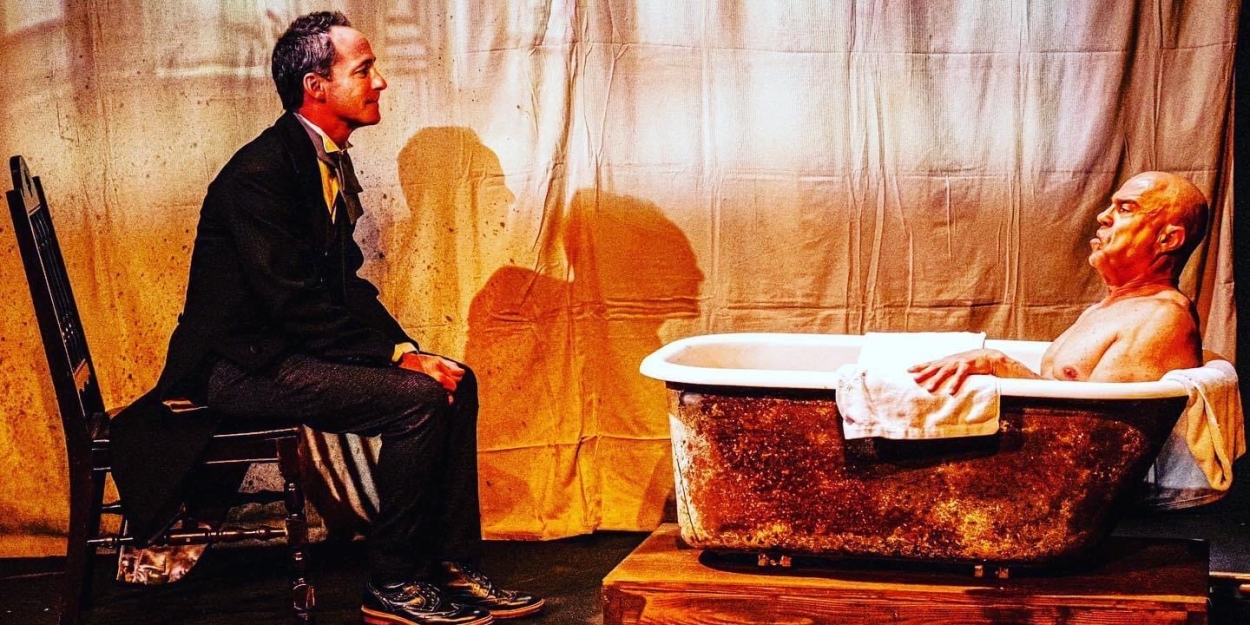 Review: THE ELEPHANT MAN at TampaRep
Bernard Pomerance's The Elephant Man runs through February 19, 2023.
"Are you not convinced sir, that he is DANGEROUSLY human?"
Bernard Pomerance's The Elephant Man, premiered at the Hampstead Theatre in London in November of 1977. Pomerance's play also transferred to The National Theatre in London for an "In Rep" residency. From January to March of 1979 it played off- Broadway, and made a transfer to the Booth Theatre on Broadway later in 1979, but the production closed in 1981 after 916 regular performances. The Elephant Man received revivals in 2002 and 2014.
Tampa Repertory Theatre, a mainstay of the Tampa Bay theatre community, chose to produce Pomerance's brilliant work as part of their 2022-2023 season. As last night (Thursday) was final preview prior to opening night, I sat with bated breath waiting to experience the brilliant work, by an esteemed group of the some of the finest area talent. A humbling experience just to be in the room.
The plot is simple yet complex. Telling the life of Joseph Merrick, commonly referred to as John Merrick living in Victorian times. The role of Merrick was originally portrayed by David Schofield, and has since been played by the likes of Phillip Anglim, David Bowie, Mark Hamill, Bruce Davison, and most recently Bradley Cooper.
Though the play talks about his physical deformities and abnormal appearance, Pomerance's script calls for no use of Prosthetics. Which in turn for me, anyway, makes this piece that more intriguing. The physicality required for this role is of a magnitude of proportions. To move about the space as John Merrick was conceived to do requires a lot of physically demanding intentions on the part of the performer. You have to almost live in the space of this character, in his mind, and in his psyche to capture the abnormal appearance, and deformities herein described.
At the top of his game, Paul Potenza is undeniably perfect for the role of Merrick. As John Merrick, Potenza is precise and calculated, never a beat too far or too behind, but right on his mark, precisely where he means to be. He captivates the room with his commanding stage presence from first start to final lights. As Merrick's disfiguration is described you witness Potenza transform before your very eyes. Gone is the man playing Merrick, and instead here stands Merrick as he was meant to be. Having last seen Potenza onstage in Dracula with Jobsite, as Reinfeld, you get an even more wounded soul with his Merrick, lost, broken, beaten down, but in his heart hopeful for a better life.
Another scene that truly captured the masterful work on display by Potenza was the scene in which Merrick is building a model of St. Phillip's Church. You feel every move in his hands, and every pain in his body as he completes his project.
You get a feel for the innocence of the man, when he explains to Mrs. Kendal that he has never seen a real woman naked before. In an almost child-like innocence for the first time we see Merrick truly discover what beauty means to him.
Merrick's final scene in Pomerance's play packs a wallop. To see him forego his lunch and all he is accustomed to knowing, and finally laying down his head, we see a man who is so wounded he must give up. If this were on Broadway, Potenza would surely earn a nomination and win a Tony, for his portrayal as John Merrick is the best I have seen of his latest work. A truly dynamic performance from an exceptional performer at the height of his game.
As Mrs. Kendal Georgia Mallory Guy is a marvel. Poised, and to the point, she means business, but has a heart that she wears on her sleeve. The moment with Merrick in which he first sees a naked woman is one of the most vulnerable moments onstage and really shows the friendship Mrs. Kendal and Merrick have grown accustomed too. Always a joy anytime I get to experience Georgia Mallory Guy and her powerful presence each time she is onstage.
Christopher Marshall as Fredrick Treves is staunch, stoic, and a no nonsense man of science. Treves believes there is a reason for everything, a solution to a problem, a probability of an outcome, and can often times achieve its findings. His moments with Merrick really show the type of doctor he strives to be. You can tell he means business but has a heart, and a passion for his craft. Having never experienced Mr. Marshall's presence onstage before, I can say I'm glad that this was the show in which I had the opportunity. Not only with Merrick, but also with Mrs. Kendal, you see Treves'clear thru- line and Christopher's performance is exquisite.
As Carr Gomm/Conductor, Ami Salee is wonderful. A role normally portrayed by a male performer, it was a wonderful juxtaposition to see the role played by a female. She wanted everything done by the book, and stopped at nothing to see its fruition. I will say the one thing that struck pause, was the final letter Carr Gomm reads in the end of the play. I get the idea of the projection of the words behind her on the screen, however, if she is reading a letter, she would want to look at the letter. It was almost delivered as an orator at a podium. Nonetheless, Ami Salee was wonderful as our Carr Gomm.
Ross/Bishop/Will, played by Don Walker was a fine addition to the company. At first, his character of Ross seemed oddly placed within the story, but then warmed up as the show progressed. A down on his luck sideshow attendant at wit's end to make ends meet.
Matthew Belopavlovich lent his acting skills to the roles of Lord John/Police/Snork, as well as wore a double hat as the productions movement coach. Matthew's performances helped push the narrative of the story along, and was a wonderful juxtaposition to what was happening in the in-between moments with Merrick. Having last seen Matthew onstage as Dusseldorf in the Nutcracker, it was great to see him in this arena.
Bridget Bean and Maya Quinones round out our company as Pinhead/Sandwich/ Alexandra (Bean), and Pinhead/Duchess/Police (Quinones). Each bring a special cadence to their characters adding a unique rhythm to the moments of the show in which their characters appear in the world. The Pinheads were great fun with their antics at the sideshow.
Emilia Sargent and her team assembled a top-notch company. The acting is so finite, its as if for a brief moment in time, all the outside seemed to cease, and the only things that existed was the plight of these characters.
Technically speaking The Elephant Man hit all the marks. Scenic and Projection Design by Jim Sorensen achieved a functional, yet cohesive world in which these characters inhabit. It was a nice touch with all of the projections, making for stunning display. At the top of the show, we are given a glimpse into these projections, and one in particular of the Elephant Man himself, standing amongst a crowd with a bag over his head that is truly haunting. Julia Rifino's scenic artistry helped lend itself to placing us in the world of the characters and outside of our own. Lighting Design by Keith Eisenstadt worked well to evoke the world of these characters, and helped portray not only the mood of the piece, but evoked the time period as well. Georgia Mallory Guy's sound design blended well with the world of the show, and was executed to a "t" to help propel the story forward. Mary Kraack, and Sophia Pickford's stunning Costumes were period appropriate and gave each character their individual identity. I will say in regards to costumes that period shoes are just as important as any other piece of attire. Matthew Belopavlovich's Movement work especially with Potenza's Merrick, really gave the show a whole new life. The final Merrick scene still leaves a jarring, and haunting image in my mind even days later. To see him move from one side of the stage to the other and be able to lay himself down the way he did, was masterful and needs to be seen. Ami Salee's dialect coaching helped bring us into Victorian London enough to where it wasn't distracting, however some slipped in and out, and there is a grey area that exist between do we continue with accents or nix them altogether. As our stage management team, Lindsay MacConnell and Grant Sparr keep the show moving at a rapid pace, never a lull in scene changes or pacing.
Emilia Sargent's Direction is top-tier, and I for one am humbled to be invited to their final dress prior to opening. Emilia has a way of diving deep into the minds of these characters and helping the performer discover their through-line, telling a clear beginning and end the entire time. Just from watching, you sense a character's motivation, you hear the inflection in their voice or the way in which the character speaks and you find yourself deep diving into the psyche of these characters. One of my favorite things about this production was the addition of the live cellist. Rose Mallare added an extra layer to the production that helped scene changes become seamless, and allowed us to be fully enveloped in the world of the play, and her cello work is exceptional. Expertly paced, and beautifully conceptualized in staging and vision, my friends you need to do yourself a favor and take a moment to experience this incredible work.
Tampa Repertory Theatre continues to stun with their 2022/2023 season of plays. First with an incredible showing of Lucas Hnath's contemporary take on the Ibsen classic A Doll's House, with A Doll's House Pt. 2, and now with Bernard Pomerance's classic The Elephant Man. Many productions/revivals have been done, and boasted big names, our friends at TampaRep should be included on the top of that list, for they have struck gold here. As part of TampaRep's campaign to "Come Back Together," they have made it easier now more than ever to experience their offerings. You can purchase Season Tickets, a Rep Pass, or a "Choose Your Price" option. More information can be found by visiting www.tamparep.org.
Bernard Pomerance's The Elephant Man must close February 19, 2023! DO NOT WAIT...with opening night already sold-out, and I'm sure many more to come, do yourself the esteemed pleasure of experiencing this masterclass of performance done by this incredible company. Acting of this caliber doesn't come around everyday, and to have them all in the same show is mind-blowing. Come visit TampaRep, let their production of The Elephant Man blow your mind, and make you think about what truly makes us human. Don't forget...be sure to let John Merrick know, "It was a pleasure to meet your acquaintance..."
Photo Credit: Ned Averill-Snell, Stage Photography Tampa