Latest News on Mardie Millet
Mardie Millet News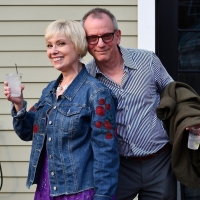 BWW Interview: At Home With Michael And Mardie
by Stephen Mosher - Oct 30, 2020
Learn about the romance, the laughter, and the arguments that make up husband and wife modern day vaudevillians Michael Garin and Mardie Millet, two of cabarets most popular duo acts.
PIANO BAR LIVE! A NIGHT AT THE BEECHMAN Features Mardie Millet and Michael Garin & More
by Chloe Rabinowitz - Sep 18, 2020
Featuring new performers with every show, the weekly, award-winning Piano Bar Live! (PBL!) streams next on Tuesday, September 22 at 7:15 pm ET, with hosts Scott Barbarino and Michael Kirk Lane with A Night at The Beechman.

THE USO RADIO SHOW Returns To Don't Tell Mama February 9th & 10th
by Julie Musbach - Jan 24, 2019
Patricia Fitzpatrick, a MAC Award nominee, is no stranger to NYC audiences. Her company, Ambassador Productions, is the producer of the annual Provincetown Cabaret Fest. Fitzpatrick is also a performer and will return to Don't Tell Mama on Saturday, February 9 at 7 PM and Sunday, February 10 at 3 PM.
BWW REVIEW: Michael Garin Knocks You Out With His Sprawling Solo Tour de Force A PUNCH IN THE MOUTH at the Metropolitan Room
by Remy Block - Oct 10, 2015
"If I get my sh*t right, you're gonna move," Michael Garin declared from the Metropolitan Room piano, energy crackling through every fiber of his compact form as he leaned into the microphone. On September 28, Garin opened his new show, A Punch In The Mouth, banging out a muscular, unexpected boogie-woogie 'Habañera' arrangement of 'Surf Carmen' (Bizet-Kern, arr. Garin). A 1992 Drama Desk winner (for the show Song of Singapore), Garin often performs with his 'tattooed ex-ingenue' wife Mardie Millet, but tonight she sat in the audience, leaving Garin to fend for himself. For the next hour, Garin held court at the keyboard, reeling off his show biz stories, teaching music theory, and wandering into emotional family history. 
BWW Reviews: Amanda McBroom and George Ball Are Thoroughly Enchanting During Their Enchanted Show at 54 Below
by Stephen Hanks - Oct 19, 2014
New York cabaret audiences have for years been blessed with extremely entertaining performing marrieds like John Pizzarelli and Jessica Molasky, Eric Comstock and Barbara Fasano, and Michael Garin and Mardie Millett. But after experiencing the thoroughly enchanting October 8 performance from Amanda McBroom and her husband George Ball at 54 Below (there was a second performance on October 14), it's difficult to imagine a cabaret couple more compelling. In short, the Balls were having a ball and, ultimately, so did their audience.
Photo Coverage: Sachon Concert and Cast Party at Birdland
by Mark Rupp - Nov 8, 2006
Acclaimed American cellist Peter Sachon made his Birdland debut in a program entitled: 'Peter Sachon - Strings Attached,' which was directed by Victoria Clark, and also featured Clark, Kelli O'Hara and Michael Winther; Jim Caruso's Cast Party followed