Latest News on Gary Meyer
Gary Meyer News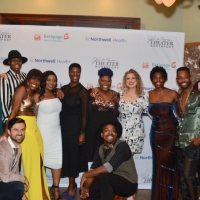 Photos: SMOKEY JOE'S CAFE Celebrates Opening Night at the John W Engeman Theater Northport
by Genevieve Rafter Keddy - Sep 19, 2021
Smokey Joe's Cafe officially opened at the John W. Engeman Theater and BroadwayWorld was there.

Author Services, Inc. And Galaxy Press Present Annual Writers And Illustrators Of The Future Galas
by A.A. Cristi - Mar 20, 2019
Author Services, Inc. and Galaxy Press will present The 35th Annual Writers of the Future and the 30th Annual Illustrators of the Future L. Ron Hubbard Gala Achievement Awards celebrating the winners of the Contests, honoring 12 writers and 12 illustrators from around the world for their excellence in the genres of Science Fiction and Fantasy.
Matt Dovey and Adrian Massaro Top 2016 L. Ron Hubbard Achievement Awards
by BWW News Desk - Apr 12, 2016
MATT DOVEY, a writer from Lincolnshire, UK and ADRIAN MASSARO, an illustrator from Neuquen, Argentina were announced as the Grand Prize Winners of The 32nd Annual L. Ron Hubbard Achievement Awards for Writers and Illustrators of the Future Contests in Science Fiction and Fantasy held at the Wilshire Ebell Theatre in Los Angeles, CA, presented by Author Services, Inc. and Galaxy Press on Sunday evening, April 10, 2016.
BWW Reviews: The Boy From Oz at Theatre Three
by Melissa Giordano - Oct 1, 2014
The Tony nominated musical The Boy From Oz brings many emotions to the surface. The story is about the life of Australian entertainer Peter Allen. His zest for life, dealing with deteriorating health, and the love he is surrounded by create for the audience a roller coaster of feelings. For the record, Martin Sherman and Nick Enright have certainly created a story of heart and perseverance.