Review: THE VIEW UPSTAIRS at Desert Rose is a Must See.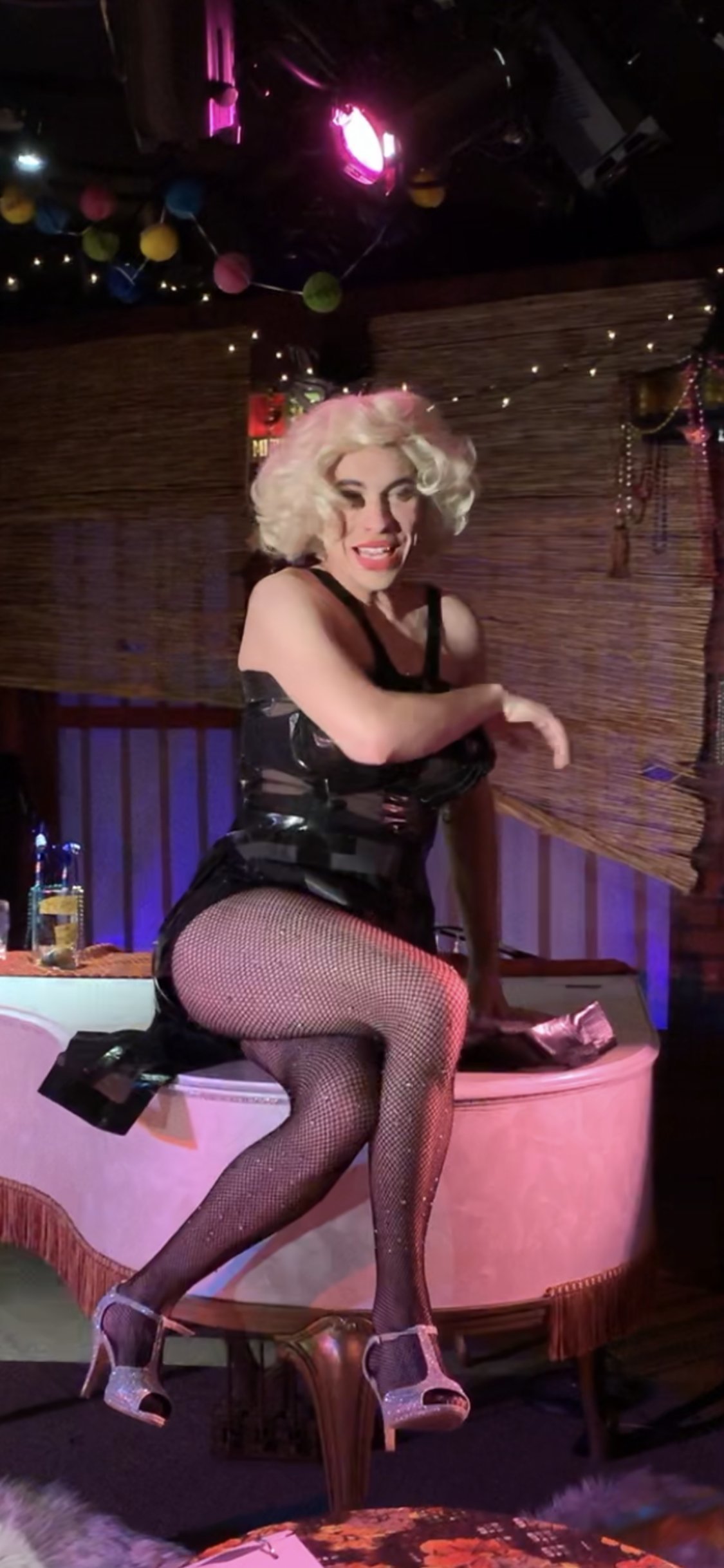 Desert Rose Playhouse's production of THE VIEW UPSTAIRS is a must-see -- 100 minutes of an emotional roller coaster with tears and laughs and great acting, singing, and dancing.
The musical, with book, lyrics, and music by Max Vernon, tells the story of the UpStairs Lounge in New Orleans, a gay bar that served as one of the few safe spaces for the LGBTQ community in the 1970's. In 1973, an act of arson, which may have been a hate crime or may have been an act of revenge by one of the patrons, killed thirty-two people. This event, which was all but forgotten until recently, was the deadliest attack on a gay bar in the United States until the Pulse shooting in Orlando.
The story involves time travel from today to 1973. Wes, a shallow social media star and clothing designer, purchases the building in the present and finds himself swept back to 1973, where he is unceremoniously deposited among the bar's patrons. He is surprised to find out how bad things are in New Orleans for the gay population. They, of course, assume that when he says he is from New York, he means New York during the Nixon era. How Wes gets there is not part of the story; for all we know, it takes place in his mind.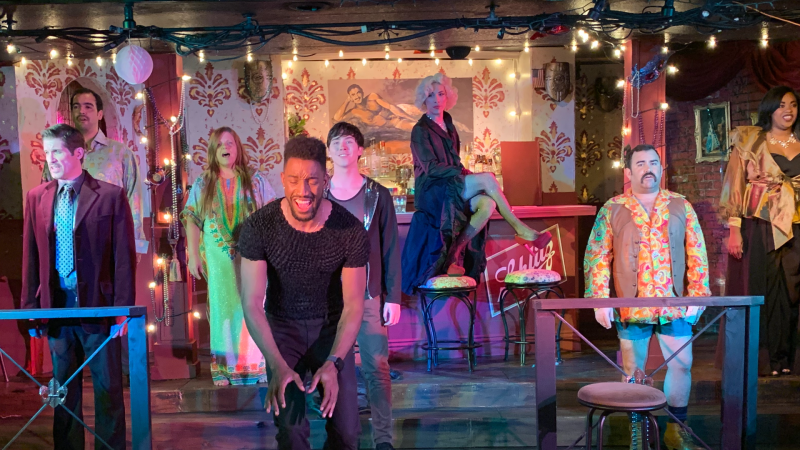 The patrons aren't all very likeable people, and they can't seem to stop fighting among themselves. One of the big questions they debate is whether to give money to mainstream charities in the hope of convincing straight people to like them or to become more militant and demand their rights.
Although Wes (played by Van Angelo) is the focus of the story, the show features an ensemble cast, all of whom do a terrific acting job and singing and dancing in the solo and group numbers. The choreography (by director and choreographer Robbie Wayne) is no simple box-step, either - this troupe can dance, although it relies on Anthony Nannini (Freddy, whose drag queen alter-ego, Aurora, is a Marilyn Monroe lookalike) for the really complicated steps, such as a split.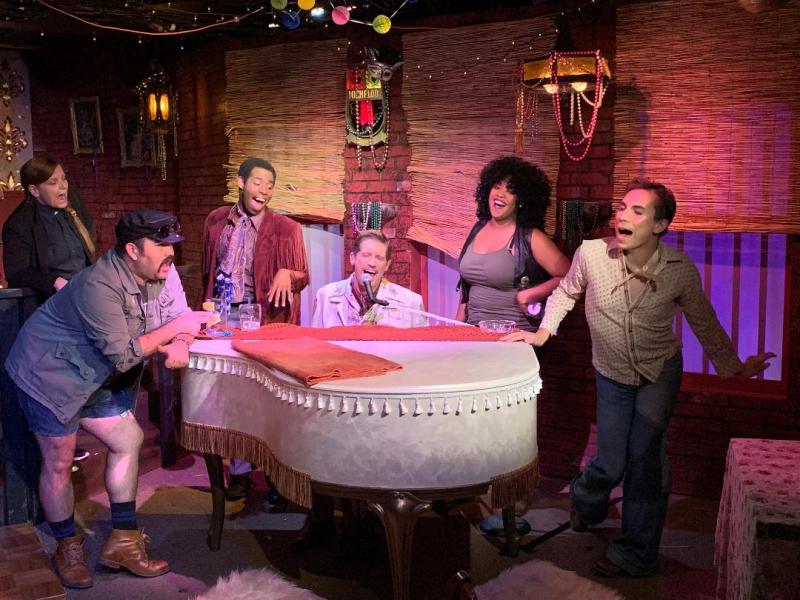 In addition to Freddy, two of the other characters, Willie (DarRand Hall) and Dale (Jacob Samples), an aging queen and a hypermasculine, hostile homeless man, respectively, are over-the-top gay stereotypes who are both funny and tragic at once. Mr. Hall seems much too young to play his part, but he was so good in the role that I feel he was appropriately cast, although I would have preferred to see an attempt to age him through makeup. Mr. Samples, who is one of the nicest people I know, did a fabulous job playing against type as a truly scary psychopath.
In addition to the fabulous cast, which has no weak links, and the terrific direction, the technical aspects of THE VIEW UPSTAIRS are top-notch. I was especially impressed with Bruce Weber's set design. Because the action takes place in New Orleans, Mardi Gras figures heavily in the décor, as do reminders that the year is 1973. Even the lobby's front desk contains purple and green Mardi Gras beads, and the theater and stage are festooned with them. Because Desert Rose has no curtain, the audience members have the chance to study the set from the moment they walk in. The peace chain and the sticker on the piano saying, "Nixon bugs me" transported me back to my college days, as did the painting of Burt Reynolds' famous Playgirl pose. The tables and bar chairs in the first row of the audience, at which I was lucky to be seated, further enhanced the ambiance; the only thing missing was the cigarette smoke. Off in a corner, there was even a chandelier reminiscent of THE PHANTOM OF THE OPERA.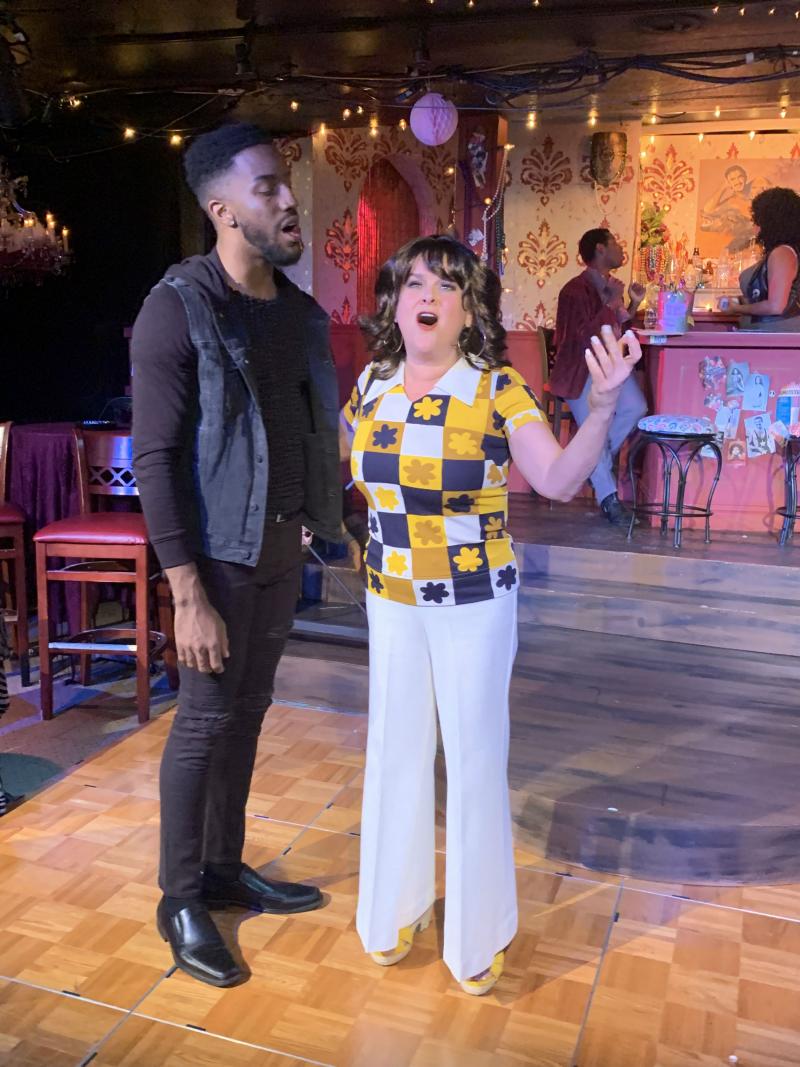 Finally, Desert Rose deserves a shout-out for its efforts to ensure diverse casting in this play. Of the ten performers, three are African-American, and at least two are Latino. As one cast member told me, actors of color are available - directors only need to look.
I do have one warning to sensitive theatregoers: There is no nudity except for Burt Reynolds and a picture on a character's shirt, but there are risque verbal images and violence. Also, some of the scenes are emotional. Nevertheless, this is a must-see production even for those who usually eschew upsetting images.
The rest of the cast consists of Matt E. Allen (Patrick), Miguel Arballo (police officers), Ruth Braun (Rita Mae), Ceisley Jefferson (Henri), Ben Reece (Buddy), and Siobhan Velarde (Realtor/Inez). The rest of the production staff are Jaci Davis (musical director), Phil Murphy (lighting design), Matthew McLean (stage manager and lighting technician), Miguel Arballo and Adrian Niculescu (sound design), Adrian Niculescu (sound technician), Robbie Wayne and Ruth Braun (costume design), and Robbie Wayne (prop master).
THE VIEW UPSTAIRS will run through March 31, 2019. Tickets can be ordered online at www.desertroseplayhouse.org or by calling the box office at 760-202-3000. There is no service charge for Internet or phone orders. Performances are held at 8 PM Friday and Saturday evenings, and at 2 PM Sundays. Tickets are $37 for Friday and Saturday performances and $34 for Thursday evenings and Sunday matinees.
The Desert Rose Playhouse is located just north of Frank Sinatra Boulevard, near the Emperor Buffet, at 69-620 Highway 111, Rancho Mirage, CA 92270. The Box Office opens at 4 p.m. before evening performances and at noon on Sundays. A new bar in the lobby, operated by Streetbar, a Palms Springs watering hole, sells libations before the show and during intermission for the Friday and Saturday performances.
The final production of Desert Rose's 2018-19 season is PAGEANT!, by Albert Evans, Bill Russell, and Frank Kelly (April 19 - May 12, 2019). Who will reign as Miss Glamouresse? The audience will decide.