BWW Review: RUMORS at Desert Theatreworks is a Hilarious Evening of Fun.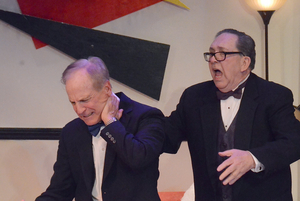 Desert Theatreworks (DTW) presents a Neil Simon play every season. This year's production is the 1988 farce, RUMORS, which is the perfect vehicle to show off DTW's team of talented actors' physical comedy skills. And they do show it off, in spades; the laughs keep coming, as much from the performers' and director Rebecca Havely's wizardry as from Neil Simon's script.
The convoluted story involves the anniversary party of New York City's deputy mayor. After finding him upstairs bleeding from a gunshot wound and foggy from Valium, his guests conclude that he must have tried to kill himself -- his wife and the servants are nowhere to be found, and there are rumors floating around the tennis club of the wife's infidelity. The guests decide to cover up the incipient scandal by pretending nothing happened. This is only a bare-bones outline of what goes on; a lot of privileged, not very nice, rich folks run around doing screwball things that leave the audience roaring with laughter.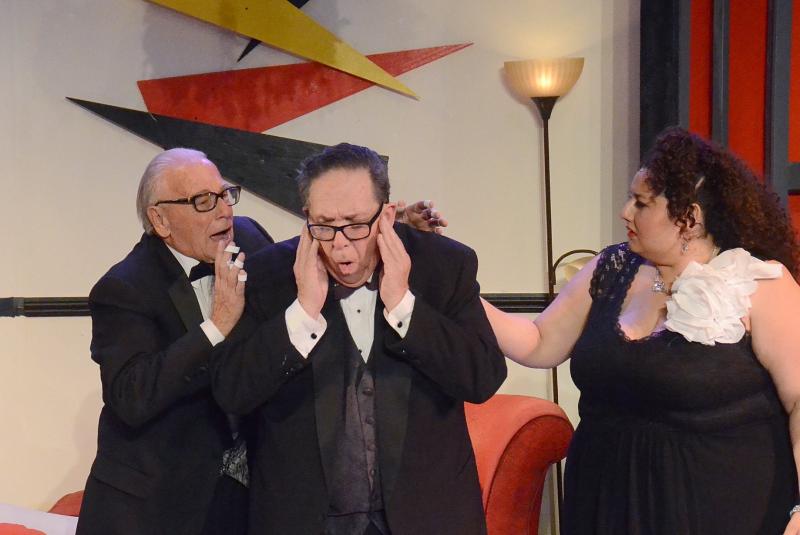 The ten-person cast is filled with experienced actors, many of whom specialize in appearing foolish on stage. As a result, Ron Young (as Ken Gorman) gets laughs doing such mundane things as trying to clear his head when a nearby gunshot leaves him temporarily deaf. Arnie Kleban (as Ernie Cusack) hilariously noodles around the stage worrying about his wife's bad back - his real-life wife, Jannae Kleban, plays his dingbat stage spouse, Cookie Cusack. Ms. Kleban garners plenty of guffaws with her braying laugh and contorted motions; wait till she tries to crawl from the living room into the kitchen. Jerry Prager (as Lenny Ganz) contorts his face into Don Rickles expressions. Kari Kirkland (as Claire Ganz), Mason McIntosh (Glenn Cooper), Alana Mittleman (Cassie Cooper), and Adriana Reyes (Chris Gorman) are all deliciously over-the-top as nasty goofballs who happily spread rumors and are perfectly willing to throw their friends under a bus to protect their own hindquarters. David Brendel and Desert Star award winner Laura Ortega also show off their comic chops as tough-guy police officers.
Tessa Walker has designed a fabulous set. Before a single actor walks onto the stage, we know from the modern furnishings and art that the homeowners are wealthy, sophisticated, and probably politically liberal. There is nothing subtle about the bold red, white, black, and yellow color scheme, just as there is nothing subtle about the characters. Ms. Walker's sound design is also top-notch; DTW appears to have conquered the problems that sometimes plagued it when it first moved to the Indio Performing Arts Center. Phil Murphy's lighting creations also perfectly complement the set and the terrific costumes, designed by Michelle Mendoza. The rest of the technical work comes from Michelle Mendoza (production manager, props, hair, and makeup), Tessa Walker (technical supervisor), Matt Brackstone (stage manager), Kaylyn Bernal (assistant stage manager, light and sound operator), David Barrett (set builder), and Miguel Arballo (sound engineer).
This weekend's shows are sold out, as are the Sunday matinees for the rest of the run. However, there are tickets available ($25-$32) for Thursday through Saturday evenings, February 20th-22nd and Thursday through Saturday evenings, February 27th-29th. I strongly recommend purchasing tickets soon, before it is too late.
All performances take place at the Indio Performing Arts Center, 45175 Fargo Street, Indio, CA 92201. Check the ticket purchase information at www.dtworks.org for specific prices and schedules or call (760)980-1455.
The rest of the 2019-20 season consists of:
THE SPAGHETTI MURDERS - March 6-7 - an interactive dinner theatre fundraiser.
THE PRODUCERS - March 13-29 -- Mel Brooks' hilarious musical.
JOSEPH AND THE AMAZING TECHNICOLOR DREAM COAT - April 3-19 - Andrew Lloyd Webber's first production.
ALL MY SONS - May 8-17th - Arthur Miller's classic family drama.
PHOTO CREDIT: Paul Hayashi

Related Articles View More Palm Springs

Stories

Shows