BWW Review: Desert Rose's TIME SQUARE ANGEL is Moving and Excellently Presented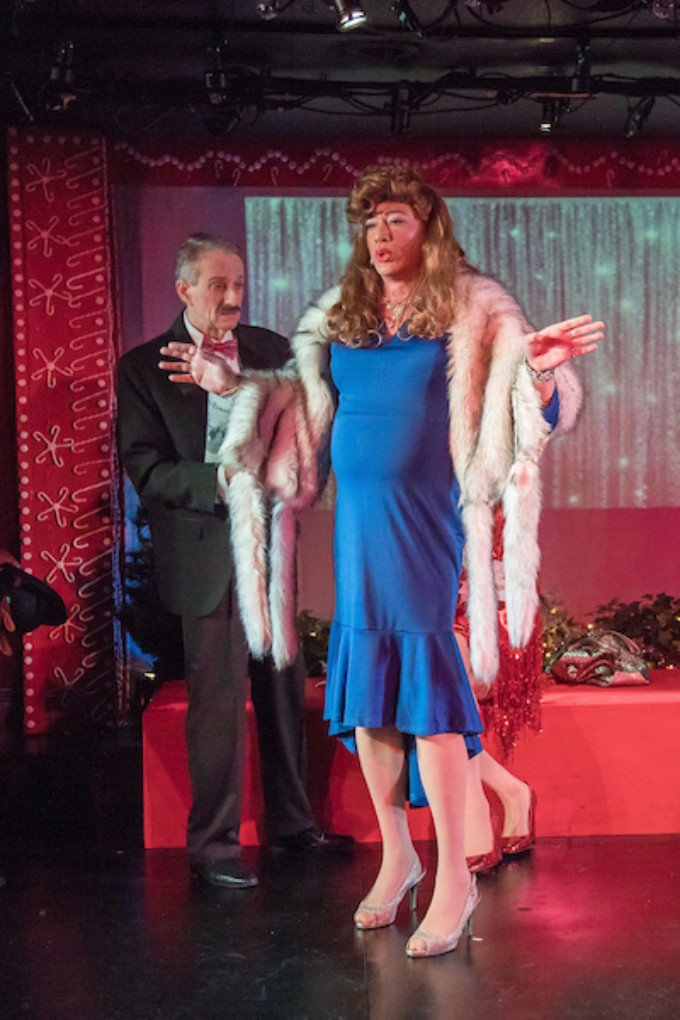 Desert Rose Playhouse's director, Jim Strait, and musical director, Joel Baker, have added popular numbers and Christmas songs to Charles Busch's TIMES SQUARE ANGEL to create what the playbill calls a musical pastiche. Their fine work, along with the terrific acting and singing, result in a production that provides laughs, while tugging at the heartstrings.
Charles Busch's original, non-musical play is definitely not my cup of tea - a hardboiled combination of A CHRISTMAS CAROL and IT'S A WONDERFUL LIFE that doesn't quite fulfill its intentions. I am not alone in this view; New York Times theatre critic, Walter Goodman wrote that TIMES SQUARE ANGEL's "situations and [its] lines seem to have been picked up in the storeroom of a studio back lot." However, with the addition of the toe-tapping musical numbers, Mr. Strait and Mr. Baker turn the mediocre source material into a moving send-up of the 1940's.
The story involves Albert, a falling angel (Robbie Wayne), whom God gives one last chance to avoid being banished to hell. His assignment is to save Irish O'Flanagan (Loren Freeman), a cheap, hardboiled nightclub singer, from being shot on Christmas by her gangster boyfriend, Chick (Michael Pacas). Albert must convince Irish to care about the people who care about her, instead of living selfishly and getting embroiled in Chick's plan to kidnap a senator's daughter (Cat Lyn Day) - the act that will result in her violent death the next day unless Albert can turn her around.
I found myself moved when Albert, after failing miserably in his assignment, insists on one more chance for Irish, and eventually tells God that he doesn't care whether he is allowed to stay in heaven as long as he succeeds in saving her; the tears in my eyes during the sentimental final moments of the show surprised me. The singing and Robbie Wayne's choreography provide welcome upbeat moments, my own favorite being "Mele Kalikimaka."
Desert Rose has a strong cadre of fabulous veteran actors, some of whom appear in TIMES SQUARE ANGEL, among them Robbie Wayne, Terry Huber, Kam Sisco, Michael Pacas, and Cat Lyn Day. This production also includes wonderful performers relatively new to Desert Rose, including Karen Schmitt, Melanie Blue, James Owen, and Ruth Braun.
The simple set includes 1940's projections (by Mr. Strait) to stand in for the multiple locations where the story takes place. The lighting and sound (by Mr. Strait and Phil Murphy) help set the mood, and the period costumes, makeup, and elaborate wigs (by Mark Demry and Toni Molano) are all top-notch. The angel outfits are particularly clever.
Desert Rose's productions are usually geared to LGBTQIA audiences. However, there is nothing in TIMES SQUARE ANGEL to distinguish it from plays aimed at straight theatregoers, with the possible exception of high-heeled men playing a few female roles (Mr. Freeman and the scene-stealing Kam Sisco). In fact, there is nothing sexually explicit at all. However, the story isn't exactly family friendly because of its depiction of two murders that take place onstage while the victims plead for their lives.
If you're looking for a new version of the traditional CHRISTMAS CAROL, in which Scrooge sends a turkey to Bob Cratchit and doubles his pay, you won't find it in TIMES SQUARE ANGEL. But, if you'd like to experiment with pumpkin pie whose whipped cream is mixed with sriracha sauce, this is your Christmas show.
TIMES SQUARE ANGEL will run through December 17th, and it is suitable for teenagers on up. Tickets can be ordered online at www.desertroseplayhouse.org or by calling the box office at 760-202-3000. There is no service charge for Internet or phone orders. Performances are at 8 PM Friday and Saturday evenings and at 2 PM Sundays. Tickets are $37 for evening performances and $34 for matinees. Prices include a $2 per ticket facility fee, which will go towards refurbishing the theater, including purchasing new seats.
The Desert Rose Playhouse is located just north of Frank Sinatra Boulevard, near the Emperor Buffet, at 69-620 Highway 111, Rancho Mirage, CA 92270. The Box Office opens at 4 p.m. before evening performances and at noon on Sundays.
As a not-for-profit public benefit corporation, Desert Rose is required to raise a third of its annual budget from public support, as opposed to ticket sales. Donations are very welcome. Please mail checks to Desert Rose Productions, Inc., P.O. Box 2256, Cathedral City, CA 92235. To submit donations through Paypal, click the link located on the Desert Rose Web site at www.desertroseplayhouse.org/Pages/Sponsorship.aspx.
The rest of Desert Rose's 2017-18 season consists of:
FIFTH OF JULY, by Lanford Wilson -- Desert Rose's Gay Heritage Production -- January 12 - February 4, 2018
Gay veteran Ken Talley lost his legs in Viet Nam. Now, Ken and his lover Jed live on the Talley Family Farm in Lebanon, Missouri and are visited by friends from Ken's college years and relatives with their own agendas. The talk is sharp, funny and revealing of lost hopes and dreams.
SUDDENLY LAST SUMMER, by
Tennessee Williams
, March 9 - April 1, 2018
The classic horror story from
Tennessee Williams
of Sebastian Venable's life and death and his mother Violet's diabolical plan to stifle the truth about Sebastian by cutting the memories out of her niece Catherine's brain.
DARE, by Allan Baker, April 20 - May 13, 2018
The world premiere of an award-winning play by a fresh, literate and engaging Texas playwright, DARE is the story of an elderly gay man whose desire to die on his own terms sparks an impassioned challenge from his younger gay doctor. As funny as it is intimate, DARE is a touching reminder that the lessons of history must be part of any struggle for a better and more accepting world.
PHOTO CREDIT: Morningstar Productions