BWW Review: Desert Rose's THE SUGAR WITCH Is Dark, Frightening, and Well Worth Seeing.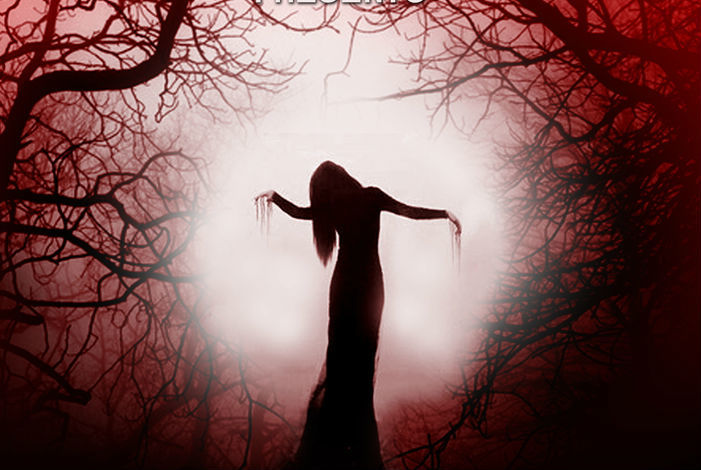 The Desert Rose Playhouse, the Coachella Valley's LGBTQIA theatre, has a winner in THE SUGAR WITCH, one of its first productions since Robbie Wayne became producing artistic director and Kam Sisco managing director, after the retirement of Paul Taylor and Jim Strait.
THE SUGAR WITCH, by Nathan Sanders, is a dark, Southern Gothic play, with funny moments, a great deal of sadness, and elements of horror and the supernatural. Moses Bean (Jacob Samples), his mentally ill and morbidly obese older sister known only as "Sisser" (Leanna Rodgers), and Sisser's caretaker of many years, Annabelle (Kimberly Cole), live near a Florida swamp. A curse placed on them by Annabelle's grandmother, a "sugar witch," is destroying the lives of all three. Annabelle, herself a sugar witch, is trying to reverse the curse, and is hell-bent on keeping Moses from discovering the family's secrets. Things deteriorate further when Ruth Ann Weeks (April Mejia) appears at the house, determined to seduce Moses; Moses' friend, Hank (Kelly Peak), comes for dinner; and Ruth Ann's brother (Tim McIntosh) threatens Moses. A murder ensues, upsetting the fragile equilibrium under which Moses, Annabelle, and Sisser have lived.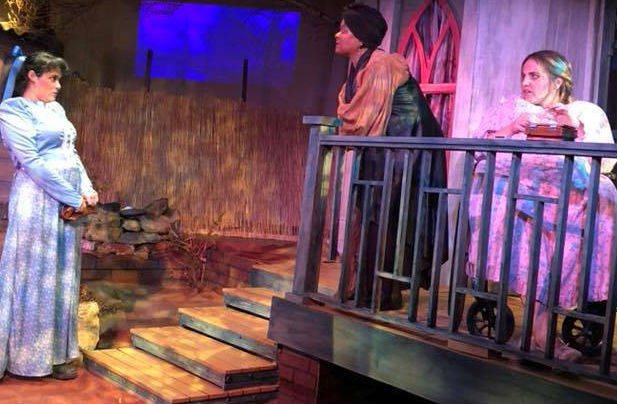 In my view, the script itself has flaws, although not enough to keep the audience from enjoying the play. The script's talkiness slows the action; for example, in what is otherwise a highly dramatic moment, a character instructs others about how to safely lift a heavy load. More importantly, a mini-scene during the last few minutes is unnecessary; I would have preferred to see the play end about five minutes earlier with the blackout that takes place after a dramatic occurrence.
Aside from these complaints about the script, the production, including the direction (by Robbie Wayne) and acting, is top-notch. The charismatic Ms. Cole commands the stage; based on the way she plays Annabelle, it is not difficult to see why Annabelle is the actual head of the Bean family. Mr. Samples (full disclosure: I have appeared on stage with him) and Mr. Peak are thoroughly convincing as two nice guys attracted to each other, but unsure how far to take their relationship. Ms. Mejia is deliciously wicked as the racist, horny woman seeking one more night of debauchery before giving up her wild ways. Mr. McIntosh successfully plays Ruth Ann's brother as an odious, abusive drinker; I could easily picture the character in a white robe and pointed hood. Ms. Rodgers perfectly portrays the mentally ill and physically disabled Sisser, playing her as a pathetic creature who can barely move, but who is nonetheless determined to protect her home. One of the acting high points occurs when Annabelle tells the sad story of Moses' history - both Ms. Cole and Mr. Peak had tears streaming down their faces on the night I attended, something that I don't see often in community theatre.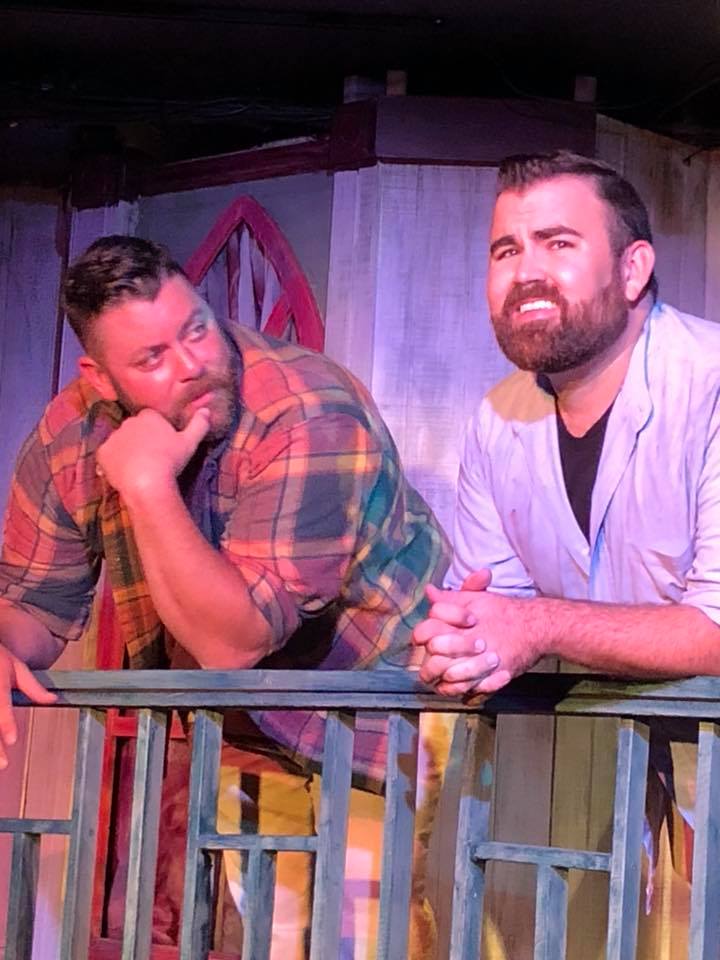 In any Southern Gothic tale, the atmosphere is a character. Director Robbie Wayne's sound design, Phil Murphy's lighting, and Toby Griffin's set all contribute to that atmosphere. Crickets chirp throughout the play, just as they would in the Florida swamp. A small, coffin-shaped rowboat sits in the yard. Scary country music plays in the background right before the action begins. The back porch of the main house looks homey, if a bit dilapidated - I could picture Aunt Eller sitting there rocking, while Curly sings "Oh What a Beautiful Morning." In contrast, the cabin where Annabelle lives reminded me of the Florida cabin at the beginning of the "Pirates of the Caribbean" Disneyland ride - talk about generating a sense of foreboding....
THE SUGAR WITCH is not primarily oriented towards LGBTQIA individuals - a PG-13 same sex kissing and petting scene is the only thing that might appeal more to gay audience members than to straight ones. Other than that, anyone who is a teenager on up, no matter their orientation or gender, is likely to enjoy this play, have the bejeezus scared out of them, or perhaps a bit of both.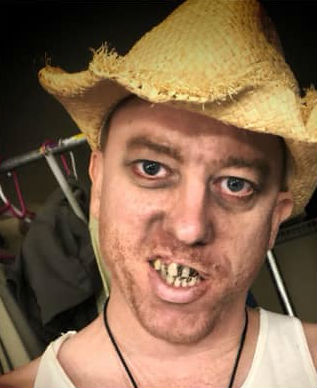 THE SUGAR WITCH will run through October 28, 2018. Tickets can be ordered online at www.desertroseplayhouse.org or by calling the box office at 760-202-3000. There is no service charge for Internet or phone orders. Performances are held on some Thursday evenings at 7 PM, at 8 PM Friday and Saturday evenings, and at 2 PM Sundays. Tickets are $37 for Friday and Saturday performances and $34 for Thursday evenings and Sunday matinees.
Five-show season tickets are currently on sale for $140 for Friday and Saturday performances and $128 for Thursday and Sunday performances. A facility fee of $10 per subscription will be added to the price.
The Desert Rose Playhouse is located just north of Frank Sinatra Boulevard, near the Emperor Buffet, at 69-620 Highway 111, Rancho Mirage, CA 92270. The Box Office opens at 4 p.m. before evening performances and at noon on Sundays. A new bar in the lobby, operated by Streetbar, a Palms Springs watering hole, sells libations before the show and during intermission.
Desert Rose supports the local community, such as by having donated $84,000 worth of tickets to the Desert AIDS project. As a not-for-profit public benefit corporation, Desert Rose is required to raise a third of its annual budget from public support, as opposed to ticket sales. Donations are very welcome. Please mail checks to Desert Rose Productions, Inc., P.O. Box 2256, Cathedral City, CA 92235. To submit donations through Paypal, click the link located on the Desert Rose Web site at www.desertroseplayhouse.org/Pages/Sponsorship.aspx.
The rest of Desert Rose's 2018-19 season consists of:
CHRISTMAS WITH THE CRAWFORDS, Created by Richard Winchester, Written by Mark Sargent (November 30 - December 23, 2018).
It's Christmas Eve at Joan Crawford's Brentwood mansion and Joan, Christina, and Christopher are awaiting the arrival of Hedda Hopper for a very special live radio broadcast. Unfortunately for Joan, she's about to receive a houseful of celebrity guests, most of whom are on their way to a big bash at Gary Cooper's house next door.
LOOPED, by Matthew Lombardo (January 18 - February 10, 2019).
During the Summer of 1965, an inebriated Tallulah Bankhead entered a Los Angeles recording studio in an effort to re-record a few lines of dialogue from her final film. This dramatic comedy involves her battle of wills with film editor Danny Miller, a conservative man who guards his own deep secret.
THE VIEW UPSTAIRS, by Max Vernon (March 8 - March 31, 2019).
This new hit musical tells the true story of the famous New Orleans Upstairs Lounge.

PAGEANT!, by Albert Evans, Bill Russell, and Frank Kelly (April 19 - May 12, 2019).
Who will reign as Miss Glamouresse? The audience will decide.

Related Articles View More Palm Springs

Stories

Shows