BWW Review: Desert Rose's PAGEANT is a Must-See Beauty
PAGEANT, currently playing at Desert Rose, is a drag show, with beautiful "women" competing for the title of Miss Glamouresse, corny jokes, and a smarmy, Nick the lounge singer type emcee. Beyond that, there is nothing except nonstop, goofy hilarity and a winner whose identity changes depending on the scoring of that night's panel of guest judges. The show received a well-deserved standing ovation the night I attended.
The premise is almost irrelevant. It involves a beauty company with decidedly unusual products (a combination lipstick and protein stick, for example) looking to select its next representative through a beauty pageant. The performers are all fabulous - and some are outright beautiful - and the script manages to get in a few zingers about sexism and even antebellum Southern society. Bruce Weber's set consists of pouffy, feather pieces and beads, lit in pink. (How is that for symbolism?) The "talent" show and spokesmodel competitions are delicious sendups of a vapid world in which people try to appear important while doing shallow things.
Michael Pacas brilliantly plays the emcee. The equally terrific "girls" are Noah Arce, Larry Martin, Timm McBride, Ben Reece, Brian Keith Scott, and Rusty Waters (with director Robbie Wayne pinch-hitting for Rusty's character the night I attended). Jaci Davis provides wonderful accompaniment and musical direction. Phil Murphy's and Matthew McLean's lighting are top-notch as well.
There really isn't a whole lot to say about PAGEANT, other than that, if you're a devotee of drag shows, or if you're not, but you love goofball humor, you must attend and experience the meshugas.
PAGEANT will run through May 12, 2019. Tickets can be ordered online at www.desertroseplayhouse.org or by calling the box office at 760-202-3000. There is no service charge for Internet or phone orders. Performances are held at 8 PM Friday and Saturday evenings, and at 2 PM Sundays. Tickets are $37 for Friday and Saturday performances and $34 for Thursday evenings and Sunday matinees.
The Desert Rose Playhouse is located just north of Frank Sinatra Boulevard, near the Emperor Buffet, at 69-620 Highway 111, Rancho Mirage, CA 92270. The Box Office opens at 4 p.m. before evening performances and at noon on Sundays. A new bar in the lobby sells libations before the show and during intermission for the Friday and Saturday performances.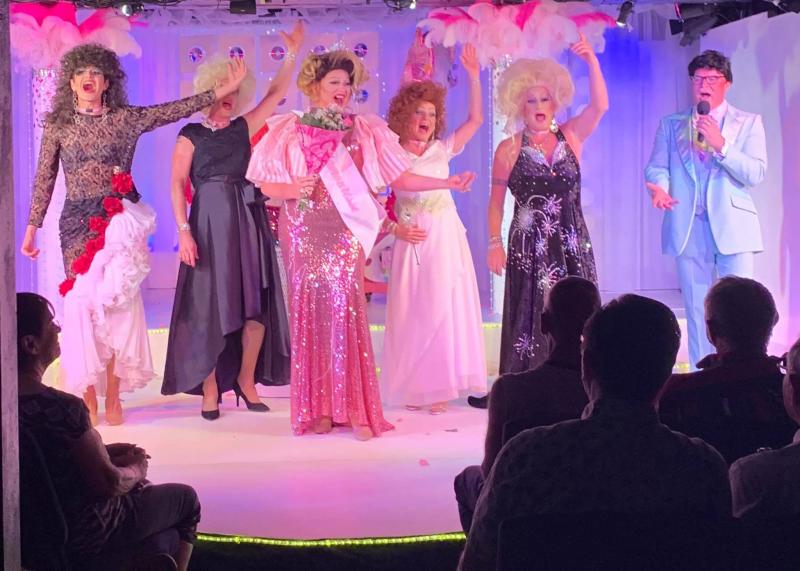 Desert Rose supports the local community, such as by having donated tickets to the Desert AIDS project. As a not-for-profit public benefit corporation, Desert Rose is required to raise a third of its annual budget from public support, as opposed to ticket sales. Donations are very welcome. Please mail checks to Desert Rose Productions, Inc., P.O. Box 2256, Cathedral City, CA 92235. To submit donations through Paypal, click the link located on the Desert Rose Web site at www.desertroseplayhouse.org/ Sponsorship/.
Desert Rose has announced its 2020 season: DIE, MOMMIE DIE!, by Charles Busch; a return engagement of CHRISTMAS WITH THE CRAWFORDS; the world premiere of Andy Halliday's THOSE MUSCLE BOUND COWBOYS FROM SNAKE PIT GULCH; Jonathan Harvey's BEAUTIFUL THING, about two working class London teens falling in love; and a new play series for which Desert Rose is accepting submissions.