BWW Review: DTW's Production of ANNIE is a Winner for Adults and Kids Alike.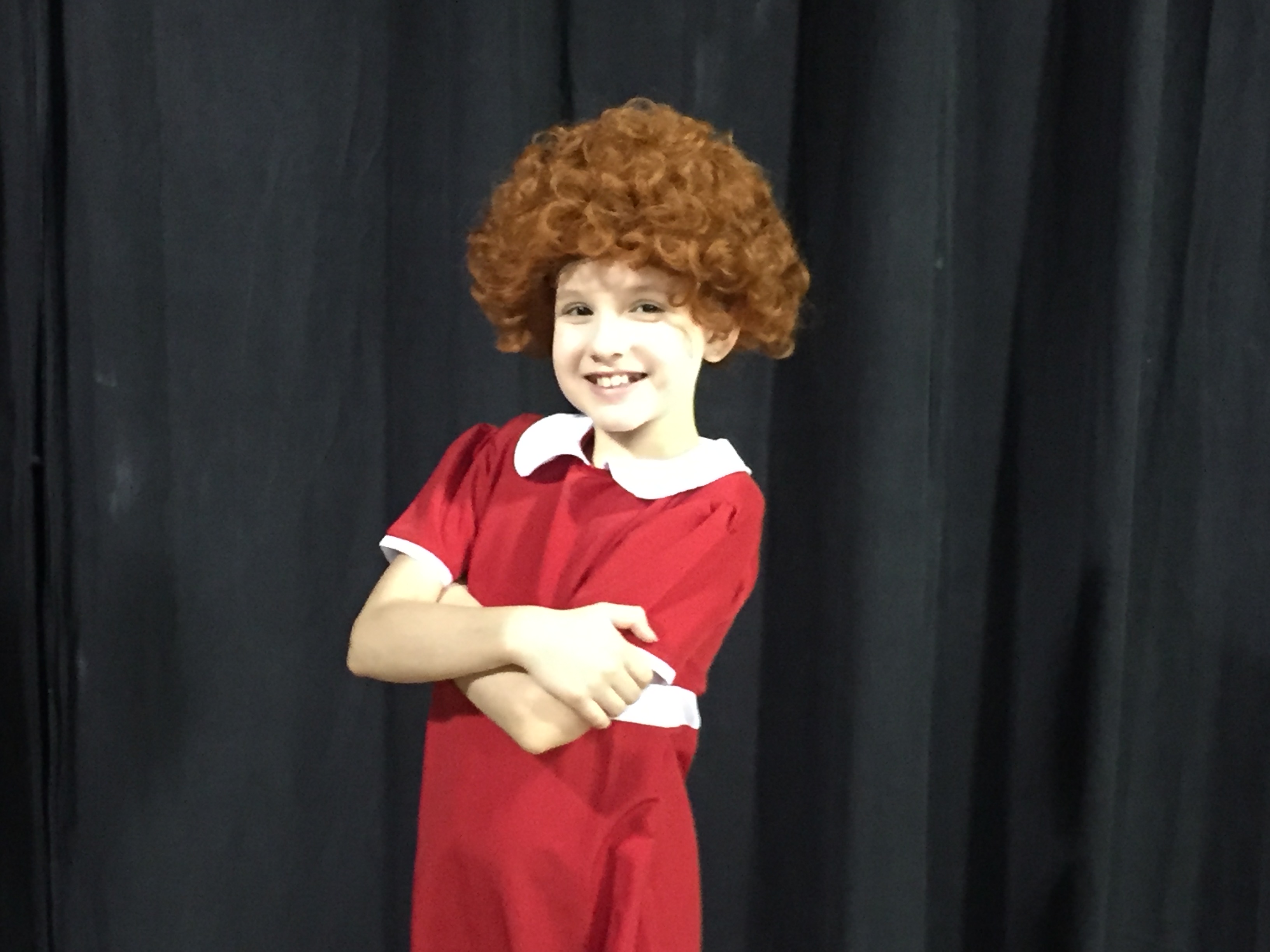 Desert Theatreworks' (DTW's) rip-roaring production of the Broadway musical, ANNIE, is a winner, even for people like me, who usually prefer more adult-oriented musicals. The cast (both grown-ups and children), perform their roles with heart and expertise, resulting in a fabulous, feel-good presentation that all ages can enjoy.
Ten-year-old Victoria Mendoza, the experienced performer who plays Annie, commands the stage with her powerful voice and confident moves. Victoria, a fifth grader, is supported by a talented group of girls playing the orphans, several of whom attended DTW's summer children's camp. They could easily be mistaken for a professional cast, as they sing and dance numbers familiar to much of the audience, such as "It's the Hard Knock Life" and "You're Never Fully Dressed without a Smile," in which Tessie and Duffy (Violet Feath and Bella Oden) perform an impressive tap dance.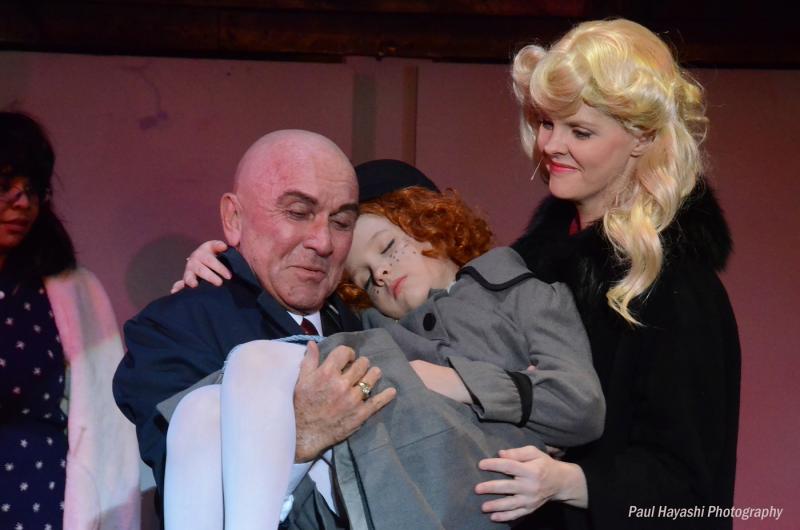 The interactions between the orphans and the villainous director, Agnes Hannigan (Karen Schmitt) are lots of fun. I've seen at least one professional Miss Hannigan fall into the trap of figuratively winking at the audience as if to say, "Aren't I funny?" The multi-talented Ms. Schmitt does not make that mistake. She turns in an outsized performance that is simultaneously believable and hilariously over-the-top; I actually found myself feeling sorry for Miss Hannigan when she settles herself by the radio to listen to her favorite soap opera - her one diversion from her own hard-knock life.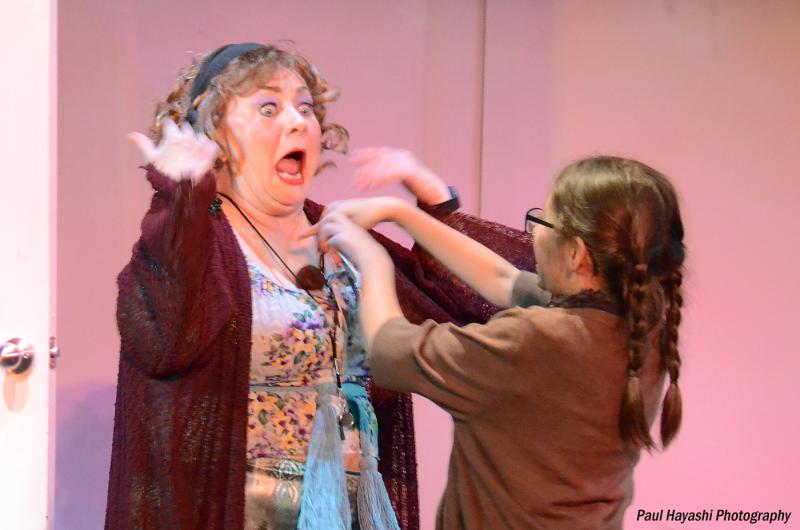 The other adults prove equally adept at creating credible characters out of a comic strip. Stan Jenson was born to play Oliver Warbucks, with his commanding voice and manner. He has mastered the deadpan delivery necessary to make Warbucks' cluelessness about poor people appear innocent rather than unprincipled. Heidi Hapner's hotel-named floozy, Lily St. Regis, and her partner-in-crime, Rooster Hannigan (Timm McBride) are also stand-outs, with their top-notch singing and dancing. Grace Farrell (Michelle Mendoza) is one of the serious characters in the show. Ms. Mendoza, who is Victoria Mendoza's mother, is a superb singer, dancer, and actor, who steps right into the early 20th century upper class. Ensemble member Mark Demry plays FDR, and has mastered the 32nd president's facial expressions. The resemblance, which is almost eerie, apparently runs in the family - Mr. Demry's father portrayed Roosevelt a generation ago.
Director Lance Phillips-Martinez is a proponent of movement theatre, a genre in which non-dance movement is choreographed to tell a story. Mr. Phillips-Martinez makes excellent use of the technique during the "NYC" number, in which one character tries to snatch purses, others consult guidebooks, and another flashes the purse thief. The action is frenetic - exactly as it should be in a song about New York City.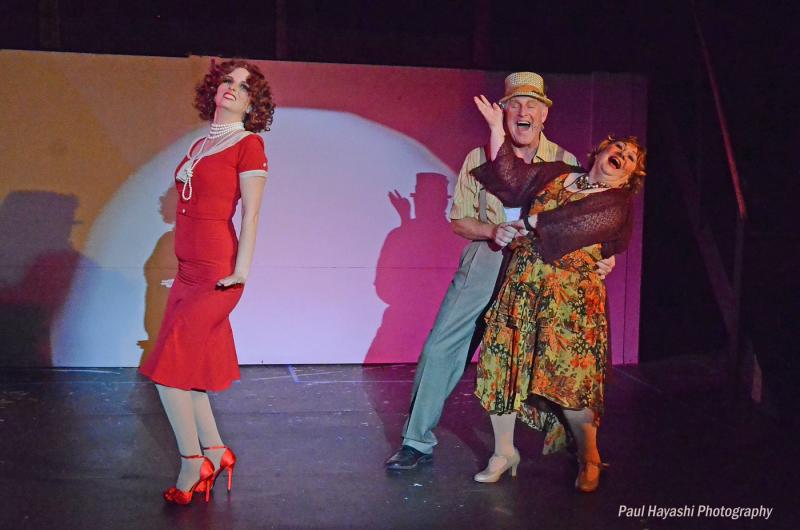 There aren't any weak links in the cast, which is too large to describe everyone's roles individually. One more member, however, deserves special mention: Buddy Phillips-Martinez plays the stray dog, Sandy, who becomes Annie's sidekick. Buddy/Sandy, an adorable white furball, instinctively seems to know how to react to the audience.
The crew members and designers also deserve kudos - here, too, there are no human weak links, although the sound system itself sometimes behaved temperamentally. Heidi Hapner's impressive choreography manages to be simple enough for a community theatre cast to perform successfully, while still packing a punch. Allan Jensen's imaginative set is more kinetic than the ones in DTW's old venue; much of the set consists of wheeled boxes that turn to portray various locations. I loved The New York skyline visible from Warbucks' apartment; the lights twinkled through gaps in the black backdrop and the building outlines became visible. During the orphanage scenes, the same black backdrop looked like a rickety fence, and Phil Murphy's lighting change obscured the stylized buildings.
Adults who are unfamiliar with ANNIE need not worry that the show is geared only to children. The clever book and lyrics contain mostly G-rated bon mots that will fly right over the heads of most kids, but that adults will find hilarious. For example, when Warbucks learns that President and Mrs. Roosevelt will be his guests, he tells his assistant to call Al Smith to ask what Democrats eat. A PG-13 joke involves separating the syllables of "hotel" while referring to Lily St. Regis.
DTW's recently expanded children's training programs are probably the reason that enough talented juvenile actors are available to mount a complex production such as ANNIE - DTW now operates a summer camp and is beginning an intensive Saturday program known as KidsWorks. The child actors' performances in ANNIE are a testament to the quality of their training, and the kids look like they're having a great deal of fun. For that matter, the adults seem to be enjoying themselves, too, and their enthusiasm is contagious.
The rest of the cast consists of: Tess Martinez, Nicole Moya, Emma Mendez, Taylor Graham, Adah Burgen, Adam Genesta, Rebecca Rodriguez, Jenny Ferguson, Lee Padick, Frank Catale, June August, Jacquelyn Bowen, and Bennett Creighton.
The rest of the crew consists of: Alex Updike (Assistant Director), Tresa Oden (Stage Manager), Matthew Creighton (ASM/Sound Operator), Allan H. Jensen (Set Designer), Costumes (Jennifer Stowe), Miguel Arballo (Sound), Heidi Hapner (Hair), Karen Schmitt (Makeup), Brian Alec Thom (Musical Direction), Marcus Leguillow (Follow Spot), Chris Bachmann (Light Board), Patty Garcia (Props) Phylicia Mason (Sound Assistant), Adrian Rodriguez (Set Assistant), and Arthur Healy (Wig Styling).
DTW has increased the length of some of its runs, and will perform ANNIE for two more weekends, from Thursdays to Sundays, through September 24th. In addition to adding Thursday performances during some weeks, DTW now switches between afternoon and evening performances on Saturdays. Please pay especially careful attention to the performance dates and times posted on the Web site when ordering tickets for Thursdays and Saturdays. Evening performances begin at 7:30 p.m., and afternoon performances at 2:00 p.m.
All performances take place at the Indio Performing Arts Center, 45175 Fargo Street, Indio, CA 92201. Individual ticket prices are $30.00 (general admission), $16.00 (ages 13-18), and $12.00 (ages 12 and under). Seating is reserved. For tickets, go to the Web site at www.dtw.org or call (760) 980-1455. Flexible season packages are still available.
During the rest of 2017, DTW will present:
THE WOMAN IN BLACK (Oct 19, 2017 - Oct 29, 2017).
A lawyer obsessed with a curse that he believes has been cast over him and his family by the spectre of a Woman in Black, engages a skeptical young actor to help him tell his terrifying story and exorcise the fear that grips his soul.
Neil Simon's THE LAST OF THE RED HOT LOVERS (Nov 3, 2017 - Nov 19, 2017).
This Tony-nominated comedy tells the story of a loveable schlub in the throes of a mid-life crisis. Married to his high-school sweetheart, he's determined to sow some wild sexual oats while he still can, but he has no idea how to go about committing adultery.
THE GREAT AMERICAN TRAILER PARK CHRISTMAS MUSICAL (Dec 8, 2017 - Dec 17, 2017).
It's holiday time down in Armadillo Acres (North Florida's premier mobile-living community), and everyone is filled with warmth and beer. But when a freak bout of amnesia strikes the trailer park Scrooge, neighborly love is put to the test.
The 2018 portion of the 2017-18 season consists of NUNSENSATIONS: THE NUNSENSE VEGAS REVIEW (in which the good sisters return); the acclaimed drama ON GOLDEN POND; the beloved musical GREASE; and JEWTOPIA (a barbed satire in which a young Jewish man wants out, while his Christian friend wants in).
PHOTO CREDIT: Paul Hayashi