BWW Interview: Catching Up With Brandon Wardell As UNDER THE STREETLAMP Prepares To Wow Palm Springs Audiences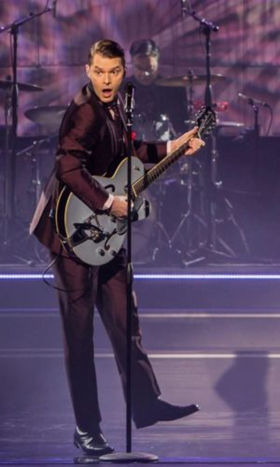 The Coachella Valley Symphony presents UNDER THE STREETLAMP on Saturday, April 27 at 7:00 pm at The McCallum Theatre in Palm Desert. Inspired by the classic hits of Frankie Valli and The Four Seasons, The Everly Brothers, The Beatles, Roy Orbison, The Beach Boys, Bobby Darin and others, UNDER THE STREETLAMP re-imagines the best music of the 50's, 60's, and 70's for today's audiences. I had the chance to catch up with one of the incredible singers, Brandon Wardell, to talk about his life and career and Under The Streetlamp as he prepares to head out to the desert, Here are a few experts from that conversation:
DG: Where are you from and how did your life lead you into a career in professional theatre?
BW: I grew up in High Point, North Carolina with my Dad's band being my first exposure to music. I got the theatre bug as a kid when I first saw Red Skelton's Freddie Freeloader's Christmas Dinner on TV. He visits sick kids in the hospital and puts on an awesome show for them. I saw how happy it made them and wanted to do that for people. I started doing plays, musicals, chorus concerts and anything else that would get me up in front of an audience. I was hooked on performing live and it really wasn't a choice to make it my career at that point. It just seemed obvious.
DG: Who was has been the greatest influence on you as an artist and/or on your professional trajectory?
BW: I've had several amazing people in my life who have helped me in so many ways. My Dad really got me started in music and has been a constant support. I would have to say though that Costume Designer William Ivey Long really is the person who took me under his wing and showed me how to make this my career. I have still never met a more hard working and generous entertainment professional. He gave me the opportunity to move to New York and begin working in his studio. It was there that I met and worked with literally EVERYONE in New York at the time and was an assistant on dozens of Broadway shows. I learned how to communicate with every kind of theatre artist there and it pushed me to be able to eventually Produce my own shows and even be a Producer on several Broadway shows. I use the tools he gave me every single day. Streetlamp definitely benefits from his influence on me.
DG: What is the best advice you ever received about pursuing a career in professional theatre?
BW: NEVER let anyone out work you.
DG: What was your Broadway debut and what was that experience like?
BW: James Joyce's the Dead starring Christopher Walken. It was a dream come true and I wish I could do it over and over again. Marni Nixon became my dear friend and voice teacher. Enough said. What was different about performing on Broadway than you had imagined prior to making your debut? Although it was on the largest scale imaginable, it was comforting to realize that it was just another show.
DG: What is the most memorable role you have played to date and why was that so special?
BW: Jimmy in Thoroughly Modern Millie. I was understudying Gavin Creel and he tore his meniscus during one of the first previews. I was onstage when I found out that I was going on for the second act. I ended up doing 18 shows before he came back. I got to star opposite the exquisite Sutton Foster and there are even a few lines in the show that I made up and they kept. That makes me smile every time I think of it.
DG: Talk about UNDER THE STREETLAMP -- how did it all come about, how do you become involved?
BW: Streetlamp was born when the leads in the Chicago company of Jersey Boys decided to keep making music together after the show closed. It started in small clubs and eventually we did our first PBS Special, which really put us in the National spotlight. I got the call about joining Streetlamp from Christopher Kale Jones. I had done Evil Dead the Musical with his wife and when Michael Cunio was leaving the group to pursue other projects, I must have seemed like the right fit. Jenna actually suggested me, so I have her to thank!
DG: What can audiences expect from the concert in the desert?
BW:They'll get to hear fresh arrangements of their favorite songs and see our choreography set in front of the awesome Coachella Valley Symphony. What could be better? We like our shows to be a party for the audience, so expect to come let loose!
DG: What is your greatest professional achievement so far and what is on your bucket list?
BW: I would say acting in and being an above the title Producer on Catch Me If You Can on Broadway. I was involved from the very first reading through the Broadway run and it was incredible working so closely with that creative team and group of Producers. My bucket list includes getting the one-man show I've written Produced. It's called Roy Orbison: Only the Lonely. I've always wanted to appear in a show I've written myself. If time allows, I plan to workshop it this summer.
DG: What advice would you offer to young people who have aspirations of a career in professional theatre?
BW: Get used to rejection and never let that stop you from going to the next audition or interview. Be tough. Be yourself. Be willing to work harder than you have to. Get to know EVERYONE in the theatre and understand their importance. Love every minute of it.
The Coachella Valley Symphony presents UNDER THE STREETLAMP on Saturday, April 27 at 7:00 pm at The McCallum Theatre in Palm Desert. Tickets are available at The McCallum Box Office at (760) 340-3787.