PB Poetry Festival Announces Fellowship & Scholarship Winners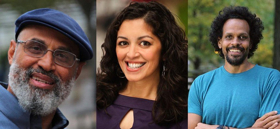 Susan R. Williamson, Director of the Palm Beach Poetry Festival (PBPF), today announced the six winners of Fellowships and Scholarships to the 14th annual Festival, scheduled for January 15-20 at Old School Square in Delray Beach.
"A Poetry Festival Fellowship covers full tuition and lodging, while a Scholarship is for tuition only," says Williamson. "The new Thomas Lux Scholarship honors the famous poet and long-time Festival supporter who passed away last February, and in whose memory the upcoming Festival is being presented."
The Palm Beach Poetry Festival also is awarding two Fellowships and one Scholarship to African-American poets, the Kundiman Fellowship to an Asian-American poet, and the Canto Mundo Fellowship to a Latin American poet. In addition, Sarah Lawrence College has awarded an all-expense-paid scholarship to a matriculating student in its MFA Program. The college's annual scholarship to the Festival is awarded to a poet of great promise and is selected by members of the writing faculty.
"This year the Palm Beach Poetry Festival has made enormous strides to further diversity in its faculty, participants and audience members," says Miles Coon, Founder and President. "We have been blessed with very talented Fellowship and Scholarship applicants."
The Festival's 2018 Fellowship and Scholarship winners include:
+ Omotara James of Little Neck, NY, winner of the 2018 Thomas Lux Scholarship, who will study with faculty poet Ross Gay. A poet and essayist, James is the daughter of Nigerian and Trinidadian immigrants. Her chapbook Daughter Tongue was selected by African Poetry Book Fund in collaboration with Akashic Books for the 2018 New Generation African Poets Box Set. She is a 2017 Lambda Literary Fellow, a Home School Fellow, a 2017 Colgate Writers Fellow, and has been awarded scholarships from Cave Canem, the Bridging the Gap Award for Emerging Poets and the Nancy P. Schnader Academy of American Poets Award. James is an MFA candidate at NYU and guest editor at Luna Luna Magazine.
+ Dr. Patron Hennekou from Togo, West Africa, received one of two Festival Fellowships for African-Americans, and will work with faculty poet Tim Seibles. Dr. Hennekou is on a nine-month Fulbright Scholarship with the University of Nebraska, and is an Assistant Professor of English Literature at the University of Lomo in Togo. He is the author of Dovlo: A Worthless Sweat (play) and Souffles d'outre Coeur (poetry in French), and is working on a project that deals with the development of curricula in creative writing to be implemented by his home university in Togo.
+ Lolita Stewart-White of Miami won the other Festival Fellowship for African-American poets and will work with faculty poet Gabrielle Calvocoressi. She is a Cave-Canem fellow and Pushcart nominee, winner of the 2015 Paris American Reading Series Competition and was invited to read at Poets House in NY. Stewart-White was a semi-finalist for the Discovery/Boston Review Poetry Prize and Rattle Poetry Contest, and a Sundance Intensive Screenwriter fellow. Her work has been published in the Iowa Review, Callaloo, Rattle and Kwell.
+ Jubi Arriola-Headley of Fort Lauderdale is the winner of the Scholarship for African-American poets and will work with faculty poet Aimee Nezhukumatathil. He is a first-generation African-American, born to Bajan (Barbadian) parents, who also identifies as gay. As a black, queer man, in this historical moment, he is becoming accustomed to being portrayed, positioned, painted as a liability, a criminal, or at best - at best! - a victim. In a poem by Ross Gay, "Sorrow is Not My Name," Arriola-Headley found encouragement and moments of joy in the midst of the everyday torrent of rage and grief.
+ Vipjay Saini from Cleveland, OH, is the winner of the 2018 Kundiman/PBPF Fellowship, and will also work with Aimee Nezhukumatathil. Saini started writing poems two years ago and has studied with Matthew Olzmann, at the Fine Arts Work Center in Provincetown. He has completed a chapbook of poems and is considering applying to an MFA program. Saini writes in both Hindi and English, and feels equal parts Indian and American. He hopes to learn better how to navigate these two cultural influences as he creates more work.
+ Benjamin Antonio Garcia of Auburn, NY is the winner of the 2018 Canto Mundo/PBPF Fellowship, and will also work with Ross Gay. Garcia is a Community Health Specialist who provides HIV/HCVSTD and opiate overdose prevention education to high risk communities throughout New York's Finger Lakes region. A graduate of Cornell University's MFA Program, he was named the 2017 Latin@Scholar at the Frost Place and a finalist for the 2017 Boston Review Poetry Prize. His work has appeared or is forthcoming in Kenyon Review Online, Best New Poets, 2016, As/Us, Gulf Coast, West Branch Wired, The Collagist and PANK.
+ Cody Ross Romero from New York City is the winner of the 2018 Sarah Lawrence Scholarship, and will also work with Aimee Nezhukumatathil. Romero is presently matriculating for his MFA Degree in the Sarah Lawrence Graduate Program in Poetry.
"The Palm Beach Poetry Festival is honoring Thomas Lux at a special tribute to his life, his poems and his teaching that have had such a profound effect on the lives of so many people," adds Miles Coon. "He was the most generous man I've ever known. Without Tom's help, this Festival would never have been started, let alone grown the way it has with his guidance."
About the Palm Beach Poetry Festival 2018:
The 14th annual Palm Beach Poetry Festival will be held next January 15-20 at Old School Square in Delray Beach. The Festival features top poets at numerous ticketed public events, including readings, talks, interviews, panel discussions and more. Nine workshops will be offered for which applications are required. Special Guest Poet will be Coleman Barks, a major poet and the world's leading translator of the 13th century poet Rumi, the founder of Sufism.
The distinguished poets who will lead poetry-writing workshops at the Festival include Laure-Anne Bosselaar, Gabrielle Calvocoressi, Chard deNiord, Beth Ann Fennelly, Ross Gay, Rodney Jones, Aimee Nezhukumatathil and Tim Seibles. The faculty poets will be featured at 12 public events including craft talks, a panel discussion, and evening readings. Individual conferences will be provided by nationally acclaimed poets Lorna Knowles Blake, Sally Bliumis-Dunn and Nickole Brown. In addition, powerful performance poets Elizabeth Acevedo and Aja Monet will be featured at four local high schools and, on Friday evening, January 19, at the Crest Theatre. On January 20 at 4:30 pm, there will be a Special Tribute to Poet Thomas Lux, a longtime supporter of the Festival who passed away earlier this year.
The 2018 Palm Beach Poetry Festival is sponsored in part by the State of Florida, Department of State, Division of Cultural Affairs and the Florida Council on Arts and Culture; Morgan Stanley & The Legacy Group of Atlanta; the Cultural Council of Palm County, the Palm Beach County Tourism Development Council and the Board of Commissioners of Palm Beach County; The Palm Beach Post; Visit Florida; WLRN; and Murder on the Beach, Delray Beach's independent bookseller.
For more information about the Palm Beach Poetry Festival, please visit www.palmbeachpoetryfestival.org.
Related Articles View More Palm Beach

Stories

Shows
More Hot Stories For You