Mandel JCC To Present TEN DOLLARS TO HATE With Author Patricia Bernstein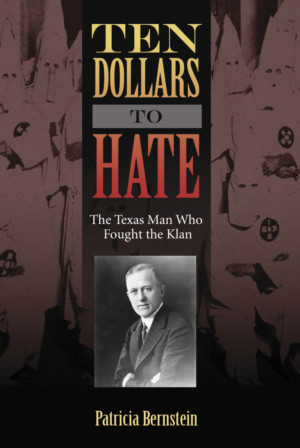 Ellen Wedner, Vice President of Arts & Culture at Mandel JCC, today invited book lovers and history buffs to a very special double-event as part of the popular Reel Matter Series:
Thursday, May 3
TEN DOLLARS TO HATE
With Author Patricia Bernstein
This is a history of 1920s Klux Klan in Texas, and much of the focus of this book is on the Klan's animus towards Jews, Catholics, and immigrants, as well as blacks. The book covers Klan propaganda against Jews: Jews were too "clannish" to assimilate into American life and were to blame for the scandalous Jazz Age music, dances and movies. It also celebrates the Texas lawyer Dan Moody who was instrumental in getting members of the Klan convicted for a murder they committed in 1923.
Author and historian Bernstein will be present to discuss her book and research and for book signings. A Texas native who is a member of Dallas' Temple Emanu-El congregation, she founded her own PR firm in 1983 and has published articles in Texas Monthly, Cosmopolitan and The Smithsonian Magazine, and is the author of three books. Her current book is Ten Dollars to Hate: The Texas Man Who Fought the Klan.
10 am at the Mandel JCC at 8500 Jog Road in Boynton Beach
7 pm at 5221 Hoof Road in Palm Beach Gardens
Cost to Attend:
+ FREE - Star Arts, Cinema Circle, and Directors Level Film Society members; and for Publishers and Author Level Literary Society members
+ $10 for Actor Level (Film Society) and Reader Level (Literary Society)
+ $12 General Admission
Reel Matter Series Partners: Cynthia & Peter Liebman, One World Davis Family Tolerance Project
Note: This program was made possible through a grant provided by the Jewish Federation of Palm Beach County's One World: Davis Family Tolerance Project, which promotes tolerance, diversity and the Jewish value of chesed ("kindness"). The project allocates funds to community programs that advance the vision of the project to create a more compassionate, tolerant Palm Beach County.
About the Mandel Jewish Community Center of the Palm Beaches:
The Mandel JCC has two locations in Palm Beach County. The Boynton Beach building is at 8500 Jog Road and the Palm Beach Gardens building is at 5221 Hood Road. For more information about the Mandel JCC of the Palm Beaches, visit www.jcconline.com.
The mission of the Mandel JCC of the Palm Beaches is to build community and enhance connection to Jewish life. The Mandel JCC is a partner agency of the Jewish Federation of Palm Beach County.
Related Articles View More Palm Beach

Stories

Shows
More Hot Stories For You