Review: Unless You Hate Fun and Sexiness, Death-Defying THE ROCKY HORROR SHOW is Giddy Perfection
I have a confession to make; I have never been particularly fond of THE ROCKY HORROR SHOW. The lack of a coherent plot is annoying, but acceptable given the context of the show, but it has always been the audience participation that makes me just uncomfortable enough to not enjoy myself. In fact, after my last go around with the stage version, even though it was fantastic, I told myself that unless there was some über-compelling reason, I didn't need to see the show again.
Leave it AntiGravity Orlando and Red Fish Theatre to supply that reason and more. In their first joint production, these two unique companies have joined forces for a concept that made me break my rule at the very first opportunity, and I couldn't be more grateful. The pitch was simple enough, ROCKY HORROR with aerialists. If you like creative, out-of-the-box takes on well-known theatre properties, it's tough to beat that.
While the production is not without issues, especially in a surprisingly disjointed second act, as a whole it is one of the most giddily entertaining nights you are likely to have in a theatre all year, and, full disclosure, I wouldn't have minded a bit of naughty audience-actor interaction after all.
With a full complement of death-defying aerial acts, a wickedly talented (and breathtakingly sexy) cast, and an approach that embraces both the dark and campy natures of the show, this is a one-of-a-kind production not to be missed.
Unless you have no sense of humor, no joy in your heart, or no sex drive to speak of, it's impossible to not enjoy yourself. Director Adam Graham and assistant director Jacqueline Torgas have created a fresh, exciting take on this well known show from the deranged mind of Richard O'Brien.
Setting the stage for the production is Alyssa Yost as The Usherette and/or Magenta. Her performance of "Science Fiction/Double Feature," normally little more than a table-setting song, boasts so much charisma and sex appeal that you can't help but be immediately drawn to her. She displays a uniquely expressive voice and disturbingly seductive facial expressions; all of which get you revved up for what's to follow.
As the show begins, we meet newly engaged virgins Janet Weiss (Tiana Akers) and Brad Majors (Adam Galarza). While venturing out to visit their former science teacher on a dark and stormy night, the couple gets a flat tire. After trekking through the rain, they wind up at a mysterious castle where they are greeted by a bizarre collection of creatures hell-bent on teasing and torturing them for little more than there own arousal and amusement.
The phantoms haunting this particularly perverse castle are nearly enough entertainment to satisfy even without the benefit of plot or characters. Wearing little more than enough leather to cover themselves, whether they are 25 feet off of the ground or gyrating on it, they are a delightfully debauched sight to behold.

Much of that naughtiness comes from the fun and fantastic work of AntiGravity artistic director Daniel Stover and choreographer Devon Asadoorian. The wide range of aerial acts are extremely well integrated into the show; enhancing, while never distracting from, the musical numbers. Likewise, the choreography, whether on or above ground, is wonderfully fun and creative; I particularly enjoyed the faux-motorcycle tableau. While at times during the book scenes, the phantoms feel like glorified stage decorations on the massively expansive AntiGravity stage, when they are unleashed during the songs, they are truly one of the best ensembles in Orlando.
Leading the deviant hyenas that greet Brad and Janet is Riff Raff, played by Victor Souffrant. After a spectacular entrance that you won't see anywhere else, Souffrant proves to have a fantastic voice while delivering a particularly creepy performance.
Of course all of the castle's depraved inhabitants serve the demented Dr. Frank-N-Furter, played by Moses Galarza. Not only does he have an insanely dynamic pop/rock voice, but he also commands the stage, as any Frank-N-Furter should. In thigh-high leather boots, he struts with enough power and passion to make you either terrified or turned on, and likely both.
The first act of the show is incredibly good; characters, choreography, staging, everything was fantastic. However, all of those details almost don't even matter. For decades, THE ROCKY HORROR SHOW, in all of its iterations, has been about the experience, and what AntiGravity and Red Fish have done, especially before intermission, is create a fiendishly fun and devilishly sexy experience that you are unlikely to find anywhere else on stage or screen.
Though the antics of host Logan Donahoo are hysterical before the show and at intermission, the inter-act break was unnecessarily long, and seemed to slow down the raucous momentum that the near-perfect first act generated; and the show suffered for it, losing sharpness and focus after intermission.
Check out rehearsal footage of the company performing "Time Warp."
As our out-of-place couple, the stunning, doe-eyed Akers transitions wonderfully from the uncomfortable ingénue to the sex-crazed beltress, especially in "Superheroes." As her Brad, Adam Galarza has moments where he sounds amazing, but on the ballad "Once in a While" the song sounds a bit too big for him. However, that might not be his fault.
The production's sound caused concern at various times throughout the show, especially in the second act. It often seemed like the live band was pumped through the speakers so loudly that it lead to the vocalists' microphones being turned up to the point of distortion, leading to dialogue and lyrics being lost. However, as a whole, the production is expertly handled with enough technical and creative surprises to keep you on The Edge of your seat.
Rounding out the principal performances, though she had disappointingly little stage time, the gorgeous "Hot Patootie" Kalen Dennis steals her scenes while belting to high-heaven as previous Frank-N-Furter "boy"-toy Eddie, and Erica Rush is annoyingly delightful as Eddie's tap-dancing main-squeeze, Columbia.
And, even though the part is little more than eye candy, Tony Flaherty proves that he is more than just the personification of Michelangelo's David, by impressively singing and flying in a barely-there gold lame singlet.
Red Fish has added a bit of Orlando star-power to the show by having a rotating group of narrators. The hilarious Summer Aiello and Robyn Pedretti Kelly, whom I saw, will team up again on October 21st, Adrian LePeltier will be back on October 23rd, and J. Michael Roddy will close out the run on the 24th.
If Opening Night is any indication, there are a lot of ROCKY HORROR-loving freaks in Central Florida, so get your tickets now. THE ROCKY HORROR SHOW runs at the AntiGravity Theatre through October 24th. You can purchase tickets here, and unless you are dead inside, you won't want to miss this spectacular production.
---
Did this unique ROCKY HORROR get you excited? Let me know on Twitter @BWWMatt. And, "Like" and follow BWW Orlando on Facebook and Twitter using the buttons below. You can listen to Matt on BroadwayRadio or on BroadwayWorld's pop culture podcast Some Like it Pop.
Banner Image: Tiana Akers, Adam Galarza, and Phantoms | Photo Credit: WayneSysock.com Photography
Matt is a Senior Editor and Administrator at BroadwayWorld, regularly writing about Broadway real estate, TV, and film. He is a proud graduate of The Ohio State University and has worked in pr... (read more about this author)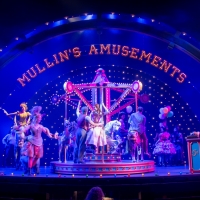 BWW Review: Riverside Theatre's Sparkling CAROUSEL Shines Light on All that Is Grand, Complicated in Classic Musical Theatre

January 11, 2022

Despite the complications that a modern perspective puts on the more prickly parts of the story, you can't help but be both moved and tickled by the show's iconic, perfectly crafted R&H songs. And fortunately, the beautiful and appropriately elegant production of 'Carousel' running at Vero Beach, Fla.'s Riverside Theatre now through Jan. 23 exemplifies why shows such as these continue to be revered staples in theaters around the country.
---