BWW Review: ROCK OF AGES is a Runaway Train of Sexiness and Head Banging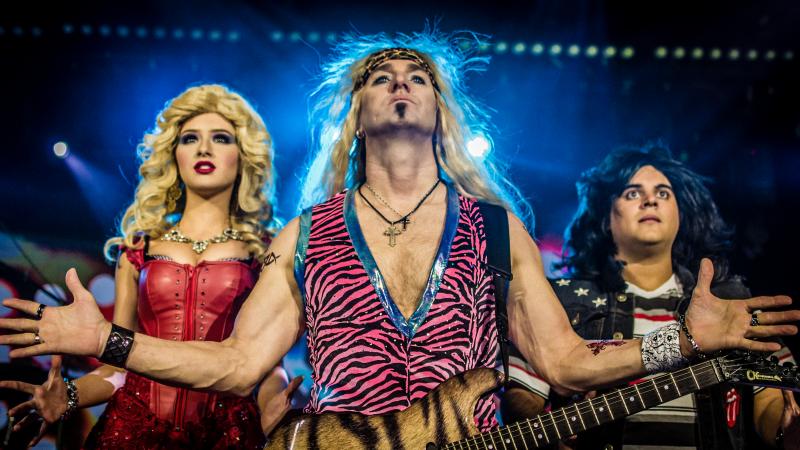 The cast for TheatreWorks Florida's Central Florida Premiere of the musical ROCK OF AGES is dynamite; easily one of the two or three best collections of talent that I have seen on an Orlando stage in my three-plus seasons of Central Florida theatergoing. Director and choreographer Scott A. Cook has crafted an impressively ambitious production with a top-notch, multi-level set from James F. Beck. The silly show is trivial at best, but that is the exact mark that it aims to hit, and the onstage band, led by music director Shannon Kropf, rocks incredibly hard to some of the most recognizable tunes of the hairband-era.
All of that goodness should be a recipe for a night of magical, unforgettable theatre, but it's not. While chances are good that I will be thinking about this show for a long time, it will most likely be imagining what it could have been.
TheatreWorks' ROCK OF AGES is escapist fun, it's decadently sexy, it's packed with wonderful performers, but in addition to all of the show's overwhelming positives, there is a breakneck speed that throughout the first act regularly flirts with careening off of the tracks and derailing the entire production.
As the show's narrator Lonny, Christopher Jones is loads of goofy fun and, on the whole, hilarious. However, early on, he speeds through so much exposition that you almost lose the plot before it begins, and many of his first act jokes are plowed through, robbing them of an opportunity to land. And, when they do, he so quickly jumps into his next line that the audience doesn't get the chance to laugh and enjoy them. He is not the only cast member guilty of metaphorically driving more than 55, but he is such a compelling performer that his frenetic energy seems to permeate the entire production.
While that more or less levels out in Act II, on the night that I attended, the production's most egregious issue continued to rear its horrendously ugly head at nearly every imaginable turn; ever-present sound issues made sections of songs and dialogue inaudible, and others distorted beyond comprehension.
More often than not, the music was far louder than the vocalists, and on nearly every song, at least one soloist had to sing with his or her microphone turned off. While these incessant issues were frustrating for me as an audience member, I was mostly disappointed for the cast; it just didn't feel fair to them. In turn, it seemed as if they were pushing so hard to overcome the poor sound work that they cranked their performances up to 11, when an eight or a nine would have been more appropriate.
All that being typed, the beauty of live theatre is that just because a wonderful production is hampered by issues on one night, doesn't mean that they will be repeated for any other performance. In fact, if schedules allow, I plan on attending ROCK OF AGES again in hopes of seeing the production at its best.
This Tony-nominated musical centers on a legendary rock 'n' roll bar called the Bourbon Room on Hollywood's Sunset Strip in the late 1980s, and specifically on its ragtag collection of misfit employees. First is Drew, played by Justin J. Scarlat, a bar-back who dreams of rock stardom. While Scarlat never seems to settle into the character's hapless charisma, man can he wail. In a cast full of ridiculous voices, Scarlat's stands out. From the tender to the face-melting, he never ceases to thrill and amaze.
Drew becomes temporarily distracted from pursuing his musical dreams when the Bourbon Room owner, Dennis (Casey Sweeney), hires a wannabe actress straight off of the bus from Kansas. Played by Kayla Alvarez, Sherrie is the stereotypical gorgeous blonde who comes to L.A. in search of fame; she's sweet, a little bit naïve, and oozing sex appeal. While not quite as suited for the rock anthems as Scarlat's, her voice is phenomenal, and she brings an awkward charm to the character that makes her immensely appealing. This is the third production in which I have seen Alvarez, and the first in a leading role. It is clear that this young actress is on her way to being one of Central Florida's best performers.
Jones' Lonny, who is Dennis' right-hand man, is one of the most entertainingly bizarre characters I can remember. While Jones' speed was a distraction early on, he delivers a one-of-a-kind performance full of weird, giddy excitement. A wonderful comedian, Jones also has an incredible voice, and plays well with the equally talented Sweeney.
In addition to the Bourbon Room's burgeoning love story, a German developer named Hertz (Nathan Jessee) is planning on bulldozing the Strip in favor of strip malls. Standing in his way is activist Regina (pronounced like the Canadian city), played by the wonderful Ashley Turner. Regina develops an interesting relationship with Hertz's flamboyant son Franz (the hysterical Chase Ray Livingston). While the odd pair is the show's third or fourth fiddle, they are fantastic anytime that they are on stage, either together or separately.
In a last ditch effort to save his club, Dennis calls in an old favor from rock god Stacee Jaxx (Stephen Alan) and convinces him to play his final show with his band Arsenal at the Bourbon Room. Alan, who is the lead singer of Orlando band Mad As Adam, looks and sounds like he could have banged heads with the likes of Bret Michaels, Dee Snyder, David Lee Roth, and the rest of that motley crew. While his bio doesn't indicate much theatre experience, Alan is a natural stage performer.
Needless to say, the Arsenal show does not go as planned and more than a few dreams are crushed, leading to some interesting second acts.
Another standout performer is Katrina Johnson-Akers as strip club matron Justice. She has a ridiculous voice that blends rock and blues into an insanely emotive tone.
The freakishly sexy female ensemble bounces back and forth between different characters and carries the show's heaviest load in the dancing department. Charissa Hope, as Waitress #1, slays in a brief vocal solo as well.
There was so much to enjoy in TheatreWorks Florida's production of ROCK OF AGES, but whether it was pacing or technical issues, it just never felt fully refined. It's as if you stepped on stage for a show with your electric guitar, acid wash jeans, and leather vest, but forgot to apply your Aquanet.
ROCK OF AGES runs through October 9th at the Alexis & Jim Pugh Theatre at the Dr. Phillips Center for the Performing Arts. To purchase tickets, visit the Dr. Phillips website or call 844-513-2014.
---
Did you have a better experience at the Bourbon Room? Let me know on Twitter @BWWMatt. And, "Like" and follow BWW Orlando on Facebook and Twitter using the buttons below. You can listen to Matt on BroadwayRadio or on BroadwayWorld's pop culture podcast Some Like it Pop.
Banner Image: Kayla Alvarez, Stephen Alan, and Justin J. Scarlat. Photo Credit: Barry Nadler | TheatreWorks Florida
Matt is a Senior Editor and Administrator at BroadwayWorld, regularly writing about Broadway real estate, TV, and film. He is a proud graduate of The (read more...)