BWW Review: Natalie Cortez Dazzles in Riverside's Thrilling EVITA, Despite Lack of Political Focus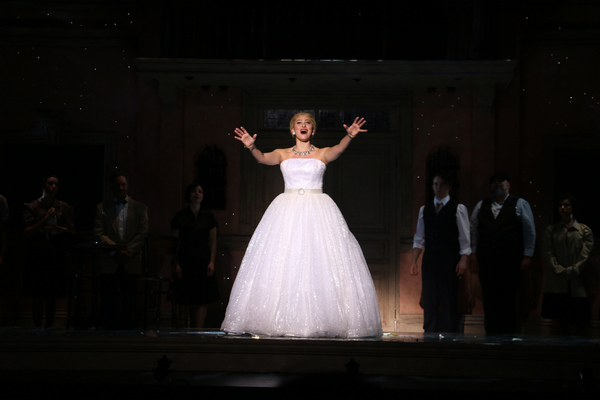 In 2005, the legendary playwright Edward Albee said, "All theater is political if it engages you." The two-time Tony winner and three-time Pulitzer Prize recipient argued that, "If more people took theater seriously (and were given serious, engaging theater) we'd have different election results."
My mind kept turning these quotes over after I saw Riverside Theatre's spectacular production of Andrew Lloyd Webber and Tim Rice's EVITA, running through Sunday, Jan. 27 in Vero Beach. With its supremely talented cast, phenomenal production values, and shining star, there is no doubt that the musical is engaging. So, in that respect - at least by Albee's definition - the production is political. However, I couldn't help but feel as though the inherent politics had been boiled out of this EVITA. That certainly didn't hamper my enjoyment or appreciation for the production, but it did leave me thinking that perhaps the very point of the show had been missed.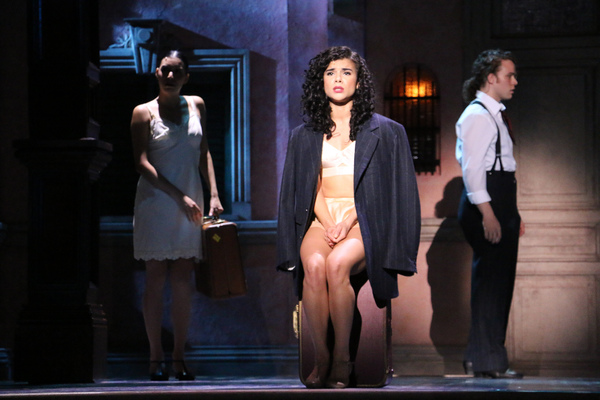 Even without the political core at the center of the sung-through musical, the all-encompassing strength of Riverside's EVITA ­- as it should be with any good production of the show - is in their stellar leading lady. Broadway alum Natalie Cortez delivers a phenomenally nuanced and affecting performance as the former first lady of Argentina. Not only does she do so with a rich, crystalline clear voice, but the transformation that she takes her Eva on - not only through time, but through maturity, Machiavellian schemes, and her eventual declining health - is a masterclass to watch.
Cortez provides a dazzling portrayal of a woman whose light burned hot and fast. And, despite her obvious, craven need for wealth and power, Cortez still masterfully makes Eva sympathetic (which may or may not be a good thing in the context of this show).
However, like its leading lady, the entire company - as is always the case at Riverside - is fantastic. Martin Sola oozes smarminess as the overmatched Magaldi, and Enrique Acevedo delivers a performance powerful enough for his Peron to be (almost) Eva's equal. As Peron's quickly dismissed Mistress, Iliana Garcia is both captivating and heartbreaking in one of the few moments when the production addresses head on the consequences of Eva's ruthless ambition.
One of the key reasons that the production doesn't connect with the ramifications of Eva's actions is because of the slickness of its narrator. Don't get me wrong, Angel Lozada is incredibly charismatic, and has an electrically captivating voice, but his Che is an outsider to the story being told, rather than someone who lived and suffered through Eva and her husband's reign, and is looking to impart the hard-fought wisdom that he gained.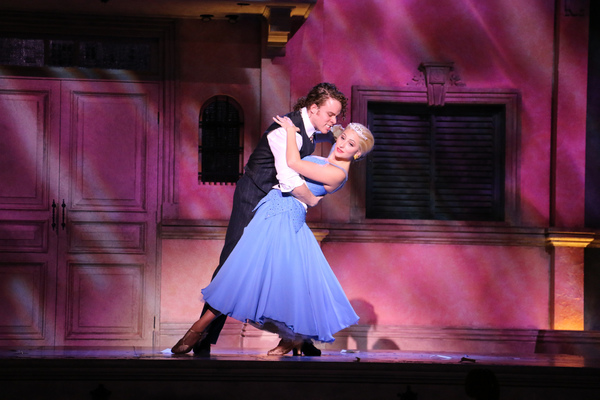 While never explicitly said, the original incarnation of Che was modeled after Argentinian-born revolutionary Che Guevara, who was instrumental in the Marxist Revolution in Cuba. In Tony-nominated director Marcia Milgrom Dodge's Riverside production, gone is Che's beard, beret, and dirty military jacket. Instead, Lozada's portrayal hues more toward the suave, sophisticated incarnation of Ricky Martin in the most recent Broadway revival.
EVITA's libretto and structure are designed to be subtly subversive, and even satirical in order to amplify the show's cautionary tale. If a production doesn't lean into those aspects of the narrative, it risks obfuscating the actual point of the play; that "Santa Evita" is not, in fact, a saint. Instead, she and her husband were borderline fascists who used their populist appeal to enhance themselves and those around them.
Fortunately, Riverside's production does acknowledge that to a certain extent, but by not capitalizing on the political imagery of Guevara, emphasizing the real-world pain caused by the Perons' grifting, or the painful resonance with our current political circumstances, there was still an undeniable element of the show deifying Eva and her rags-to-riches rise.
However, when an actress of Cortez's talent, beauty, and humanity gives a performance as she does in this production, you understand the inclination to worship her; the power of her presence has the ability to overwhelm even the most well-intentioned message.
While I had reservations about this aspect of Dodge's direction, her staging and choreography were almost impeccable otherwise. From the use of the tango to underline Eva's seductive powers (both sexual and not), to the beautiful tableaus created by the extraordinary ensemble, to the expertly clever use of handkerchiefs at pivotal points when Eva was wooing a mark; be it Magaldi, Peron, or all of Argentina; the show's visuals are always stunning.
The only bit of choreography that feels out of place is during the song "And the Money Kept Rolling In," which features a seemingly less than subtle reference to Tina Turner's iconic, yet anachronistic, "Proud Mary" moves.
For me, there is little doubt that Riverside is producing some of the best large-scale productions in Florida, and that is exemplified in the gorgeous work by scenic designer Michael Schweikardt and lighting designer Yael Lubetzky. The multipurpose unit set effectively transforms into countless locales with the flying of columns and beautiful lighting.
While there is a different politically focused musical playing in Orlando for the next few weeks, Riverside's EVITA is a must see on the strength of its cast alone. The show runs through this Sunday. To purchase tickets, visit Riverside's website or call (772) 231-6990.
---
What did you think of what's new in Buenos Aires? Let me know on Twitter (@BWWMatt) or Instagram (also @BWWMatt). You can also listen to me Monday through Friday (and sometimes on Saturdays) on BroadwayRadio.
Banner Image: Natalie Cortez. Photo Credit: Riverside Theatre