PATH New Music To Debut SIMULACRUM, Chamber Opera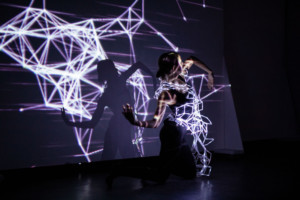 PATH New Music Theater, the upstart artist collective of composers, musicians, choreographers, and visual artists, proudly announces their debut work for the stage, Simulacrum, co-presented by the 3LD Art & Technology Center on June 8th, 9th, and 10th. A radically ambitious combination of opera, dance, and stunning visual technology, the work combines music of the five composers of PATH and one guest composer with three singers, six dancers, vivid projections, and interactive wearable technology. Based on the captivating Marianna Staroselsky original play Loved for Parts, the opera examines the fraught relationship between man and machine.
Simulacrum joins a litany of transformative opera performed in the 3LD Art & Technology Center including the 2016 premiere of composer Du Yun's Pulitzer Prize winning work, Angel's Bone. An all-star cast brings the production of Simulacrum to life: Mezzo-Soprano Lucy Dhegrae, hailed by The New York Times for her "expressive [and] effective" musicality and "vocal versatility," sings alongside baritone Nathaniel Sullivan, praised for his "humor [and] ebullient performance" by Harry Rolnick of ConcertoNet. The production will be helmed by Armenian director Arthur Makaryan, called "truly inspiring" by Mirror Spectator USA, while costume design is by Nina Vartanian, whose recent work includes costume design for composer Kate Soper's opera Ipsa Dixit, nominated for the Pulitzer Prize.
"It is a privilege to premiere Simulacrum, our debut work, as resident artists of 3LD," said PATH co-founder and composer Longfei Li. "We feel that the scope of Simulacrum is truly magnificent, drawing on a cast of immaculate talent not just in music, but in technology, dance choreography, and stage direction. Lucy Dhegrae and Nathaniel Sullivan are two of today's most sought after singers, and are stunning in these roles. PATH eagerly looks forward to the impact Simulacrum's story will have on audiences."
Simulacrum centers on Lydia (Lucy Dhegrae) as she grapples with the new sense of identity conferred upon her by her recently acquired bionic leg, and the subsequent tug-of-war of rejection and acceptance that follows. As the first opera to combine the work of six composers, Simulacrum is divided into six scenes, each with music written by a separate composer: PATH composers Longfei Li, Yangzhi Ma, Peter Kramer, Meng Wang, James Diaz, and special guest composer and Music Supervisor Reiko Füting, whose music has been characterized by I Care If You Listen as "intriguing and progressive" and by Feast of Music as "captivating and brilliant." Choreography for the six dancers is led by Australian dancer Evita Zacharioglou, who also dances.
Simulacrum will run for three nights on June 8th, 9th, and 10th at 8pm, located at the 3LD Arts & Technology Center at 80 Greenwich St in the Financial District. Runtime is approximately one hour. An artist talk will be held before the opening performance only at 7pm, with reception to follow all three nights.
To see a trailer and purchase tickets for Simulacrum, visit this event link: https://www.facebook.com/events/166470267313382/
* * * * *
About PATH New Music
PATH New Music is a collective of composers, musicians, choreographers, and visual artists who curate and produce contemporary new media theater. Co-founded by composers Longfei Li and Meng Wang, the group draws from a variety of artistic disciplines to bring a fresh, vital perspective to the theatrical stage.
About Lucy Dhegrae
"Vocal versatility and an omnivorous curiosity" (New York Times) are the hallmarks of mezzo-soprano Lucy Dhegrae, a passionate vocalist with a flexible technique that fits a variety of styles. She has performed with the International Contemporary Ensemble (ICE), Talea Ensemble, the Albany Symphony, among others, at such venues as Miller Theatre, Lincoln Center, and the Kennedy Center.
Dhegrae, who is "everywhere new music is being sung" (New York Classical Review) regularly premieres new vocal works and operas, and has worked closely with such composers as Unsuk Chin, Jason Eckardt, Susan Botti, Alexandra Vrebalov, and Sky Macklay. Her opera premieres include Trillium J by Anthony Braxton, Andy: A Popera (Opera Philadelphia/Bearded Ladies Cabaret), A Marvelous Order by Judd Greenstein, and Ashley Fure's The Force of Things. Dhegrae's festival appearances include Darmstadt (Germany), Klangspuren (Austria), Mostly Mozart, Bard Music Festival, Gesher Music Festival (St. Louis), and Aldeburgh Music Festival (as a Britten-Pears Young Artist).
As "soprano and raconteur" (The New Yorker) she directs Resonant Bodies Festival, a festival of contemporary vocal music that takes place in NYC and beyond, which she founded in 2013. She graduated from the Bard College Conservatory Graduate Vocal Arts Program (MM in Vocal Performance '12) as well as the University of Michigan School of Music, Theatre, and Dance (BM in Vocal Performance '08) and is a core member of the new music ensemble Contemporaneous.
About Nathaniel Sullivan
As an avid performer of opera, oratorio, art song, and musical theatre, baritone Nathaniel Sullivan "works to infuse each performance with his unique, personal vitality" (arts.unl.edu). Having performed works in both the classical and contemporary operatic repertoires, Sullivan's roles have ranged from Papageno (Die Zauberflöte), the Count (Le nozze di Figaro), and Sid (Albert Herring), to the roles of Dr. Pangloss/Martin (Candide) and the Baritone in Philip Glass's Hydrogen Jukebox. In 2016, Sullivan joined Beth Morrison Projects to cover the roles of the Young Monk and Gilgamesh in Scott Wheeler's Naga and Paola Prestini's Gilgamesh, as part of the world premiere of the Ouroboros Trilogy in Boston. He has participated in the opera studio program at the American Institute of Musical Studies in Graz, Austria (2013), and will join the Tanglewood Music Center as a baritone vocal fellow in 2018.
In addition to opera performance, Sullivan frequently engages in oratorio and other concert performances around the country. In 2014, he joined Maestro Edward Polochick and the Lincoln Symphony Orchestra in a concert featuring scenes from Mozart's Le nozze di Figaro, performing the role of the Count. He has joined Maestro James Bagwell and the Bard Conservatory Orchestra and Chorus as the bass soloist in Mozart's Coronation Mass (2015) and in the Winter portion of Haydn's The Seasons (2016). For his October 2017 performance as the chansonnier in HK Gruber's orchestral pan-demonium Frankenstein!!, Sullivan was regarded as "ebullient" and "a marvelous actor," having given "allegiance to both music and words" (ConcertoNet). Later that month, he performed as the bass soloist in J. S. Bach's Mass in B Minor with the Blanche Moyse Chorale & Memorial Orchestra, bringing "natural expressiveness and warmth" to the "Et in Spiritum Sanctum" (Rutland Herald). To learn more, visit http://www.nathanielsullivanbaritone.com/about/.
About Arthur Makaryan
Arthur Makaryan is a graduate of the MFA Theatre Directing program under the tutelage of Ms. Anne Bogart at Columbia University and currently is the recipient of an Opera Directing Fellowship at The Juilliard School. Originally from Armenia, he graduated from Paris's Acting International Professional School in Paris, Yerevan State Institute of Theater and Cinematography (BA, MFA), the Institute of Theater Studies at La Sorbonne University with Masters' degrees in theatre directing. Furthermore, he assisted directors in Europe and in the USA such as Darren Katz, the resident director for The Lion King on Broadway; Mary Birnbaum and Stephen Wadsworth at Peter Jay Sharp Theatre in NYC; Simone Rist, the artistic director of Champs Mêlés Theater Company; Rui Frati, the artistic director of Théâter l'Opprimé; Mathilde Bost, Artistic Director of Le Temps qui File Theater Company; and Sybille Wilson at Royal Parc Theater in Brussels, among many more. Makaryan received additional training at the Grotowsky Institute, the Suzuki Company of Toga in Japan and Stella Polaris Theatre in Norway. Arthur made his Avignon OFF Festival debut in 2014 with a performance of A la vie, a la mort. In 2012, he founded the Epdison Theater Company in Armenia where he staged G. Buchner's musical adaptation of Wozzeck as well as J. Sheffield's The Forgotten Land. Most recently, he has been working as a freelance director staging The Persians by Aeschylus in 2016 and HamletMachine in 2017 sponsored by Luys Foundation.
About 3LD
3-Legged Dog is a community-oriented and artist-run production development studio for emerging and established artists and organizations that create large-scale experimental artworks of all kinds. From our home 3LD Art & Technology Center in Lower Manhattan, 3LD has built an unrivaled talent magnet, drawing artists from around the globe to New York to create large-scale, immersive and technology-driven projects in New York City. Since opening in 2006, we have hosted thousands of artists through our 3LD Residency Program, offering a unique experience with 24/7 access to specialized equipment, flexible space and expert knowledge, as well as the desperately needed time to fully realize their visions.