GUNPOWDER Brings Wild West To FailSafe Festival 2018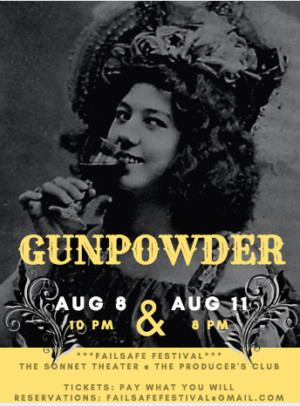 GUNPOWDER tells the story of two of the most notorious, influential, and wealthy entrepreneurs and burlesque performers of the young United States, while blurring the past and the present. Klondike Kate who entertained miners in the Yukon, generating a fortune with her infamous dances and wit, and invested, lost, and invested again in theatre spaces and cinemas across the nation.
Lillian Russell sang and danced her way to the top of American society, becoming one of the first obsessed-over celebrities. She shaped the fledgling Actors Equity Association, advocated for women's suffrage, and contributed to the passage of the restrictive Immigration Act of 1924. Kate is a stubborn, fiercely independent survivor who also gives away her fortune for love. Lillian is a loveable, excitable, brilliant woman, who is also a racist isolationist. The form itself of burlesque lampooned powerful elite and served as an economic avenue for its female starts' independence while using blackface and redface to make a buck and a laugh. The show will explore these contradictions and paradoxes while engulfing the audience in satire, evocative dance, and live music.
Ticket Information: Pay What You will
https://www.failsafefestival.com/gunpowder
FailSafe Festival is a five-day festival of live performance, taking place in the Times Square/Hell's Kitchen area of New York City. FailSafe Festival provides a space for artists to push beyond what they consider "safe" to present, giving them an opportunity to show work that may not have a home elsewhere.