BWW Review: The Icy Touch of Blessed Unrest's THE SNOW QUEEN
We'd all like to imagine a person whom we would do anything for, unquestioningly - even if this means traveling to the literal ends of the earth for their benefit. A person that brings about a boundless and selfless love - another human being that is so special, one cannot help being sad until the longing to be with that person ceases. It is hard to find such a soulmate, and even harder to bear when that kindred spirit disappears out of nowhere, his heart pierced and eyes shielded from those who love him - a life forgotten amidst the confines of his now icy heart. In the greatest realm of imagination and in the true spirit of friendship, a little girl seeks her lost friend in spite of impossible odds, her belief and hope never faltering as her guides.
Presented by Blessed Unrest, The Snow Queen is an inspirational story about surrendering wholeheartedly to the belief that love will conquer all, even amidst the icy imprisonment of a gentle heart, so ready to beat freely again.
The Snow Queen is based on the story by Hans Christian Anderson and is written by Matt Opatrny. Developed as part of New Victory Labworks at the New Victory Theater in New York, and inspired by the ideas of an ambitious fourth grade class at P.S. 3, this show is now in performances at the New Ohio Theatre under the direction of Jessica Burr. A beautiful story of love, The Snow Queen is the innocence of a child meshed with the trials of adulthood: lives that are affected by the inexplicable, obstacles that need a determined heart to overcome, and a love made stronger by the knowledge that success is somehow knowingly right around the corner. It is a story that teaches its audience that a child's love for her best friend is nothing short of spectacular, and our main character Gerda's pursuit of her best friend after he has been abducted by the Snow Queen gives her the fortitude we all wish to have - the ability to believe in the impossible.
The Snow Queen tells of the inseparable Gerda and Kay, two best friends who meet every day to sit amongst the flowers, tell stories, learn the language of everything around them and discover the patterns of falling snowflakes. One day, while out in the beginnings of a snowstorm, Kay is suddenly struck in the eyes and heart by something piercing and cold - something that makes his kind heart repulsed by the sight of his Nana and best friend. Overtaken by the need to find this mysterious Snow Queen whom he saw descending from the snow, he ventures out into the storm and is taken away by this mysterious figure, never to be seen thereafter. Gerda later vows to find her friend by traveling to the ends of the Earth, knowing he is still alive despite the great probability that he is not. With the guidance of two comical crows, a literary princess, a bandit, two sisters separated by snowy terrain and years of silence and two reindeer named Ba, Gerda sets out to find this Snow Queen while proving that her friendship is stronger than any frigidness that exists.
Blessed Unrest does a wonderful job bringing this fairytale-like plot to life in a way that makes the audience actually feel what it would be like to lose something so treasured as a close friend; they are able to keep the persistent hope alive in our hearts that Kay will be found. From the very beginning, where Gerda's and Kay's choreographed movements establish a closeness between the two friends, to how this "in sync-ness" is mimicked through the movements of Kay and the Snow Queen upon and through his captivity, this idea of connectivity is made so lyric, so beautiful. A story interspersed with themes of hope, love, and fortitude is also given this existential, almost ethereal yet real quality that makes imperfection find its way into the almost ideal world that Kay and Gerda have established.
A fairy tale with a dark cloud overhead, there are so many questions that this production's expert means of storytelling brings about, and compels the audience to ask itself: who is the Snow Queen, why does she disrupt the happiness of two children, and is there a lesson to learn in her appearance (and disappearance)? As children, what do Gerda and Kay learn, and as adults (as many were in the audience), does the magic of friendship fade from our lives as we get older, or does that metaphorical stream continue to run, if we only persist that it does?
The actors and creative team make this production a pleasure to watch, making the plot riveting, entertaining and just the slightest bit sad in moments where this connection among friends, sisters and even with a certain way of life is lost and gradually found again. I truly enjoyed watching Ba and Gerda navigate the snowy terrain with such fervor, and also the crows try to teach Gerda their language (with little success). I loved how a very small ensemble jumps on and off stage in record time to transform into different characters, coordinating their movements to make the story flow seamlessly and without any pause in energy. And I loved how this production, in all its simplicity, perfectly captures the purity of a child mixed with the existential loneliness of missing the one for whom your heart beats; it is a story that must imperatively be told to the end, when the Snow Queen is merely a figment of the imagination - or is she?
Rich Brown, Todd Grace, Tatyana Kot, Zach Libresco, Nancy McArthur, Celli Pitt and Joshua Wynter make up this very talented cast, and are joined by Sydney Maresca (Costume Designer), Jay Ryan (Lighting Designer), Beth Lake (Sound Designer), Sam Vawter (Set Designer), Anna-Alisa Belous/Ken Bzhelyansky (Scenic Painting), Ben Peterson (Asst. Director and Fight Director), Kevin Roost and Darielle Shandler as Assistant/Production Stage Managers and Sarah Thea (Assistant Costume Designer). Fantastic job!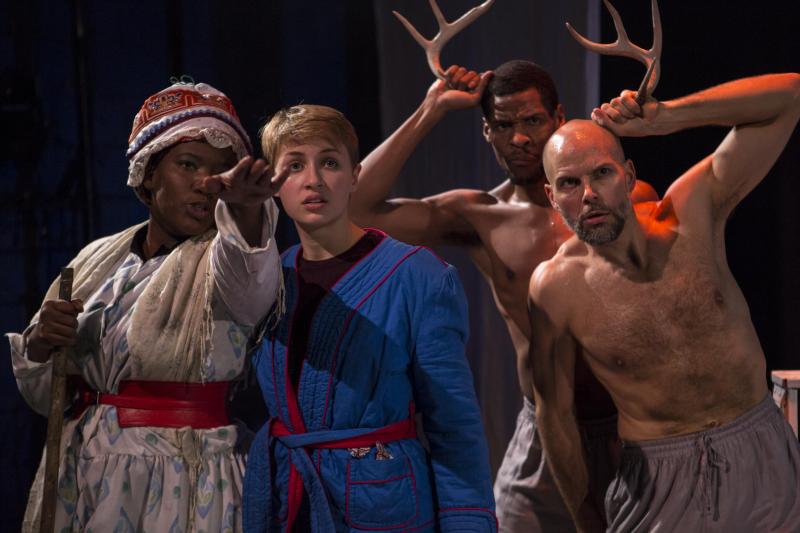 In continuation of Blessed Unrest's 17th season, The Snow Queen began performances at the New Ohio Theatre (located at 154 Christopher Street) on December 31st and will conclude on January 14th. The show is intended for adults and children ages 7 and over. Tickets are $25.00 and may be purchased by visiting https://blessedunrest.org/. The remaining performances are scheduled as follows: Friday and Saturday at 7:00 pm, Sunday at 3:00 pm. The show is 80 minutes without intermission. There is a cash bar available before the show, and the chance to meet the actors after!
Enjoy the show!
Photo Credit: Maria Baranova