BWW Review: Take a Bite Out of DRACULA! at 13th Street Rep
Who can admit to not being a fan of Count Dracula and the horrors he bestows upon his unsuspecting victims - the unfortunate Jonathan Harker and those he holds dear? How can you not be enticed by his dark lure, by the intoxicating mix of fear and seduction brought about by the mere mention of his name? Bram Stoker brought the undead to life long ago through his novel, and Dracula has never ceased to entrance those who bear witness to his resurrection, whether that take place on screen or on stage. And, with Halloween fast approaching, what better time for Dracula to rise up and quench his thirst for blood once again?
Now presented by Moose Hall Theatre Company / Inwood Shakespeare Festival, Dracula! The Tale of Flesh and Blood is an engaging retelling of Dracula's tale, taking a bite out of the classic through the talents of a wonderful cast who bring the eeriness and fright of this Gothic tale to a West Village audience.
In celebration of its 18th Season, Dracula! is the company's first production to take place at the historic 13th Street Repertory Theatre, continuing in its tradition of bringing quality theater to New York audiences. Dracula!, which was first presented by Moose Hall back in 2009, has now returned to tell this gripping story amidst Halloween-enthusiasts of Greenwich Village. Adapted from Stoker's novel, this retelling is written, directed and produced by Ted Minos, who I believe does this plot great justice.
Minos and his cast has turned this adaptation into a production with just enough of everything to make it appealing to everyone: from Lucy Westerna's comical lightheartedness to Jonathan Harker's visit to Castle Dracula that is both physically and psychologically tolling, Dracula! is definitely an exciting night out at the theater.
Dracula! The Tale of Flesh and Blood begins when Jonathan Harker, a young lawyer betrothed to the beautiful Mina Murray, is sent to Transylvania to meet with Count Dracula on matters of business. When he arrives at the Count's castle, what begins as a partnership turns into a horrifying experience as Harker soon learns he has become the Count's prisoner. Meanwhile, those closest to him are soon affected by what can only be described as something supernatural - that something, as Van Helsing explains, is the infamous vampire Count Dracula, who will continue to torment the innocent until he is forced into eternal rest. Dracula! The Tale of Flesh and Blood portrays strong characters who are equally as adamant in stopping the Count as they are susceptible to the power he has over them; yet, if they fail, they will continue to lose those they strive to protect.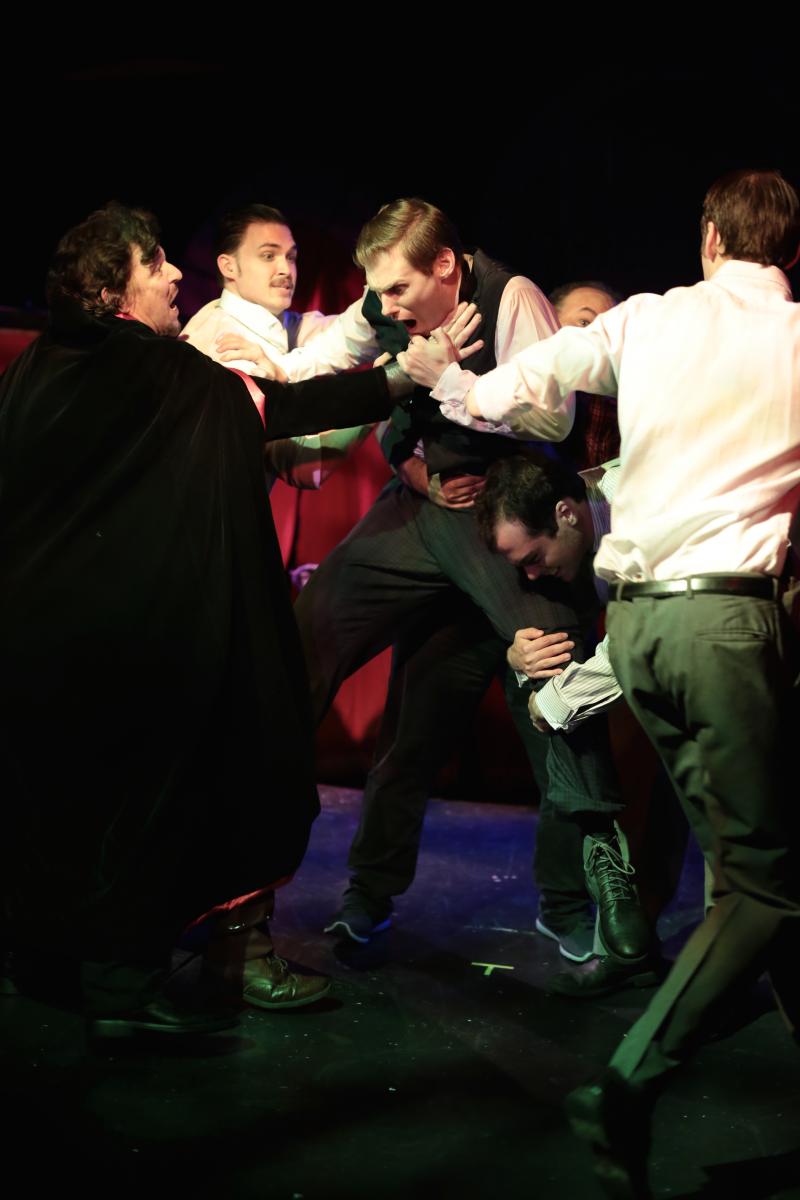 There are many aspects of this production that I enjoyed, especially as this production remains true to the plot of Stoker's novel. There isn't anything superfluous or modern added to make this more appealing to current audiences, yet that makes it more beautiful. This production manages to take what is so great about the Gothic tale and continues in the tradition of bringing riveting and authentically dramatic renditions of it to the stage. Dracula is meant to be progressively eerie as the plot thickens, and I believe that Minos' production does just that: it keeps the suspense at bay but leaves the audience with that perpetual tingling in their spines that something evil is lurking in The Shadows.
To me, Dracula is ever-present in the lives of those he inflict physical and mental harm upon, and a true portrayal of this novel will leave audiences with that boding presence; I believe this show captured just that.
Even though the stage is small and doesn't provide much space, the cast and crew of this production worked very well with what they were given to make this space their own. This is especially true of the actors, who really embrace their roles and provide a great performance, to be very straightforward. I thoroughly enjoyed watching Lucy become hysterical over each of her three wedding proposals, and I thought Renfield's fight against the Count's possession of his mind was brilliant. Mina's determination in stopping this unrelenting monster who vies for her soul in the interim provided some truly inspiring moments as well. The Count himself brings gentle promises of grandeur to those who serve him but then exercises the fearful power of a tyrant should they defy his wishes - and, of course, there is always the iconic lure of the vampire he must represent. The actors really did a wonderful job keeping the audience engaged, and their efforts here are well noted.
Credit must be given to the entire cast (in alphabetical order): Carla Birkhofer, J. Scot Cahoon, Roger GilBert Crane, Kenneth Dowling, Jr., Jay Longan, Mackenzie Menter, Katrina Michaels, Ross Pivec, Ray A. Rodriguez, Kamran Saliani, Kayla Rose Shaffer, KEVIN G. SHINNICK, Kevin McDowell Stevens, Zachary Owen Turner and Colleen Wood.
Kudos to the creative team as well, which includes Stage Manager Traci Bargen, Set Designer Samantha Cancellarich, Costume Designer KayLee Harris, Lighting Designer Duane Pagano and Music/Sound Designer Luke St. Francis.
Dracula! The Tale of Flesh and Blood began performances at the 13th Street Repertory Theatre (located at 50 West 13th Street) on October 11th and will continue for fourteen performances thru October 29th. Tickets are $18 ($10 for those 18 and younger) and can be purchased by visiting http://www.13thstreetrep.org/. Performances are Wednesday-Sunday @ 8:00 pm, with a special youth matinee performance on October 28th @ 2:00 pm. Please visit www.moosehallisf.org for more information on the show.
Have a great time!
Photo Credit: Lasha Baghaturia
Related Articles View More Off-Off-Broadway

Stories

Shows