BWW Review: Secret City Founder Chris Wells Debuts The Hilarious and Heartwarming Musical IT WILL ALL WORK OUT At Dixon Place
Chris Wells grew up in Lancaster, "an hour and twenty years from Los Angeles." The Obie winner and founder of The Secret City boasts an extensive list of credits at venues such as the Mark Taper, Yale Rep, and Baltimore Centerstage. The dramatist is also the killer of two cars: an old powder-blue Mercedes and a 1978 Toyota Corolla from Rent-a-Wreck, which he drove after the unfortunate demise of the Benz.
The big-hearted New York transplant doesn't hate cars. He's actually a great driver, he assures us near the beginning of his new project at Dixon Place, It Will All Work Out. He just forgets they need maintenance: "I loved [that] sedan as if it were my child-which is why I don't have a child." With an automotive track record like that, it was only a matter of time before Wells became a New Yorker.
Under the fine direction of Eliza Laytner (a graduate of UCLA's prestigious MFA program), Wells begins the story at an audition for Oklahoma after his sophomore year in high school at the Palmdale Cultural Center, home of the Palmdale Repertory Theater.
Predictably miserable in high school as a chubby gay boy in the Antelope Valley with a "strong disdain for sports," he nevertheless had two supportive gal pals, Gina (Susan Hwang) and Robin (Janelle Lawrence). "It's a famous musical about Oklahoma," Gina helpfully explains. "Right," says Wells, before revealing that his father hailed from the Sooner state. While this wasn't a point of shame, "it wasn't exactly exotic, either."
The audition is hilarious and endearing, even if you aren't from Los Angeles (which I am) and fail to grasp the irony, if not oxymoron, of "Palmdale Cultural Center." Wells doesn't know what one does at an audition (or don't do: wish someone good luck). He brought no headshot, so he "just stood there." He prepared no song, so he ends up singing one of his favorite songs barely above a whisper, the Carpenters' "Close to You," ably played by Juliet Garrett. (Garrett, a recent Princeton grad, plays with her rock band Psychobaby and studies acting with Mercedes Ruehl.) Miraculously, he gets cast, and with that, Wells is "in showbiz."
We jump ahead in time and to a much nicer part of Southern California, the Santa Monica Canyon. The James Bond-themed party takes place at a spread like Blake Edwards' Malibu place. Told to dress up ("as if I needed coaxing"), the sometime drag queen dons one of the show's many outlandish get-ups. Characters in themselves, the costumes are the result of a fruitful collaboration between Wells, Denise D'Onofrio and Estyn Hulbert.
Revisiting all the Bond girls of yesteryear for inspiration, Wells settles on "Clitoria Winthrop, daughter of the gentry with a doctorate in thermodynamics, rockets [her] specialty. On the side of good but not above shagging an enemy if it would help the cause." The Corolla's dramatic death en route to the beach is riotously funny. Who hasn't, at least in leaner years, avoided taking a car into the shop for fear of bad news on the theory that pretending not to notice a noise will make it disappear?
Most at the party are smashed by the time Sergio retrieves Wells from Rent-A-Wreck on Olympic Blvd., where the tow truck has deposited him looking considerably worse for wear. Wells meets Jon, aka Sourpussy, at the bar. A few days later the two make a date to see
Far From Heaven.
A serious reflection on believability in art (what literary critics call verisimilitude) ensues: "What couldn't I believe if it was properly lit?" That's typical of IT WILL WORK OUT, where broad comedy gives way to sharply written, poetic accounts of Wells' inner life.
One of the most poignant vignettes involves Uli, a German boy with whose family Wells stays at 13. His sexual awakening (and subsequent disappointment when Uli visits Wells' family a year later) is fresh and raw. Secret City bandleader and musical director Jeremy Bass's song captures the gamut of teen love and loss. Positioned to the left of the stage, the talented band (Marlon Cherry, Ryan Rumery, Jennifer Maidman), is clearly having as much fun as the actors and audience.
Wells' move to New York is familiar but not trite. In New Haven for a gig, he receives a call about a reasonably priced apartment on E. 29th Street. The significance of this was lost on him, he recalls with characteristic self-deprecation. But as with the Rent-A-Wreck he didn't need to pay for in spite of his clear negligence, Wells catches a break.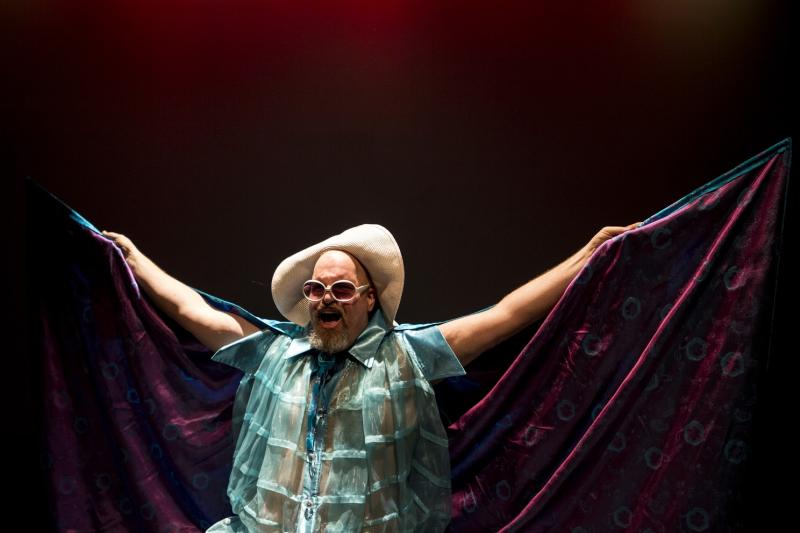 It's one of those great New York real estate stories that underscores what only a New Yorker understands: your entire life depends upon your apartment. Even if broke, a decent place in the right part of town is they key to everything. And broke he was, working odd jobs as house cleaner, landscaper, and law firm transcriptionist (or something equally tedious). But one day, after getting paid $150.00, he splurged on the "full package" at a Korean massage parlor downtown.
The scene, with Hwang on the accordion, is a microcosm of a show that through laughter, music, and sometimes tears, presents a portrait of a brave, soulful artist. Like the show and his life, the massage has a happy ending, but not the one you expect. It's a long way from Lancaster to an upstate New York farmhouse which Wells shares with his soon-to-be husband. And in these terrifying times, when even the tough-minded are rattled by the news, Wells and the outstanding ensemble of IT WILL ALL WORK OUT remind us that things sometimes do.
Related Articles View More Off-Off-Broadway

Stories

Shows
Victoria Ordin is a writer based in West Los Angeles and Manhattan. Raised in L.A. around film and television, she developed an early appreciation for (read more...)