Review: DIVORCE PARTY and the End of Life As We [Don't Really] Know It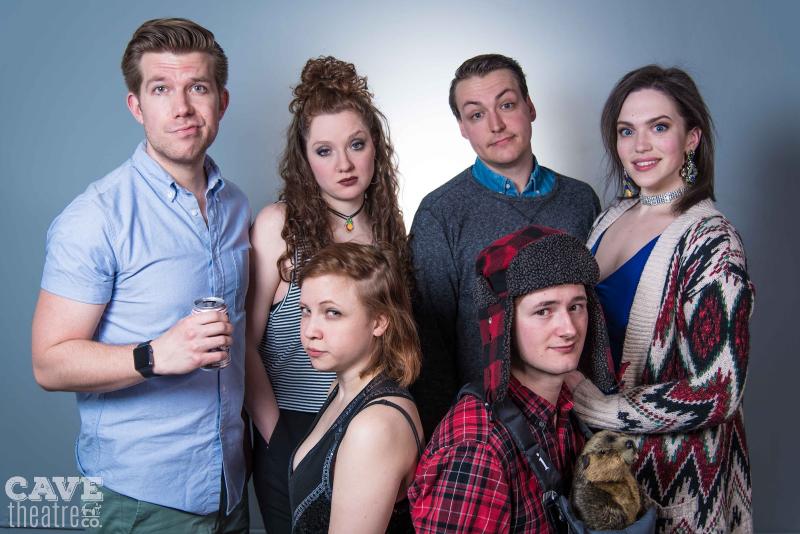 The simple idea of living is unfortunately not so simple anymore: repressed feelings lead to unhappy people which results in lives left unlived, full of wasted chances just to be "happy." Well, complaisant anyway. That is the demon everyone faces, but what we still can't begin to understand in each other. Now, what happens when you implement a little anarchy and throw all expectations out the window - all the courtesies, the human to human "understanding" and bring together six close friends under the pretext of what is most likely the world's first divorce party. Friends who know everything about each other, use that knowledge to an almost malicious advantage and know no boundaries in how much treachery can come from six crazed minds who must witness how happy their divorced friends still are.
The result may surprise you.
What we have here is a masterfully crafted show called Divorce Party, something so wacky but so rooted in the inward and outward complexities of life (as are so many absurd things) that it encapsulates life as we acknowledge it to be, but are not always so eager or able to share with others. Real, tangible life where the irony here is that everyone lives in an acknowledged fantasy - the worst kind of all, where you know you are falling and failing but can't help yourself or do anything to change the circumstances. Six friends who come together to witness how "happy" their two recently divorced friends are is already a precursor to disaster, an epiphany waiting to happen because of how "happy" they truly are not. This is the best new disaster happening in the East Village, and from the ingenious plot to the messed up crew who make it all too real, you are absolutely going to love this show.
Written by Lauren Wimmer, directed by James Masciovecchio, stage managed by Hannah Delmore and presented by FRIGID New York @ Horse Trade (in association with Cave Theatre Co.), Divorce Party comes to Under St. Mark's to celebrate its World Premiere, giving a lucky New York audience first dibs at a show that questions (albeit in a highly entertaining way) what it means to be happy in a world that seems fated to be miserable. It is a portrayal of that dark place people go to mentally in order to appear happy to those around them. The beautiful absurdity of coming together to celebrate the bitter end of something is almost masochistic, selfish to everyone who must watch the already broken remnants of their lives completely shatter. With disaster brooding on the edge of the title alone, this show is so very creative in how it portrays happiness as something so false, but in the midst of it, people find themselves - they understand who they are and what they must do and in that are they, for a moment, free.
Divorce Party brings together a group of dysfunctional but long-time friends to celebrate the divorce of Melanie and Eugene, who use this opportunity to prove that they are still indeed "happy." Melanie, comfortable in her sweat pants with a bowl of chocolate and Sheryl Crow playing on repeat, is soon joined by her ex-husband Eugene, who is carrying his camping trip kill turned therapy beaver Dominick in a baby carrier across his chest. After reminding themselves to put on a happy front before their not-so-fashionably late friends, they are eventually joined by Liz, Greg, Ali and Rick, who are all less than excited to be there.
Liz and Greg broke up in the car ride there, Greg is already drunk, Ali is so drugged up on medication that she forgot there even was a party, and her poor husband Rick might have stolen a few of those pills because he's the only one smiling without any sort of reason why. As they wait on food delivery which never seems to arrive, what hinted at disaster from the start becomes a full blown mess as secrets are revealed, revelations are made and through all of this, the audience questions if happiness is real or simply a façade for the sake of one's sanity.
How long can the happy untruth last before you feel like you're just going mad? Does it ever get better? Sounds morbid, but the show actually provides some good laughs.
I immensely enjoyed this production because of how much it made me think about my own life, and I have little doubt that the rest of the audience was thinking along those same lines. Watching these six characters strive towards an almost forbidden sense of happiness, all the while suppressing what each wants in order to keep the "happy" façade of their lives intact, really just makes you wonder. It makes you wonder how aggravated you can become with the seemingly unchangeable aspects of your before you just snap, grabbing at remnants of power as Melanie does when she proclaims that the house is hers alone, or when Liz can't have her young boyfriend so she keeps the fantasy of her and Greg to keep her power alive.
It makes you question how close you are to just becoming one of these characters - where power is happiness in the sense that you're still sane enough to be human. But no one is happy with themselves. As Greg tries to explain what happiness is, this is what he says: "It's when, you, well, what does happiness feel like?"
It takes Ali, who is on enough drugs for the lot of them, to explain what happiness is. What does that really say? I love shows like this - they are still in that "dramatic" realm, but are so real that they render her impressionistic fools, ready to embrace change at any moment.
If the plot isn't enough, the actors who bring it to life are brilliant; the show is really perfectly cast. There is such an eclectic mix of personalities on stage, not only does the title itself spell out disaster, so does this combination of people telling the story...and I say that in the best of ways. Do you know when you're so overcome by surprise and being almost unknowingly uncomfortable that your face freezes, and only when you come to your senses do you realize you've been like that for a few seconds, anticipating the next wild thing someone does? That's how I felt watching this show. There's never a lack of the tension or surprise that makes this show keep that spark I love so much.
Cassie Wood-Triplett as Melanie, Trevor Wade as Eugene, Kiley Caughey as Liz, Alex Etling as Greg, Josh Wood-Triplett as Rick and Elizabeth Chappel as Ali were all amazing. From Melanie's desire to steal attention whenever possible (even if she doesn't always mean to), to Ali's erratic mood swings - from Greg blatantly hitting on Melanie during her divorce party to Rick simply sitting on the floor for a good ten minutes just looking flabbergasted...there is just so many character dynamics that make the show wonderful. Really great job guys. I would see this one again.
Divorce Party began performances at Under St. Mark's (located at 94 St. Mark's Place) on April 21st and will continue thru May 7th. Tickets are $20 for general seating and may be purchased by visiting www.horseTrade.info. The performance schedule is as follows: Friday and Saturday @ 8pm; Sunday @ 3pm. The performance runs about eighty minutes without an intermission. Please visit www.cavetheatre.org for more information about this show.
Enjoy the show!
Photo Credit: A. Etling Photography