BWW REVIEW: Despite Talented Cast, Lost and Found's OLD NEW YEAR Fails To Find Its Way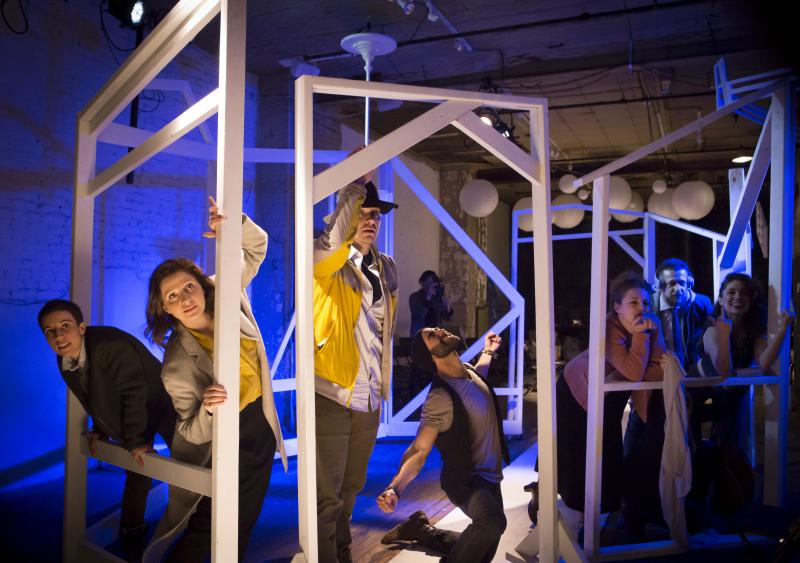 OLD NEW YEAR, the latest production of the experimental theater collective Lost and Found (which operates under the National Yiddish Theater Folksbeine umbrella) has lofty and worthwhile intentions. In fact, reading an interview with producer and curator Anya Zicer after seeing the play on its opening night at Art 345, I was impressed by the innovativeness of the company's "verbatim" technique, as well as by the attempt to deploy that technique in this particular work.
"Verbatim" refers to the transformation of interviews with real people conducted by playwright Boris Zilberman into a loosely fictionalized work of art that stays connected to its real-life roots. Most writers draw inspiration from real life, but here, I take it, the relationship is supposed to be closer, rawer, more jagged.
Zilberman, who also plays the boyfriend of Miriam (Anya Zicer) came to New York from Kiev when he was six. All company members either came to New York from Russia or were born to Russian-speaking parents, which accounts for the authenticity as well as the emotional urgency of this play about that particular immigrant experience. The multi-talented actors all have extensive formal training and many are working on major television shows, alongside their repertory work.
Unfortunately, all this talent, passion, and raw intelligence (the combined intellectual power of this group is palpable) finds inadequate outlet in OLD NEW YEAR's chaotic, disparate stories about Millennials seeking happiness in their new country. In spite of the mysterious figure in a yellow slicker whose oracular pronouncements about happiness bookend the play (director Gera Sandler), happiness is not a structuring idea. Its very mention, in fact, is puzzling because the
tzuris
and
mishigas
quotient is off-the-charts. Happiness is never even on the table, at least not for more than a moment.
Sandler also plays the super of the building in whose laundry room the first, somewhat promising scene takes place. Lora (Masha King), a young, exuberant divorcee, initiates contact with the reticent Tatiana (Elena Rickman), a bitter, older divorcee whose smart early 20s daughter, Irina (Elena L. Levenson), rarely visits her. (We can't blame her.) The professor ex-husband is AWOL and Eva (Rebecca Kaprovsky), a big-hearted but perpetually hysterical Argentinian student of Russian descent, is desperate to find him (for reasons that don't become clear until too late in the play). Levenson, who sings beautifully, does a good job capturing Irina's manic personality, but that doesn't make the character more pleasant to watch.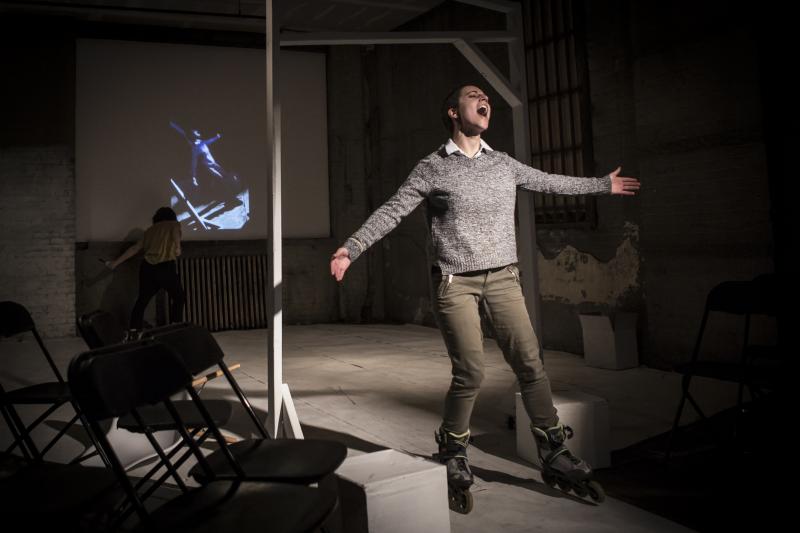 Sandler functions as the play's mad scientist and videographer, trailing the characters with a makeshift tripod that holds a beat-up iPhone. It's distracting and never really explained (we can infer its purpose by the end, but by then it's too late). Wheels are ubiquitous, from rollerblades to laundry baskets. Characters seem always to be running back and forth along the narrow, long set (well-conceived by Izzy Fields, a talented, prolific New York designer) in the industrial chic Harlem space.
All this motion is meant to evoke the restlessness and dislocation of the immigrant experience, but it's not even a productive chaos, and frankly, it's just irritating. Given the odd dimensions of the space, one is grateful for the screen projections at one end of the stage, nicely managed by technical director Nathan Rhoden.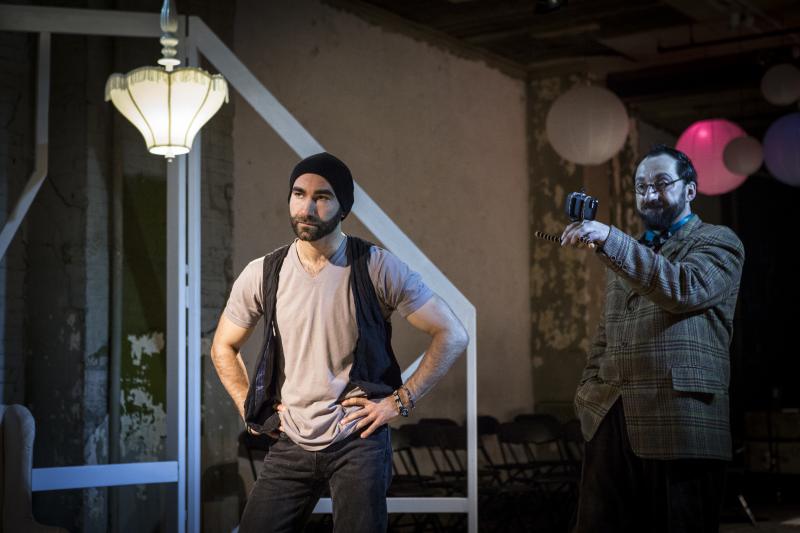 The characters are not wholly unsympathetic or without depth, and while most of the actors over-project (if not shout), individual performances are compelling. There are simply too many subplots insufficiently integrated for us to become invested in any of them. Miriam (Zicer) has returned to her old neighborhood with Lev (Zilberman), her earnest, nerdy but outgoing boyfriend with a genius IQ, who wants to join the local shul and start a family. The brooding, ethical (and darkly handsome) Victor, played with conviction by Ruslan Verkhovsky, is now the owner of a bar he ran for nine years. He disapproves of his friend Felix (Sergey Nagorny), a philanderer always on the make. Nagorny strikes one as a smarter version of Michael Rapaport (to whom he bears a faint physical resemblance) in much of his work (Mighty Aphrodite, Beautiful Girls, Copland). Lora and Irina become involved, though Lora is clearly bisexual not gay.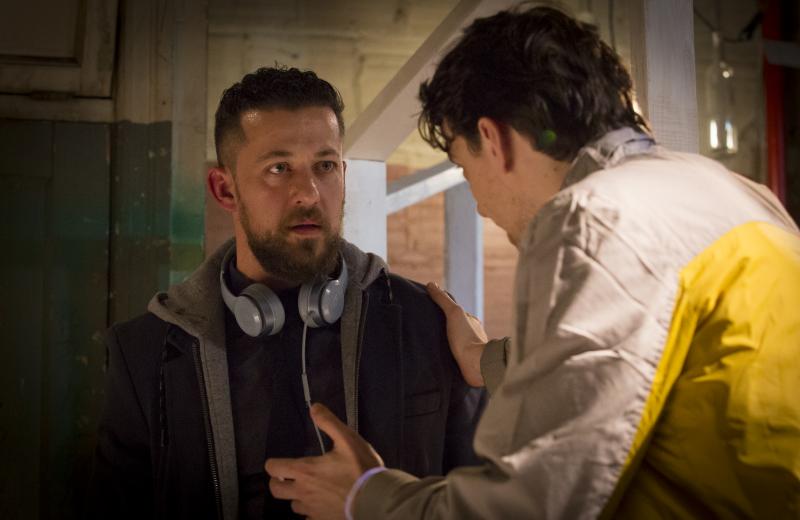 Added to this bewildering web is Lev's attachment to Bruno Schulz's 1934 collection of short stories, Street of Crocodiles. Written in Polish, the book was not translated into English until 1963. The text may be well known to aficionados of 20th-century Polish literature, but if you're going to lean heavily on a text unfamiliar even to literate, Jewish New York theatergoers, more needs to be done to establish relevance. The same is true of the Slavic tradition, from which the play takes its title, of celebrating the new year on January 13th. One could get poststructuralist and say that the deferred celebration parallels the (seemingly endlessly) deferred happiness of these young men and women, but it's too flimsy a branch to hold all this weighty philosophizing about cultural and personal identity.

Sandler's final speech about happiness feels hollow and tacked on because little progress has been made in the preceding 95 or so minutes toward explaining how this particular immigrant group might define, much less achieve, its own happiness. The standard of coherence may be less stringent in experimental theater, but a production still has to work as theater, and OLD NEW YEAR, sadly, doesn't.