ADA (An Evening of Extraordinary Feminist History) to be Presented at Theater for the New City in February
Audiences will discover an important story, an overlooked chapter in history and someone worthy of being far more than a footnote in feminist history.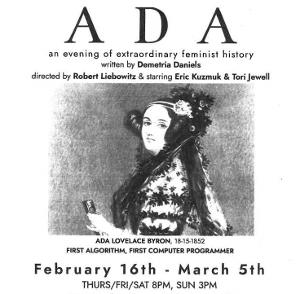 At first glance, Ada Lovelace Byron, the daughter of Lord Byron, would seem unlikely to have anything in common with Mary Jackson, Katherine Johnson and Dorothy Vaughan, the three women on whom "Hidden Figures" is based.
They were African-American women who worked as "computers," doing mathematical calculations for NASA. Bryon was the British daughter of a great poet who lived long before NASA existed or travel to the moon was even a fairytale.
And yet, as we find out in ADA, a new play by Demetria Daniels directed by Robert Liebowitz, they may be soul sisters in many ways. She, like they, deserves a place among female firsts and in the pages of history (as well as herstory).
This history/herstory-making play, by unearthing a truly heroic woman who seems like a saint of science, shows us the struggles and successes of Ada Lovelace Byron long before STEM was an acronym (Science, Technology, Engineering and Math) and what it's like to be a woman ahead of her time.
"Born a Victorian lady, she changed the course of world history," Daniels said, with the passion and conviction of someone who is on the mission to rescue a woman worth remembering from oblivion. "She's credited as being the first woman computer programmer."
Theater for the New City Executive Director Crystal Field is presenting ADA, described as "an evening of extraordinary feminist history" February 16 - March 5, 2023 in its Johnson Theater. Shows are Thursday, Friday and Saturday at 8 p.m. and Sunday at 3 p.m. Tickets are available by clicking this link.
Tori Jewell plays Ada and Eric Kuzmuk plays Charles Babbage, Ada's partner and inventor of the Difference Machine, a mechanical calculator and a proposed analytical machine. Emma Miller plays the Victorian Lady and Aaron Moore is understudying the role of William, Ada's husband.
Crucial roles are played by Wasim Abdul Azeez, Stephanie Jane Moreno, Carl Bindman and  Thomas Shuman who round out the cast by bringing this fascinating story to life. Michael Durgavich is stage manager.'
"She created the first algorithm, and is considered the first computer programmer in 1840. In doing so, she brought England's Victorian Age into the Industrial and Digital Ages," Daniels said.
Liebowitz said this play shines a spotlight on a story and a person whose journey, and struggles, are well suited to the stage.
"What interested me in the material was the fact that Ada Lovelace, one of the founding mothers of the modern computer, existed in the 1840s, not the 1940s, and that I never even heard about her until four weeks ago," Liebowitz said. "Sort of like the movie 'Hidden Figures.' The same kind of effect."
She lived long before women in England got the right to vote, which they obtained in 1928 on the same terms as men, for women ages 21 and up. She was up against convention, tradition, convictions that somehow believed men were more suited to math, pervasive sexism and a society that had yet to truly, fully discover the economic, academic and intellectual engines of women.
"In 1840, England was in the midst of two eras: The Victorian Age of laced-up corsets and bustles, and the Industrial Revolution of new machine inventions," Daniels said. "Ada Lovelace Bryon, the daughter of Lord Byron, became a mother of three children, and a superb mathematician. She was so distinguished that she consulted for Prince Albert on his 1851 Crystal Palace exhibition."
Her play tells the remarkable story of a remarkable woman who, at least to most Americans, is unknown, but worthy of recognition. While Lord Byron was writing "Don Juan," "Childe Harold's Pilgrimage," "When We Two Parted" and "She Walks in Beauty," Ada was learning far more than literature.
"Her mother tutored her in geometry, trigonometry algebra, logarithms, tangents, geometry and she became a specialist creating the first algorithm, or computer code of zeros and ones," Daniels said.
She and her partner would soon use machinery to do math in ways that, at the time, were visionary if not downright revolutionary.
"While developing her mathematical expertise, and writing on Charles Babbage's analytical calculating machine, in her brilliant notes she suggested that it could carry out more than just mathematical calculation of addition, subtraction, multiplication and division," Daniels said.
In other words, she saw more than numbers in math: She began to realize how math could be used to harness and even control the world.
Daniels says Ada insisted "it could be used as symbols for music geology, history, languages, literature, and all other subjects." In other words, she played a key role in developing computing and not breaking, but creating, code. As in so many cases of people who are ahead of their time, she suffered as much as she succeeded.
"She spent most of her very short 36 years in pain," Daniels said. "Leech blood- letting, measles, dizzy spells, aches, stomach upsets, opiates, mesmerism and died of uterine cancer, buried next to her father, Lord Byron."
Audiences will discover an important story, an overlooked chapter in women's and someone worthy of being far more than a footnote in feminist history.
Daniels, the author of a musical titled "Holiday in Heaven and "Hedy Lamaar and Frequency Hopping," seems to specialize in finding stories of memorable, if forgotten or not fully appreciated, women.
While Ada is very different from the African-American women who did important work at NASA, she is an exceptional woman with an exceptional story that we will all be better for hearing and seeing come to life on stage.
"Her code is used in every computer worldwide and will advance civilization in generations yet to be born," Daniels added, noting that, in addition to history, Ada Lovelace Byron may very well be very much with us today.
ADA (an evening of extraordinary feminist history), Johnson Theater, Theater for the New City, 155 First Ave. between 9th and 10th Sts., February 16 - March 5, 2023; Thursday, Friday and Saturday at 8 p.m. and Sunday at 3 p.m. Running Time: 90 minutes Tickets $18, Seniors/Students $15. Click Here, 212-254-1109.