U.S. Premiere Of Fishamble's THE HUMOURS OF BANDON Announced At Irish Arts Center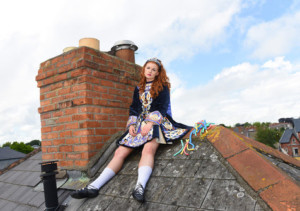 Irish Arts Center, a multidisciplinary home for contemporary Irish arts and culture, teams with internationally-acclaimed, Olivier Award-winning Irish theatre company Fishamble to present Margaret McAuliffe's The Humours of Bandon. This wonderful one-woman show (The Stage) has garnered vast acclaim across its tours of Ireland and Wales and a stop at Edinburgh Festival Fringe, where The Scotsman called it a witty and poignant story that invites you to climb inside and enjoy the ride, told by a performer who has lived and breathed the world she so expertly conveys. The Humours of Bandon centers around an ambitious teenage Irish dancer and the grueling preparations she's undertaken, in her young life, to achieve. (Writer/performer McAuliffe is herself a former championship Irish dancer, and devoted 18 years to the form).

The production, directed by Stefanie Preissner, will be performed at the intimate Irish Arts Center theater April 10-14, followed by three touring performances of the play in Irish community centers around the region. Presented with support from Culture Ireland, and following Irish Arts Center's recent eight city tour of Declan O'Rourke's Chronicles of the Great Irish Famine, the project reflects a continuing collaboration between the Irish government and Irish diaspora communities around the world to increase connectivity and enhance Ireland's global footprint through arts and culture.The Humours of Bandon builds on a long history of collaboration between Fishamble and IAC, which has previously presented six Fishamble works to New York audiences, including Sebastian Barry's On Blueberry Hill (2019); Tiny Plays for Ireland and America (2016); Pat Kinevane's Underneath (2015), Silent (2012), and Forgotten (2010); and Steve Blount, Gavin Kostick, Peter Daly, and Janet Moran's Swing (2014).

From the confines of every parochial hall in Ireland, Irish dancing champions are churned out at a massive rate. Medals and cups build up in drawing rooms and Riverdance swells a national pride. But most aren't privy to the blood, sweat and tears that pave the way to the first place podium. In The Humours of Bandon, 16-year-old Dubliner Annie is on the eve of the biggest competition of her life, as she charts us through the various peaks and troughs of her Irish dancing career. Will she win the title and, if so, in what way? The Humours of Bandon is a spirited coming-of-age story full of heart, laughter, and pathos, for anyone who's had a childhood passion that threatened to consume their life.

The Humours of Bandon is written and performed by Margaret McAuliffe, with direction and dramaturgy by Stefanie Preissner,set design by David Fagan,script development by Gavin Kostick, and dramaturgical assistance by Jo Halpin.
Performances of The Humours of Bandon will take place at Irish Arts Center (553 West 51st Street New York, NY) on April 10, 11 & 12 at 8pm, April 13 at 2pm & 8pm, and April 14 at 3pm. Tickets are $40 (general) / $32 (members) and can be reserved by calling 866-811-4111, emailing info@irishartscenter.org or online at irishartscenter.org. After its one-week limited engagement at Irish Arts Center, regional touring performances will take place at New York Irish Center (Tuesday, April 16 at 2pm), Irish American Society of Nassau, Suffolk, and Queens (Wednesday, April 17 at 7:30pm), and Irish Cultural & Sports Association of Southern Connecticut at Whitneyville Cultural Commons in Hamden, CT (Thursday, April 18 at 8pm).
Related Articles View More Off-Broadway

Stories

Shows
More Hot Stories For You