THE BOYS FROM SYRACUSE Begins Performances Tomorrow Off-Broadway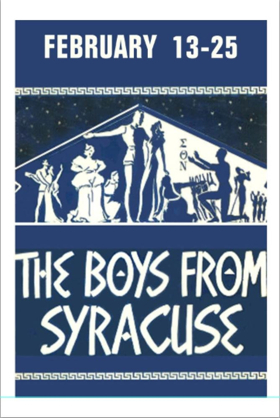 Musicals Tonight!'s 20th Anniversary Spring Season opener of Rodgers and Hart's The Boys From Syracuse, begins performances Tuesday, February 13th at The Lion Theatre on Theatre Row (410 West 42nd Street). The comedy farce about mistaken identity, as adapted by George Abbott, will play a limited engagement through February 25th. The Boys From Syracuse is directed and choreographed by Jonathan Cerullo who has given the musical a fresh new take with men cast in almost all of the female roles for the very first time. Tickets are $45 and can be purchased through www.telecharge.com or by calling (212) 239-6200.
Featured in the cast are: Shavey Brown; Jody Cook; Matt Dengler (The Visit, A Little Night Music); Ian Fairlee ("Cougar Town"); Matthew Fairlee ("Cougar Town"); Sam Given ("The Get Down"); Madeline Hamlet; Joseph Scott Holt; Jonathan Hoover; ("A Chorus Line" Tour, Sondheim: The Birthday Concert); Jose Luaces (A Christmas Story); Elliott Mattox (Charlie and the Chocolate Factory); Darrell Morris; Jr., Adam Shapiro ( HBO's "The Normal Heart") and Josh Walden (La Cage aux Follies, Ragtime).
The Boys From Syracuse has music by Richard Rodgers and lyrics by Lorenz Hart, based on William Shakespeare's The Comedy of Errors with book by George Abbott. The score includes swing and other contemporary rhythms of the 1930s. The musical revolves around the escapades and romantic mix-ups of long-separated identical twins Antipholus of Ephesus and Antipholus of Syracuse, whose servants, the two Dromios, are also long-separated identical twins. Complications arise when the wives of the Ephesians, Adriana and her servant Luce, mistake the two strangers for their husband. The couples eventually get the situation resolved after Adriana's sister Luciana and the Syracuse Antipholus fall in love.
Sets are designed by Joshua Warner, with lighting designed by Ethan Steimel and costume design by Hope Salvan. Evan Rees is the musical director and Sue Delano is the assistant choreographer.
The Boys From Syracuse premiered on Broadway in 1938 and Off-Broadway run in 1963, with later productions including a West End run in 1963 and in a Broadway revival in 2002. This marked the first time that Shakespeare was adapted for Broadway. A film version was released in 1940. Well-known songs from the score include "Falling in Love with Love", "This Can't Be Love" " You Took Advantage of Me" and "Sing for Your Supper".
The playing schedule for The Boys From Syracuse is as follows: Tuesdays, Wednesdays, Thursdays and Saturdays at 7:30 PM, with matinees on Wednesdays, Fridays, Saturdays and Sundays at 2PM (February 13th through February 25th).

Back by popular demand Musicals Tonight!'s production of Anything Goes returns to the Lion Theatre on Theatre Row February 27th through March 11th. Tickets are $45 and can be purchased through www.telecharge.com or by calling (212) 239-6200.
Mel Miller, founded Musicals Tonight! in 1998 with the mission to keep early musicals alive and affordable. To date, they have presented 97 productions. Musicals Tonight! prides itself on the ability to bring back virtually- forgotten musicals for new audiences to discover and old audiences to rediscover. Musicals Tonight! has been unique in New York for its very elaborate and skilled fully staged readings of early musicals in their original forms. These range from the Gershwins' Lady, Be Good!, to Rodgers and Hart's Chee-Chee, to Cole Porter's Gay Divorce.