Photo Flash: WHITE COLLAR's Tim DeKay Visits DROP DEAD PERFECT Off-Broadway
The Peccadillo Theater Company is presenting Penguin Rep's production of the acclaimed DROP DEAD PERFECT, a new comedy starring the legendary Everett Quinton at the Theatre at St. Clements (423 W 46th St -- between 9th and 10th Avenue), which opened on Sunday, July 20th. Tim DeKay, star of White Collar, the USA Network series came to see Drop Dead Perfect, the new hit show starring Everett Quinton at the Theatre at St. Clements. He went backstage after to meet and congratulate the actors. Scroll down for photos!
Written by Erasmus Fenn and directed by Joe Brancato, DROP DEAD PERFECT is laced with double-entendres and allusions to 1950s television and Hollywood melodramas. With adult language and situations, this outlandish production is recommended for adults only -- particularly those with a slightly twisted sense of humor.
DROP DEAD PERFECT follows Idris Seabright, played by Quinton, a wealthy, eccentric mistress of a Key West cottage that runs her estate with a zany flair. When her beloved ward Vivien decides to abandon the Florida Keys to pursue art in Greenwich Village, and Idris' lawyer becomes alarmingly interested in her investments, Idris' life begins its outrageous downward spiral. After she receives a visit from a mysterious stranger who bears an undeniable resemblance to her long-lost love, her life erupts into over-the-top comic mayhem. The running time for this comedy is 90 minutes with no intermission.
Director and Penguin Rep founder Joe Brancato describes DROP DEAD PERFECT as "a madcap romp that celebrates and satirizes movie melodramas, with a nod to both Alfred Hitchcock and Carol Burnett."
Jason Cruz, Jason Edward Cook, and Michael Keyloun join Obie and Drama Desk Award winner, the legendary Ridiculous Theatrical Company veteran Everett Quinton in DROP DEAD PERFECT.
Choreography is by Lorna Ventura. Sets are by James J. Fenton, with lighting by Ed McCarthy, costumes by Charlotte Palmer-Lane, and sound by William Neal. DROP DEAD PERFECT is produced in association with Morton Wolkowitz.
DROP DEAD PERFECT will run through August 10th. The playing schedule is as follows: Wednesdays through Saturdays at 8PM, with matineeson Saturday at 3PM and Sunday at 3PM. Tickets are $25 and can be purchased by calling 845-786-2873 or by visiting www.dropdeadperfect.com.

Michael Keyloun, Everett Quinton and Tim DeKay. Photo by Michael Palmer.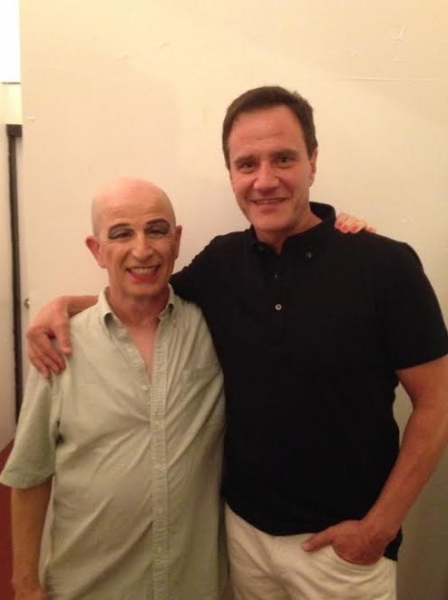 Everett Quinton and Tim DeKay. Photo by Dan Swern.