Photos: Tovah Feldshuh and 'Irena's Vow' Cast Visits Consulate General of Poland
On Wednesday August 13th, 2008 Tovah Feldshuh, having just returned from a trip to Poland, attended a meet and greet with the cast and production team of "Irena's Vow," the Polish Cultural Institute  and members of the press.   The evening was hosted by The Consulate General of the Republic of Poland in New York.

Irena's Vow, the new play by Dan Gordon,  stars four-time Tony nominee Tovah Feldshuh and is directed by Michael Parva.  Performances begin on September 7th at Baruch Performing Arts Center - 55  Lexington  Avenue @ 25th Street (between Lexington & Third Aves).  Opening Night is set for Monday, September 22nd at 7 p.m. (the engagement continues through November 2nd).
Joining Ms. Feldshuh will be: Sandi Carroll,
Tracee Chimo
, Steven Hauck, Scott Klavan, Peter Reznikoff, Thomas Ryan, Gene Silvers, John Stanisci and Maja Wampuszyc. This new drama will mark Ms. Feldshuh's first New York stage appearance since her triumphant (and Tony Award-nominated) turn in Golda's Balcony (Broadway's longest-running one-woman show).   Irena's Vow, which is being presented by The Directors Company in association with Power Production, NY and The Polish Cultural Institute in New York, is an Invictus Theatre Company world premiere.   Featuring a cast of ten and starring four time Tony nominee
Tovah Feldshuh
, Irena's Vow is a riveting, life affirming story about one of the most courageous and unsung heroines of World War II. During the German occupation of Poland, Irena Gut Opdyke, a Polish catholic, was forced to work as head housekeeper for a very prominent German major. Over a two year period of service, Irena would risk her own life in order to save the lives of twelve Jewish refugees whom she secretly took under her care. Irena's Vow is the extraordinary true story of one woman's choice and the twelve lives that would ultimately be saved - or lost - by her decision.  The design team for Irena's Vow includes:
Kevin Judge
(Scenic Design), David Castaneda (Lighting Design), Astrid Brucker (Costume Design), Quentin Chiappetta (Sound Design/Composer) and Alex Koch (Projection Design). The performance schedule for Irena's Vow is as follows: Mondays at 8 p.m., Wednesdays through Saturdays at 8 p.m., with matinees on Saturdays and Sundays at 3 p.m.  All tickets are $55 and are available through Theatermania.com (212) 352-3101 and at the Baruch Performing Arts Center box office.  Student Rush tickets ($25) will be available one hour before the show.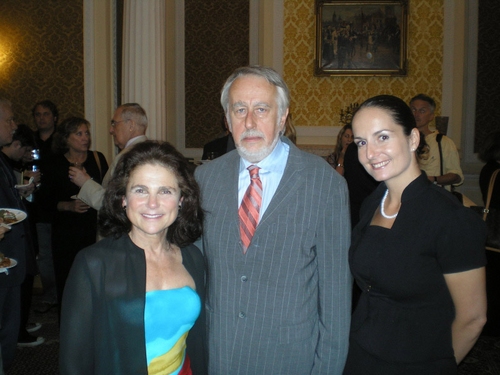 Tovah Feldshuh, Krzysztof W. Kasprzyk (Consul General) and Agata Grenda (Deputy Director, The Polish Cultural Institute in New York)

Thomas Ryan, Tracee Chimo, Steven Hauck, Scott Klavan, Michael Parva (director), Gene Silvers, Stan Raiff (Producer), Tovah Feldshuh, Krzysztof W. Kasprzyk (Consul General), Maja Wampuszyc and John Stanici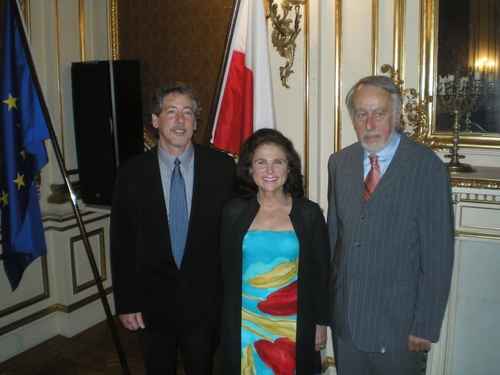 Michael Parva (The Directors Company), Tovah Feldshuh and Krzysztof W. Kasprzyk (Consul General)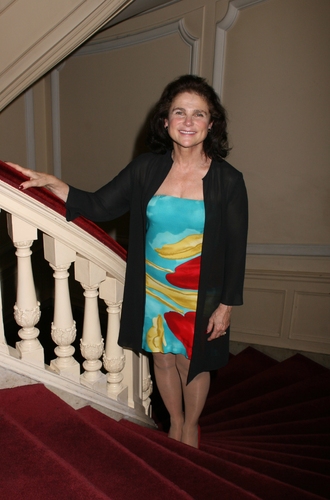 Tovah Feldshuh

Tovah Feldshuh