Photos: NUNSENSE at The Cherry Lane Theatre
One of the most successful musicals of all time, Dan Goggin's NUNSENSE will celebrate its silver birthday this summer with a 25th anniversary production presented by the Off-Broadway Cherry Lane Theatre (38 Commerce St. in Manhattan) -- where the hilarious musical comedy about the Little Sisters of Hoboken debuted Off-Broadway in 1985 - with performances beginning June 15 and running through July 18, 2010, it has been announced by Angelina Fiordellisi, Artistic Director of Cherry Lane Theatre and herself a former member of the cast of NUNSENSE in 1987.
The Cherry Lane revival of NUNSENSE follows the upcoming release on April 27 of the new DVD MESHUGGAH-Nuns!. This musical celebration of both Catholic and Jewish traditions is one of several musical spin-offs from the original musical NUNSENSE. MESHUGGAH-Nuns! finds the sisters on an all expense paid trip on the "Faith of All Nations" cruise. When the cast of Fiddler on the Roof (with the exception of the Tevye) gets seasick, at the request of the ship's captain, the sisters and Tevye put on a show. The result ...MESHUGGAH-Nuns!, featuring songs like "Say it in Yiddish," "Contrition," "Matzo Man," and "If I Were A Catholic," among others. The "MESHUGGAH-Nuns!" DVD is being releasEd Kultur, International Films.
As well, the anniversary revival and DVD release coincide with the opening at theatres across the U.S. of the newest NUNSENSE spinoff, the musical "Sister Robert Anne's Cabaret Class," and a production of "Nunset Boulevard," currently playing at the Chanhansen Theatre in Minneapolis.
An instant hit when Dan Goggin wrote, directed and produced the musical 25 years ago, NUNSENSE follows the riotous escapades of five nuns from the Little Sisters of Hoboken who realize that one of their own, Sister Julia, Child of God, has accidentally poisoned to death 52 fellow nuns in the convent while the quintet was off playing Bingo. The show's musical numbers include "Nunsense is Habit-Forming," "So You Want to be a Nun," "The Dying Nun Ballet," "Baking with the BVM" and "Holier Than Thou."
The 25th anniversary production of NUNSENSE will be directed by Dan Goggin, who wrote the show's music and lyrics. Casting to be announced...
NUNSENSE has been a vehicle for an endless array of actresses through the years, including such well-known actresses as Rue McClanahan, Edie Adams, Phyllis Diller, Sally Struthers, Joanne Worley, Kaye Ballard, Georgia Engel and Darlene Love.
Since its debut as a cabaret show in Greenwich Village and its transfer Off-Broadway to the Cherry Lane Theatre in 1985, the musical NUNSENSE has been presented the world over with 8,000 productions (and counting), and has grossed more than $500 million. The musical's many honors include four Outer Critics Circle Awards including Best Musical.
Dan Goggin came to New York from Alma, Michigan to study as a singer. He sang in the Broadway production of "Luther" starring Albert Finney. He began writing, while appearing in a comic folk-duo called "The Saxons". The first show he wrote the music for was Hark. In 1986 Goggin received the Outer Critics' Circle Awards given to Nunsense for Best Musical, Best Book, and Best Music. Nunsense, in addition to running 10 years in New York City, has now run in thousands of theatres around the world. There have been over 30,000 "nuns" in the Nunsense family. Goggin followed that with the off Broadway show Balancing Act, which ran at the West Side Theatre in NYC.
Subsequent productions of Nunsense included Nunsense 2, Nunsense Jamboree, Nunsense A-Men!,
Nuncrackers, Meshuggah-Nuns, and Nunsensations. Nunsense and Nunsense 2: The Second Coming, both starring Rue McClanahan have been videotaped for the A&E Television Network and also aired on PBS. Both shows won "Telly Awards." Nunsense 3: The Jamboree toured the U.S. starring Georgia Engel and has been recorded for television at the Grand Ole Opry starring Vicki Lawrence. The Nuncrackers television special playing the PBS network starring Rue McClanahan
with guest star John Ritter, received an Emmy nomination for Best Musical Score.
The Cherry Lane Theatre revival of NUNSENSE is part of the award-winning Off-Broadway theatre company's "Heritage Series," which brings back to the Cherry Lane 174-seat mainstage gems from the theatre's rich 86-year history. As New York's longest, continuously-running Off-Broadway theater, Cherry Lane Theatre is known as "the birthplace of Off-Broadway," having helped to
define American drama by fostering theater that is daring and relevant for the past 86 years.
Cherry Lane Theatre is dedicated to sustaining a community of playwrights and supporting seasoned and emerging theater artists that work together to reveal the social consciousness of our ever-changing world. Guided by the legacy of iconoclastic writers whose work has been at home at The Cherry Lane since the 1920s - O'Neill, Saroyan, Auden, Albee, Odets, Orton, Mamet, Lanford
Wilson and many more - along with such distinctive actors as Ruby Dee, James Earl Jones, Colleen Dewhurst, Cicely Tyson, Frank Langella, Tyne Daly, Estelle Parsons, Dennis Quaid and others who have performed on its stage, Artistic Director Angelina Fiordellisi set out to revive the theatre's spirit and preserve its history, providing opportunities for bold new voices today when she founded a resident non-profit theatre company in 1997. She also undertook a major renovation of the building (once part of a farm in 19th century New York) and its stages, including the creation of the 60-seat Studio Theatre and the celebrated Cherry Lane Mentor Project in 1998.
Angelina Fiordellisi is Artistic Director of Cherry Lane Theatre; James King is Executive Director.
NUNSENSE will perform at Cherry Lane Theatre June 15 to July 18, with performances as follows: Tuesdays at 7 pm, Wednesdays through Fridays at 8 pm, Saturdays at 3 and 8 pm and Sundays at 3 pm. Tickets are $50/$45 and can be reserved by calling Telecharge at 212 239 6200 or by visiting
www.cherrylanetheatre.org.
For more information about "Meshuggah-Nuns," "Nunset Boulevard" or "Sister Robert Anne's Cabaret Class," visit www.nunsense.com.


Jeanne Tinker, Bambi Jones and Bonnie Lee

Stephanie Wahl, Bambi Jones, Bonnie Lee, Jeanne Tinker and Maria Montana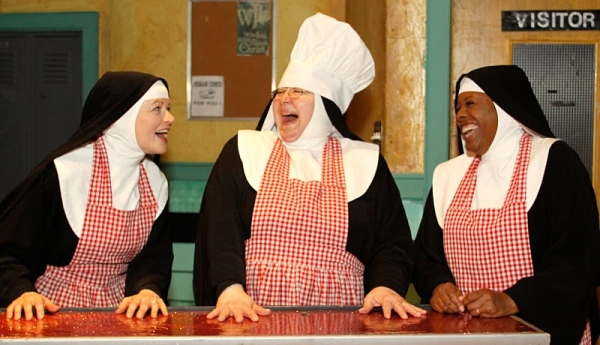 Jeanne Tinker, Bonnie Lee, and Bambi Jones