Photo Flash: Meet the Cast of CARMELINA
Celebrating the centennial of Alan Jay Lerner! The York Theatre Company enters the new year with the 25th Anniversary of its acclaimed Musicals in Mufti series celebrating the work of the legendary librettist and lyricist Alan Jay Lerner,
Opening the 2019 winter series is Carmelina, with music by Burton Lane, lyrics by Alan Jay Lerner, additional lyrics by Barry Harman, and book by Joseph Stein and Alan Jay Lerner. Performances begin Saturday afternoon, January 26, 2019 and continue for 11 performances only through February 3, 2019. Opening Night will be Sunday evening, January 27, 2019 at 7:00 p.m.
Directed by Michael Leeds (Bette and Barry: From Bathhouse to Broadway), and with music direction by David Hancock Turner (Desperate Measures), the eight-member cast features Andréa Burns (In the Heights) in the eponymous title role, with Antonio Cipriano (Jagged Little Pill) as Roberto/Guitarist, MaryJoanna Grisso (West Side Story) as Gia Campbell/Hostess, Evan Harrington (Chicago) as Walter Braddock/Waiter, Anne L. Nathan (Once) as Rosa/Cook, Timothy John Smith (Candide) as Steve Karzinski/Waiter, Joey Sorge (A Bronx Tale) as Vittorio Dela Marta/Eduardo, and Jim Stanek (Fun Home; 7 York Mufti's) as Carlton Smith/Waiter.
The production team includes Lighting Designer Stephen O'Shea, Production Manager Kevin Maloof, Production Stage Manager Shanna Allison and Assistant Stage Manager Julianne Menassian. Casting for Carmelina is by Geoff Josselson, CSA.
After previous sold-out Mufti runs in 1996 and 2006, the delightful Carmelina makes its return to The York. In a picturesque Italian village, Carmelina has raised her teenaged daughter to believe her father was an American who died heroically in World War II-all the while collecting child support checks from three American soldiers, each of whom thinks he is the girl's father. Complications arise when all three soldiers show up at the same time for a reunion. Even though the original Broadway production only ran for 17 performances, the lush Lerner and Lane score received a 1979 Tony Award nomination for Best Score. The version of Carmelina presented here is the revised version created by Joseph Stein, Burton Lane, and Lerner protégé Barry Harman for The York in 1996, then further revised for a second Mufti presentation ten years later.
The York Theatre Company's acclaimed Musicals in Mufti series of musical theatre gems, performed in a simply-staged, book-in-hand concert format, are part of the Muftis' twenty-fifth historic year of presenting shows from the past that deserve a second look. Mufti means "in street clothes, without the trappings of a full production."
For additional information, please visit www.yorktheatre.org
Photo Credit: Emery Major/York Theatre Company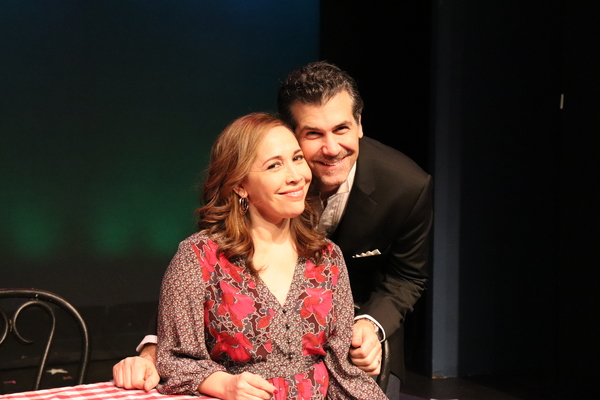 Andréa Burns, Joey Sorge

Anne L. Nathan, MaryJoann Grisso

Antonio Cipriano, MaryJoanna Grisso

Evan Harrington, Timothy John Smith

Evan Harrington, Antonio Cipriano, Joey Sorge, Timothy John Smith

Joey Sorge, Andréa Burns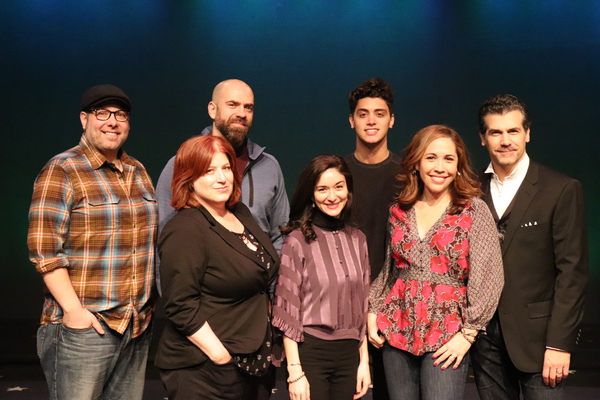 Evan Harrington, Anne L. Nathan, Timothy John Smith, MaryJoanna Grisso, Antonio Cipriano, Andréa Burns, Joey Sorge

David Hancock Turner, Michael Leeds, Evan Harrington, Anne L. Nathan, Timothy John Smith, MaryJoanna Grisso, Antonio Cipriano, Andréa Burns, Joey Sorge, James Morgan, Michael Unger