Photo Flash: Lady Gaga's Parents Visit Hinton Battle's LOVE LIES - TREAT HER LIKE A LADY
Broadway's own song and dance man, Hinton Battle, a three-time Tony Award-winner, returned recently in a new capacity as a playwright. His musical, Love Lies – Treat Her Like a Lady, a selection of the Midtown international Theater Festival, had its last performance as part of the festival on Saturday night with special guest attendees, Lady Gaga's parents, Cynthia and Joseph Germanotta. Check out the couple with Battle, David Garfinkle and the cast below!
The play about three women who show up at a funeral only to discover that they had all been currently engaged to the deceased, used a collection of top 40 pop and gospel songs from the 80's and 90's to stitch the story together. Battle wrote the play while in the hospital recovering from the fourth and last operation to the same hip. To keep from letting himself wonder about whether or not he would even walk again, he began to think about all of the funny experiences in his life. "I grew up with sisters whose love lives sometimes seemed to me, like the funniest comedy of errors, though I knew it was painful at the time," he says. As he began to write, he began to see the natural comedy in our human experiences. Battle is no stranger to how things come together on and Off-Broadway. He is one of the producers of "Sistas: The Musical", a little gem of a play at
St. Luke
's Theatre and has worked on a number of Festival productions in the last few years. He is now entertaining ideas for the next iteration of "Love Lies – Treat Her Like a Lady".
Photo credit: SM Communications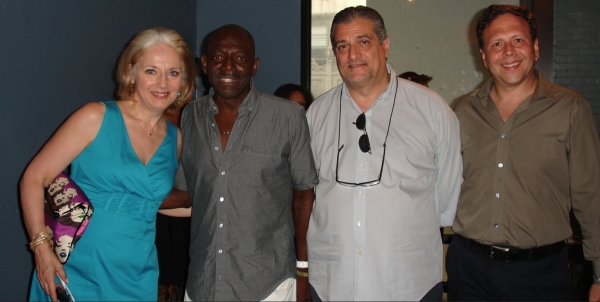 Cynthia, Hinton, Joseph and David Garfinkle (HELLO Entertainment producer of Spider-Man and Ghost the musical)

Clyde Voce, Amber A. Harris, Asia Craft, Jillian Walker, Antonio Demarco; (Front row L-R), Cameron Ross, Cedrina Shari Baugh, (Lady Gaga's parents) Cynthia and Joseph Germanotta